By Larry Gellar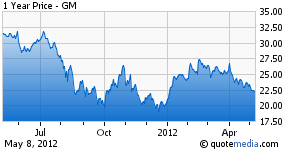 It was not too long ago that I suggested Ford (NYSE:F) could be a good buy right now, and I'm seeing similarly favorable trends over at main rival General Motors (NYSE:GM). The company just released its earnings report for the fiscal first quarter, and the results were impressive. Earnings per share came out at 93 cents, higher than analyst expectations of 85 cents per share, and revenue was slightly higher than analyst predictions as well.
On the other hand, General Motors did have a somewhat disappointing outlook going forward, but I'm tempted to think that management is just trying to be conservative. Specifically, Chief Financial Officer Dan Ammann had this to say about the U.S. economy: "We're clearly seeing some improvement in the economy. It's a modest underlying improvement, but it's patchy and it won't necessarily all go in a straight line." Another issue is scheduled downtime at some of the company's plants, which is why General Motors said its core North American results for the second and third quarter should not be much different from the quarter just finished. In fact, those first-quarter numbers amounted to $1.69 billion in adjusted earnings and a market share of 16.7%. That was a year-over-year improvement, although other regions haven't had as much success. International profits have declined approximately 10% since this time last year due to weakness in Asia, and profits in South America have largely remained unchanged. Meanwhile, the European unit was able to improve compared to last quarter but still posted a significant loss of $256 million.
Needless to say, General Motors is facing a variety of challenges right now. Still, I believe the stock is a remarkable value right now. Its price to sales ratio (0.24) is lower than most other auto manufacturers including Ford, Daimler (OTCPK:DDAIF), Toyota (NYSE:TM), Nissan (OTCPK:NSANY) and Honda (NYSE:HMC). General Motors' price to book ratio (1.32) and price to earnings ratio (4.88) are also extremely low compared to these other companies. If there is one set of statistics that needs improvement, however, it's General Motors' margins. I must admit, the net profit margin of 4.06%, gross margin of 12.71%, EBITD margin of 7.75%, and operating margin of 3.78%, are all rather poor.
Regardless, I see General Motors as a work-in-progress trading at a significant discount. Those margins are undoubtedly being hurt by economic problems in Europe, and the company's European subsidiary Opel should be able to rebound eventually. Here's what the CEO of Opel recently wrote in an internal memo: "We have exceeded our plans for cost cuts in raw materials in the first three months. We could clearly improve the Astra's contribution margin to cover fixed costs and for Great Britain we have found in Banco Santander an attractive partner for vehicle financing." In fact, Opel has even been able to improve its market share in Russia.
General Motors has been aggressively seeking a larger role in Asia as well. Reuters reported that the company was trying to grab a controlling stake in Isuzu Motors, but Isuzu said it wanted to remain independent. Still, I like where General Motors' head was at, and it now appears that General Motors may try to link up with a smaller company. Considering General Motors has made lucrative deals with French auto manufacturer Peugeot and Korean conglomerate LG Corp, it's clear that General Motors is on the prowl. In fact, any of the companies that have a foothold in Southeast Asia would be particularly useful for General Motors.
Meanwhile, here in the U.S., the most recent data should translate to good news for General Motors. For instance, new cars like the Chevrolet Sonic are leading the way on a trend of higher prices that will allow for higher margins. Additionally, General Motors' April numbers are better than they may look to some because of an unusual calendar situation where there were three fewer selling days. When this anomaly is adjusted for, General Motors' April sales rose 3% year-over-year. Admittedly, Toyota's sales rose 25.5% using the same method, but that stock is already trading at a very high price. At least with General Motors there's an opportunity to take advantage of an ongoing recovery.
Also, in the conference call for the April 2012 sales announcement, General Motors management shed some light on an important issue regarding downtime. The company has scheduled the majority of its downtime in quarters two and three, and I'm impressed with the plan outlined by vice president of U.S. sales operations Don Johnson. General Motors will match supply and demand, and the company appears to be prepared for a fluid situation in quarters two and three. For instance, the full-size pickup segment is one area that could see significant growth, and General Motors will keep this in mind as it designs its plans going forward.
General Motors' statement of cash flows is another piece of information that's certainly worth taking a look at. $5.182 billion flowed out of the company during 2011, but operating cash inflow was $8.166 billion. Indeed, the outflows were mostly caused by capital expenditures and other investing cash flow items, which is a sign that General Motors intends to stay aggressive. This seems like great timing to me as General Motors hopes to piggyback on a probable economic recovery in the U.S. One word of caution is in order, though - General Motors does not offer dividends. Toyota only has a dividend yield of 1.1%, however, and Ford is not much better at 1.7%. With that in mind, investors placing importance on dividends may wish to look towards other industries. For everyone else, though, I see some price appreciation in General Motors as its price ratios come back to normal.
Disclosure: I have no positions in any stocks mentioned, and no plans to initiate any positions within the next 72 hours.