Market Recap: The market took quite a hit on Tuesday as issues over Greece took root, and the market started to fall apart. Things are starting to look quite similar to last year, and the issues of Europe are definitely still looking quite strong to cause us issues without a catalyst. It was a light news day, and the market latched onto the news about Greece elections that went poorly, creating more fear over Europe. That fear rose the dollar, which killed the dollar and caused commodities and equities to fall.
The market will be reacting to news tomorrow from wholesale inventories and crude inventories, but it looks like mostly we are in for a negative market movement moving forward. Right now, the market is in a weak spot, and it is looking for a breakdown further.

Two Trades
A pair trade that we like is going long on Hershey's (NYSE:HSY) and shorting Russell 2000 iShares (NYSEARCA:IWM). HSY has been amazingly strong during this market correction over last week, and it is showing a lot of strength. We believe the stock will continue to outperform the Russell 2000, and we like shorting IWM right now as the market is starting to signal a bit of a breakdown. HSY is holding a nice upward trend since its earnings report, and we believe that it will continue higher as it has held green even during down days. IWM, on the other hand, is signaling a pretty significant breakdown. We like being short the small-caps as they could get hit hard on a weak market condition.
(Click to enlarge)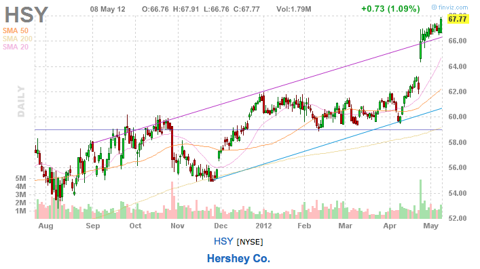 Tomorrow's Outlook
The market's outlook for tomorrow is by no means looking great. We did see the market comeback somewhat intraday, but overall, it was quite weak. The market seems to be rolling over and a lot of market makers are really starting to push more bearish. No big data is out here once again, so we will continue to mostly react to European developments as well as Asian data. Tomorrow, we will be getting the Japanese leading index as well as German Trade Balance. Mostly, though, the movement in the euro and continued understanding of what Greece's elections mean for us is what is going to move the market.
Our Moves
We had a rough day today as we took some losses on a Nike (NYSE:NKE) bull call spread, gold (NYSEARCA:GLD) bull put spread, and Wynn Resorts (NASDAQ:WYNN) earnings position. We added the above pair as well as we entered a bear call spread on Apple (NASDAQ:AAPL).
We have the following positions. In our Short-Term Equity Portfolio we are long Dick's Sporting Goods (NYSE:DKS) and HSY, short Johnson Controls (NYSE:JCI) and IWM. In our Options Portfolio, we are long Panera Bread (NASDAQ:PNRA), Polaris Industries (NYSE:PII), Monster (NASDAQ:MNST), Dollar General (NYSE:DG). We are short BP and AAPL. We have a reverse iron condor on Ultra Proshares Financial (NYSEARCA:FAS). In our Earnings Alpha portfolio, we are long Wynn, Western Digital (NYSE:WDC), Teva (NYSE:TEVA). We are short Amazon (NASDAQ:AMZN). We have a reverse iron condor in Las Vegas Sands (NYSE:LVS).
Chart courtesy of finviz.com.
Disclosure: I am long WYNN.