Apple's (NASDAQ:AAPL) shareholders are very angry, perhaps rightly so. On April 24, Apple beat analysts' earnings estimates by 22%. Yet one week later, Apple's stock price came back to where it was prior to the earnings report at $565.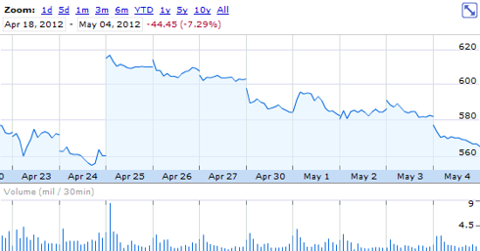 The kind of harsh comments Apple shareholders write at Seeking Alpha on articles with a sliver of negative information about Apple is quite appalling. Trust me, I have experienced this when I wrote why Apple might miss upcoming earnings estimates, and when I dissected how I made the mistake in my estimates. But I'd be angry too if I'm an Apple shareholder. A earnings beat in double digits. A big surprise. A number of historical magnitude. Yet Apple's share price stays soft. What on earth is going on?
In my opinion, the main problem lies in the quality of Apple's earnings. Apple saw a huge gross margin jump in its most recent quarter, from 41.4% to 47.4%. Given a revenue of $39 billion, this difference in gross margin converts to roughly $2.33 billion, or 25% of Apple's quarterly profits. As Apple beat the median earning estimates by approximately 22%, one can validly make the claim that Apple's earning surprise is almost entirely explained by gross margin improvement.
So how did Apple improve its gross margin? It is almost entirely from cost cutting. Isn't that a good thing? Of course it is. I have to admire Mr. Tim Cook's capability as an operations guy. He should be congratulated for this amazing achievement (no sarcasm here). But it would be particularly good news if the increase in gross margin is created by price increase, not cost cutting. Isn't cost cutting a good thing? Yes, but the true power in the market, for any consumer brand, is reflected by pricing power. That is why McDonald's outsells Wendy's, Nike outsells Reebok, and Tylenol outsells store brands.
When we examine Apple's earnings report closely, Apple "haters" will find out that the prices of Apple's products have been dropping across board during the previous quarter.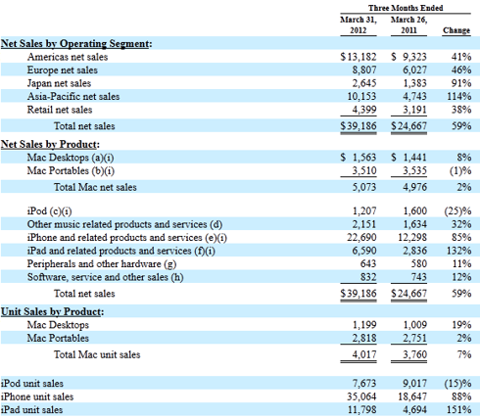 Source: Apple
Focus on the percentage changes of net sales vs. unit sales in the Table. Apple had bigger changes in unit sales than net sales. We can calculate the unit price of each of Apple's major products:
| | | | | |
| --- | --- | --- | --- | --- |
| Product | Quarter Ending 03/31/2012 | Quarter Ending 03/26/2011 | Change | % Change |
| Mac | $ 1,263 | $ 1,323 | $ (60.52) | -5% |
| iPod | $ 157 | $ 177 | $ (20.14) | -11% |
| iPhone | $ 647 | $ 660 | $ (12.41) | -2% |
| iPad | $ 559 | $ 604 | $ (45.61) | -8% |
The prices have all dropped. Most of us agree that Mac and iPod account for a relatively insignificant part of Apple's product line. So what's particularly concerning is the 8% drop in iPad price. I actually have predicted that the continuous sales of iPad 2 together with the new iPad would hurt the average price. This may well be the case.
For the market, this earnings surprise is perhaps not so much of a surprise after all, since everything is accounted for by cost savings -- again, I'm not saying that's not a great achievement -- it is just not as positive as margin contribution from top line. This reinforces the opinion held by many that Mr. Cook can operate, but has not yet proved himself a leader capable to bringing revolutionary products into the market like Mr. Steve Jobs. A cloud still hanging on top of Apple's stock market performance.
So there, you have it. My thoughts on a small caveat in Apple's beautiful earnings report, which might have caused the price drop.
The market is anxiously waiting for the effect of iPhone 5 expectations, iPhone 5 news, and possibly post Chinese New Year quarter sales growth slow down. As for whether Mr. Cook can continue to improve gross margin via cost cutting alone, your guess is as good as mine.
Disclosure: I have no positions in any stocks mentioned, and no plans to initiate any positions within the next 72 hours.