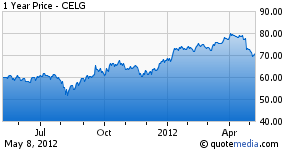 A 60% jump in Vertex (NASDAQ:VRTX) this week has investors a bit jealous given the market's pre-summer swoon. But Vertex isn't alone in offering shareholders a promising pipeline. Another recently beaten up stock, Celgene (NASDAQ:CELG), also may reward patient shareholders.
Celgene shares have retreated 13% since peaking a shade above $80 in early April. The company reported 30% earnings per share growth in Q1. However, results came in light of the company's internal forecast, which worried investors.
However, the company noted sales of its flagship Revlimid, with $861 million in sales last quarter, rose 17% from last year, despite inventory de-stocking at pharmacy benefit managers in January. New patients receiving the drug rose 13% and its market share came in at 56%. And the company indicated the inventory hiccup was limited to January, with February and March coming in as expected.
Revlimid will keep growing as it launches in new markets.
Celgene expects additional multiple myeloma approvals in Europe by quarter end and possible positive reimbursement news out of Mexico, Brazil and China by year end.
Additional Revlimid opportunity comes from label expansion. The company hopes to file for lymphoma in the next year and to complete enrolling its phase III trial for the treatment of chronic lymphocytic leukemia by year end.
A mature drug pipeline offers a lot of market moving news.
But Celgene's success isn't solely tied to Revlimid. It also has Pomalidomide, used to treat relapsed and refractory multiple myeloma. The drug offers hope for those who were previously unsuccessfully treated by Revlimid and Velcade. The company filed its application with the FDA in late April, which suggests - if approved - sales in late 2012 or early 2013. Celgene also expects to make a similar filing for the drug in Europe.
The company also sells Abraxane, which is currently used in the treatment of breast cancer. Sales of Abraxane rose 41% year-over-year in Q1 to $104 million. And Celgene thinks the market for Abraxane could be a lot bigger.
The company recently filed a supplemental NDA for Abraxane as a treatment for non-small cell lung cancer, which accounts for 85% of all lung cancer cases and 150,000 annual deaths. The FDA decisions should come by October, and if approved, the drug could be well on its way to blockbuster status by the end of 2013.
But, we're not just waiting on approval for the lung cancer indication. Abraxane is also in phase III trials for pancreatic cancer. And data from its phase III trial for the treatment of melanoma is expected in the next quarter or two.
Investors will also see data from phase III trials of Apremilast, which is an oral treatment for psoriatic arthritis and moderate to servere psoriasis. The market for the drug could be as high 3 million patients and phase III results are expected this summer for psoriatic arthritis and psoriasis by year end. Additionally, a phase IIb study for Apremilast is also underway for rheumatoid arthritis. We should see data from that study shortly.
At the same time the company's pipeline is maturing, the company is leveraging volume growth for margin upside. Last quarter, operating margins widened by 2.3% to 46.2%. Given Q1 is historically the slowest quarter for sequential growth and the company is sticking to its prior guidance for 15% revenue and 25% EPS growth, shareholders should consider the potential catalysts as a good reason for patience.
Disclosure: I have no positions in any stocks mentioned, but may initiate a long position in CELG over the next 72 hours.