It's been a seven-year roller coaster ride for Sequenom, Inc. (Nasdaq: SQNM), but the maker of genetic analysis products used to advance medical research appears to have finally landed on stable ground, thanks to a promising prenatal Down's Syndrome product under development.
San Diego, Calif.-based Sequenom went public in 2000 when investors were more forgiving toward companies with large losses and unproven business models, especially when those companies were operating in hot sectors like Internet or biotech.
After debuting at $26 per share in March of 2000, the stock surpassed $171 by March of that year. One year later, it was selling below $10, and despite a number of short-lived rallies, it struggled to regain momentum and spent the next few years drifting lower. Much of the period between 2004 and 2006, Sequenom was a penny stock, trading at less than $1 a share.
But last year, after some dramatic changes within the company to install new management and focus its product development, Sequenom staged a rally that stuck, beating the odds that make it so difficult for penny stocks to bounce back. Sequenom closed at $7.80 per share on Tuesday, up from $4.70 at the start of the year, and appears poised to gain more ground. Over the last 52 weeks, shares have ranged between $2.93 and $11.63.
While Sequenom's initial rally was largely due to hype surrounding the sequencing of the human genome, its success today reflects its progress developing real genomics products with practical applications for clinical researchers and actual patients.
The company's revenues last year rose to $28.5 million from $19.4 million, largely reflecting higher sales of its flagship genetic analysis product, the MassARRAY. Like so many biotech companies that take years to recoup steep initial investments in research and development, Sequenom is still losing substantial sums of money, but is gradually narrowing those losses. Its net loss last year totaled $17.6 million, down from $26.5 million the year before.
Three analysts who follow the company see revenues growing to $40.4 million in 2007 and $54.9 million in 2008, from $28.5 million last year, and predict the company's losses will shrink to $0.51 per share in 2007 and $0.26 per share in 2008, from $0.71 per share in 2006.
In recent years, Sequenom has made a number of wise moves to set itself apart from the competition. It entered the services business by launching a contract research services division that performs analytics work for other customers, and it invested in technology to make its analytic tools more accurate and simpler to use, most recently with the introduction of new gene-typing software that helps customers more swiftly interpret data from large, complex studies.
Perhaps most critically, the company has focused significant resources on the prenatal diagnostic market, with products designed to enable non-invasive prenatal testing for Down's syndrome and diseases such as cystic fibrosis. During a recent investor presentation, CEO Harry Stylli described how as many as 275,000 women in the United States are falsely diagnosed as being at risk for carrying a child at risk for Down's. With a more accurate early test to rule out Down's, many of these mothers could be spared further invasive tests.
Although the Down's diagnostic market alone would likely be massive, Stylli stressed, "We are not stopping with Down's. There are a huge array of other disorders for which we are also developing (non-invasive) tests."
One of the most intriguing tests in development is one that would detect genetic material from malignant tumors circulating in the body, which would help oncologists diagnose the cancer at an earlier stage, before the tumor itself is detected.
Since the early days of its mostly-downhill roller coaster ride, Sequenom appears to have also learned a few lessons about the importance of keeping its financial house in order, even as it spent most of its resources in the lab.
During the recently ended third quarter, it completed a $30 million private placement, helping it end the quarter with a cash balance of $29.1 million, an amount that will help it fund ongoing R&D as well as marketing efforts.
To date, that aggressive marketing has paid off in customer wins. Sequenom currently has 200 customers around the world, 14 of which were added in the last quarter alone.
Clearly Sequenom is not the stock for investors who prefer to steer clear of money-losing businesses. But for those who can tolerate some risk, this is an excellent bet. Sequenom (SQNM) is that all-too-rare company that has made good on the early promise of the human genome, using new gene science to develop practical and less invasive ways to improve diagnostics and treatments.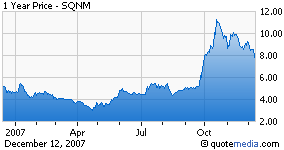 Disclosure: none