Home Depot (NYSE:HD) has seen its stock skyrocket by 88% since its August 2011 low. The main catalyst for the rally is a belief that the U.S. housing market is recovering in a sustainable fashion. Home Depot has a modest 2.2% dividend yield and anticipates to buyback $3.5B in stock this year. Despite the so called "housing bottom" it appears HD, and its competitor Lowe's (NYSE:LOW), are ready for a multi-month consolidation, and now is the time to lock in profits.
Over the prior two spring selling seasons in the housing market, we've seen both HD and LOW spike in the winter and spring time. Both times rallies faded in early May and the stocks saw significant pull backs in the next 3-6 months. This year there is a risk the housing bottom is not real, and with the warm winter demand may have been pulled forward from future quarters. I feel strongly this year will be no different, and shares of HD will in fact pull back during the summer months.
At 17x estimated 2012 earnings, Home Depot is trading at a premium to the S&P500's PE ratio of 13.5x. The stock is not only overbought, but is also expensive at these levels. On May 15th, 2012 Home Depot will report earnings, and I would be a seller before those earnings are released. The stock is priced for perfection, and will likely have to beat and raise guidance for shares to have a chance to pop.
For a rally to remain healthy in HD you need one of two things: either a time correction or price correction. A time correction would be a consolidation for several months resting near its highs, while a price correction would be a quick sell-off lasting only 1 or 2 months. In the case of HD, either a 3-4 month time correction would be needed or a sell-off to the mid $40s in a shorter time span. These scenarios would rejuvenate the shares for a possible rally in 2012.
All in all, Home Depot is a great company, with great prospects. However, the shares have gotten way ahead of themselves, and an investors' money would be better served somewhere else during the summer months.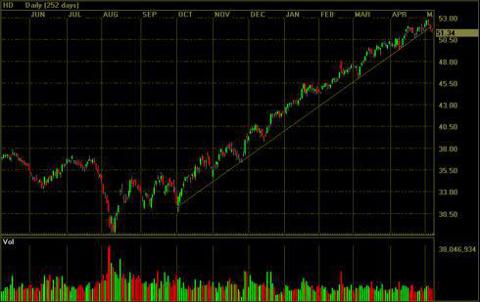 Disclosure: I have no positions in any stocks mentioned, and no plans to initiate any positions within the next 72 hours.