Much of the demand side of the equation for crude oil centers on the growth rate of the Chinese economy, which is steaming ahead at an 11.5% annualized rate, its fastest in a decade. Likewise, Chinese oil imports from January thru November were up 12.5% from a year earlier at 150.3 million tons. The strong imports were partly due to state refiner Sinopec SNP.N, which pumped oil into government storage tanks in east China, mostly in the first half of the year.
But last week, the Xinhua News agency said a decision was made behind closed-doors by China's Communist kingpins, to shift the central bank's "monetary policy from prudent to tight" in 2008, in order to slow down the economy and stamp out inflation. Consumer prices were 6.9% higher in November, an 11-year high, threatening social unrest. House prices in 70 major cities jumped 9.5% in October from a year earlier, and Beijing raised retail fuel prices by 10% last month.
The Chinese central bank ordered local banks to increase their cash reserves by 1% to 14.5% of deposits, the highest since 1987. The latest move will drain about 380 billion yuan ($51 billion) out of the banking system, "aimed at strengthening liquidity management in the banking system and checking excessive credit growth," the PBoC explained. It was the tenth hike in reserve requirements this year.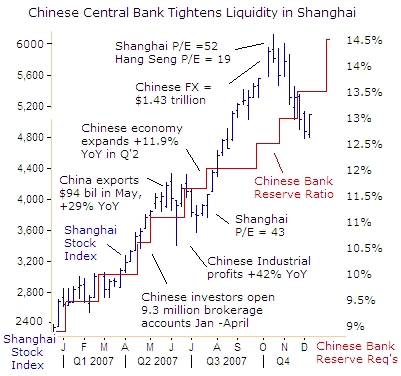 Central banks can inflate stock market bubbles and they can engineer downside corrections, with the flip of a switch. The mighty Shanghai red-chip market, which soared over 500% for the past two years, suffered a 20% correction since early October, as the PBoC became more aggressive in draining liquidity to defuse the stock market bubble, where P/E's had reached 53, the world's highest.
If the crosscurrents between Chinese and US monetary policies continue into next year, then traders are likely to witness the US money supply expanding at a faster rate than the supply of Chinese yuan for the first time in history. That's expected to put downward pressure on the US dollar against the yuan, which is necessary to reduce China's mushrooming trade surpluses, expected to hits $268 billion this year.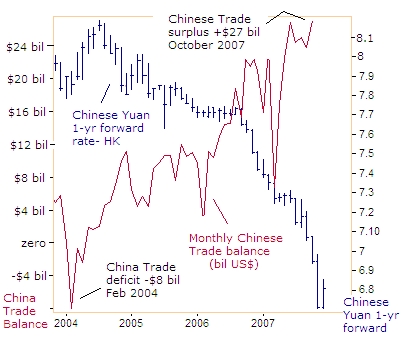 US Treasury chief Henry Paulson wants a stronger yuan to slow the expansion of China's trade surplus and avoid protectionism abroad. "A more flexible currency is especially important now, when the risks of inflation are clearly rising," Paulson said last week. A stronger yuan would lower the price of key imported commodities such as iron ore, crude oil and grains, which is fueling local inflation.
In Hong Kong, traders in the forward currency market expect the US dollar to tumble to 6.8 yuan within a year, from around 7.39 yuan today, or a 8% devaluation, and a faster rate of decline than over the past few years. The dollar has lost 12% against the yuan since Beijing abandoned its peg in July 2005.