"If there's a bustle in your hedgerow, don't be alarmed now,
It's just a spring clean for the May queen.
Yes, there are two paths you can go by, but in the long run
There's still time to change the road you're on.
And it makes me wonder."

- Robert Plant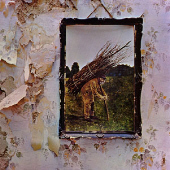 The hottest ticket on planet Earth the other night was undoubtedly the much-hyped Led Zeppelin reunion in London. (No doubt a few of you were there).
Zeppelin fans have long since debated the significance of playing the band's anthem Stairway to Heaven backwards to divine its secret satanic messages. Well, you don't have to play the song backwards to see that Robert Plant was clearly referring to the hedge fund industry (at the time, a rather small group) when he warned not to be alarmed by short-term hedge fund volatility - which he called "a bustle in…hedge row".
(For anyone who doubts this, just explain to us why the cover of "Led Zeppelin IV" pictures a man with part of a hedge on his back… We rest our case.)
Such volatility is natural and if you let it drive your long-term investment decisions, you may regret it. Thankfully, says Plant, "there's still time to change the road you're on…"
Some, like CNN, ought to find a quiet place to chill-out and listen to the song again a few times. In this story last week, the network concluded that 130/30 and long/short funds were more of a Highway to Hell than a Stairway to Heaven. To make the point, CNN compared the relative performance of 130/30 funds and long/short funds with the S&P 500 over periods of only a month or two during 2007.
The network concludes that,
…while you'd think they'd be able to navigate a market storm - in part because of their ability to short - 130/30 portfolios have looked downright pedestrian in recent months. Between July 19 and Aug. 15, for example, when the S&P sank 8.9 percent, the average retail 130/30 fund fell 11 percent…these funds haven't lived up to the hype.
The article picks another arbitrary period (July 19 to October 9) to prove that 130/30 and long short funds underperformed the S&P 500. (chart, right)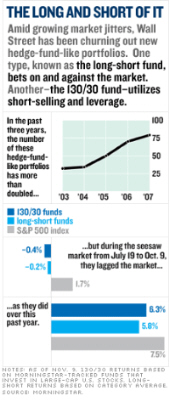 But what they did not show was that if you picked July 19, to October 4 (the week before), the S&P performance would have been around -0.7%. And since the standard deviation of the S&P 500 is over 1% per day, a 1.2% 12-month underperformance by 130/30 funds is nothing to draw conclusions about.
CNN places a promotional banner right in the middle of the story linking to "The Best Mutual Funds You Can Own". But a bit of poking around on that page reveals that the methodology used by CNN along with its sister outlet Money Magazine seems to fly in the face of the analysis above. Advises Money Magazine:
Obsessing over performance numbers is exactly the wrong way to build an investment portfolio. You'll feel a lot better - and become a better investor - if you accept this inconvenient truth: Trying to predict which funds will deliver the best short-term returns is futile. Funds that zoom to the top of the charts often get there because either their area of the market is hot.
Plant is right. Short-term volatility, whether it be during August, November or during any other short period can't be interpreted as anything other than a bustle in hedge row. While the short run can bring both good times and bad times, true alpha can only be measured over the long-run.
Just because it glitters over the short-run, it doesn't mean it's gold over the long-run.
Hmmm. And it makes you wonder…