iShares Nasdaq Biotechnology Index Fund (NASDAQ:IBB) hit a post-2001 high in mid-October, nearing a 15% year-to- date gain, despite what's been a tough year for top holding Amgen (NASDAQ:AMGN). The fund slid downward with much of the market in November as leery investors pulled away from risky holdings.
Biotech stocks tend to take it on the chin when risk becomes a dirty word. But the sector and IBB held up fairly well, with a three-month return (through Dec. 7) of 5.2%, which beat that of the S&P 500 by 1.2%.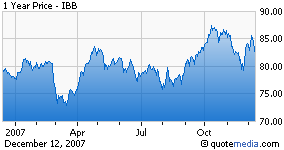 The typically volatile IBB—the ETF carries a three-year standard deviation of 15.30, nearly twice that of the S&P 500 and more than 1.2 times higher than the NASDAQ Composite—got a boost from a slew of mergers and acquisitions in the space. Some analysts also believe that biotechs have made a jump, as Morningstar's Christopher Davis put it recently, from "highly speculative, money-losing firms" to "something more like fast-growing big pharma companies."
The fund, which stood at No. 20 on the Sector Momentum Table last week, isn't a threat to crack the ETF Momentum Tracker, but it has climbed slowly over the last six months, from 28th in early September and the low 30s in June.
The M&A frenzy helped. In late November, No. 3 holding Celgene (NASDAQ:CELG) agreed to acquire No. 15 holding Pharmion (PHRM), which makes blood-cancer treatments, for $2.9 billion. The move has hurt share prices of Celgene, which fell more than 25% in three months (through Dec. 7), but sent Pharmion shares up more than 20% in two days.
More important, the deal underscored the frenzy among big pharma and larger biotechs to buy up or partner with smaller firms. Big pharma is struggling, with many key drugs losing patent protection in the coming years, and many firms are looking to fill their pipelines quickly through acquisitions. Larger-cap biotechs have entered the buyout binge as well, making the field competitive and, in many cases, pushing up deal premiums.
"The environment for M&A is bullish right now," according to G. Steven Burrill, CEO of a San Francisco firm that tracks biotech stocks, "… so much so that biotechs are planting 'for sale' signs on their lots."
Investor Carl Icahn fueled more buyout speculation late this year, by purchasing significant stakes in IBB's fifth- and sixth-largest holdings, Biogen Idec (NASDAQ:BIIB) and Genzyme (GENZ), respectively. Both are rumored to be for sale: last year, MedImmune, which a year ago was among IBB's top ten holdings, was bought by AstraZeneca (NYSE:AZN) after a similar move by Icahn. Biogen and Genzyme have seen shares surge, with three-month gains of 13.9% and 15.7%, respectively.
With 171 stocks, IBB is more diversified than many biotech funds. And though tracking the Nasdaq Biotech Index weeds out many of the industry's smallest and riskiest members, IBB's portfolio includes more than 35 small- or micro-cap stocks and holds 26.7% in medium-cap stocks, meaning it could be well-positioned if the merger mania continues.
Beyond that, there is a case to be made that established biotechs are becoming more and more like blue-chip pharmaceutical companies, especially as they take control over the marketing, distribution and sales of their products.
That potential growth comes with a price, though. The fund's price-to-prospective- earnings ratio of 25.4 is more than 60% higher than that of the S&P 500 and 14% higher than the NASDAQ Composite.
What's more, big pharma, once viewed as a can't miss growth field with strong resistance during recessions, has had its ups and downs in recent years.
IBB's largest holdings haven't been immune. Take No. 1 Amgen, one of the largest biotech stocks, with a market cap of $55.1 billion. Shares are down nearly 26% year to date and more than 40% from their fall 2005 high. The company took a pair of hits when safety concerns and reimbursement changes cut hard into sales of its key anemia drug.
The stock would likely recover strongly with another blockbuster, but such movement by its largest holding shows that IBB is prone to wild swings.
Investors here should be aware of that risk. Over the last 26 calendar quarters, IBB has seen its NAV fall or rise at least 10% in nine, with up-quarters edging down-quarters by a ratio of 5 to 4.
One other thing, going forward: The major issue on the horizon is the potential for generic competition. Long a thorn in the side of pharmaceutical firms-this weekend, The Wall Street Journal reported that generics will siphon $67 billion from big pharma's sales from 2007 to 2012—generics are not a major threat to biotech. But there is a lot of speculation that federal legislation may be coming that will allow off-price drugs to compete with biotech firms. How that shakes out will likely define the sector's future, and news from that front could cause short-term gyrations for the fund.