The market's turbulent market has created opportunities for retirees to acquire 5 stocks that average an 11.44% annual yield. Opportunities have offered terrific yields for high income yields. One can add to their high income arsenal to increase their annual retiree income. An 11.44% yield is significantly higher than Certificate of Deposit yields and Treasury Bond yields.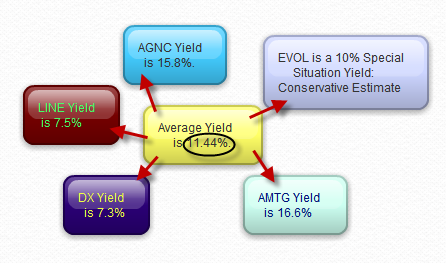 Evolving Systems Inc. (NASDAQ:EVOL)
Evolving Systems reported first quarter 10% revenue growth in year over year comparisons. In addition, Evolving Systems recorded $5.6 million in new orders in 2012's first quarter. This was up almost 10% from new orders in 2011's first quarter.
The company is becoming the monster of the midway in special dividends. The company paid out $2.00 per share on January 2nd. Tuesday the company announced plans to pay a $1.70 special dividend in late May. The company currently has $3 net per cash and the business model has revenues that are growing.

Evolving Systems has a debt free, revenue growing business model. Management is focused upon returning money to shareholders.
Apollo Residential Mortgage, Inc. (NYSE:AMTG)
I mentioned Apollo Residential Mortgage as a best buy two days ago in this article, 2 Attractive 12% Plus Yielding Dividend Stocks. Tuesday, the company outperformed my book value per share estimates. Apollo Residential Mortgage announced their 1st quarter book value per share was $21.09.

I believe that Apollo Residential Mortgage remains the cheapest draft choice on the board at an 11.28% discount to book value per share. The second cheapest mortgage real estate investment trust (mREIT) remains Dynex Capital (NYSE:DX) trading at a 1.77% discount to book value per share.

Apollo Residential Mortgage yields a $3.00 annual dividend which equates to a 16.6% annual yield. Dynex Capital yields a tempting 11.90% annual dividend yield. Both Apollo Residential Mortgage and Dynex Capital are hybrid mREITs which allows them to invest in Government Sponsored Entities backed by the U.S. Federal Government. In addition, hybrid mREITs can invest in non agency mortgage backed securities (MBS). Non agency MBS are not backed by the U.S. Government and are often purchased at a significant discount to par value.
I recommend shareholders avoid American Capital Agency (NASDAQ:AGNC) at the present time. Although the name is the best of breed, the market is catching on. The time to own American Capital Agency was before they announced incredible results. Entry price is vital - and the purchase price distinguishes the losers from the winners. Nobody wants to know who won the Kentucky Derby 4 days after the race. Investors want to know who to invest in prior to when the results are announced to the public. The market has priced in Gary Kain's incredible run at American Capital Agency.
Linn Energy, LLC (LINE)
Linn Energy has 95% of its oil and natural gas production hedged through December 31st, 2015. Linn Energy is an upstream corporation that invests in boring, long term producing hydro carbon wells. The current 7.5% annual distribution yield is compelling. The 7.5% yield is based upon the increase in future distributions.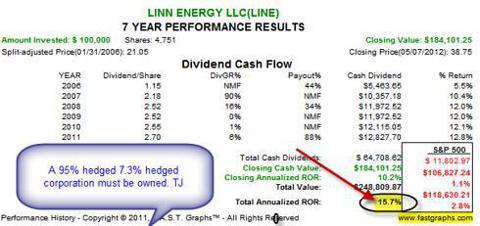 The oil and natural gas are hedged for 3 years. If you can't find a 7.3% distribution yield at your local credit union, then Linn Energy is a substitute.
Linn Energy increased their 1st quarter distribution, compared to the 4th quarter distribution, by 5%. The quarterly distribution is now 72.5 cents per unit.
Action
I own Dynex Capital, Linn Energy, LLC, Apollo Residential Mortgage, Evolving Systems, and American Capital Agency. The average yield is 11.44% per year. The market does not wait for laggards. The market requires action. No action equals action. Bogleheads are not thinking for themselves. Bogleheads believe one can't beat the market. This is a silly way, in my opinion, of thinking about the market. I believe one should hedge against downside and achieve outperformance based upon risk versus returns.