After four straight months of positive returns, the S&P 500 is beginning to sag, and the 10-year Treasury yield returned to sub-2.00% levels. With investor enthusiasm apparently cooling and a growing number of economic data points coming in below expectations, the warm weather boogie man of "sell in May and go away" is donning his robe. Ideally, you're made of money and can afford the 100% capital preservation that money markets offer. More likely, you're still working for a living, and earning almost 0% on your money isn't a luxury you have. So is there a 'better than bonds, better than money market' alternative?
Several pundits are putting out their perspectives to nervous investors, and offering their thoughts on ways to stay in the market without being married to your smartphone during your family retreat.
Two contrasting style recommendations come from Credit Suisse and Morningstar Inc respectively. They both veer towards large cap dividend paying stocks that earn better than bonds and bring some of the stability of dividend paying stocks. They differ in that where Credit Suisse looks for safety in 'low beta', Morningstar prefers stocks that earn a 5* rating from Morningstar and are trading at a substantial discount to (Morningstar's) 'fair value'.
This TheStreet article provides more details on the Morningstar's list. The Credit Suisse list is attached below, and part of their "Better than Bonds" update that you might be able to access on your brokerage account.
The next two figures show you the 20 stocks on the Credit Suisse list and their sector breakdown. As can be seen, the list is defensive and entirely U.S. Large Cap focused. You gain international exposure by the fact that these U.S. companies have substantial International components.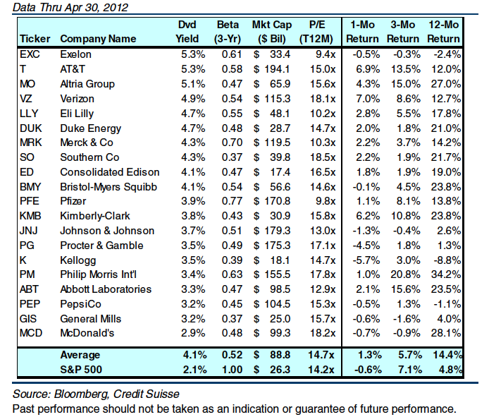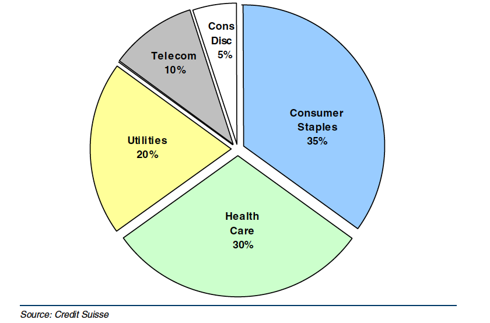 As the two figures below show, the Morningstar list of 10 stocks is also entirely Large Cap, but a split of International and Domestic stocks. Surprisingly, it has a hefty allocation to commodities, which is intuitive in one way (high dividend), but counterintuitive in another (high beta).
| | |
| --- | --- |
| Stock | Ticker |
| KDDI Telecom (Japan) | OTCPK:KDDIY |
| Applied Materials | AMAT |
| Koninjke Philips (Netherlands) | OTCPK:KKPNY |
| France Telecom (France) | FTE |
| Staples | SPLS |
| Steel Dynamics | STLD |
| Supervalu | SVU |
| Alumina | AWC |
| Arcelor Mittal | MT |
| NTT Docomo (Japan) | DCM |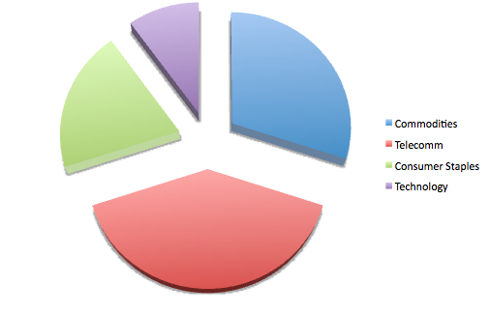 Other than a big slug of Telecom in each, the Credit Suisse and Morningstar views of safety are as different as can be and almost incomparable from a sector allocation perspective. One way to get some clarity might be to compare them from a technical perspective. After all, May to October is a relatively short period of time, and capital safety is not only a function of fundamentals, but also technicals.
In that regard, Louis Navellier's Portfolio Grader is a good macro way of getting a technical perspective. While Louis includes fundamentals in this grade, there is a heavy emphasis on technical health.
Click to enlarge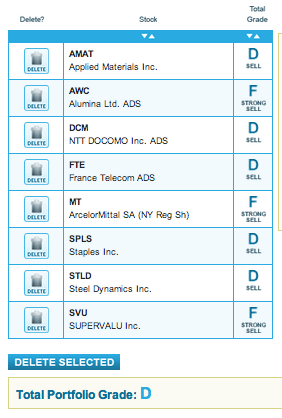 The technical grade differences on these two portfolios are substantial. Morningstar seems to favor deep value stocks, that may or may not hold up on a temporary basis over 3-4 months, and score rather poorly on Louis' scale. Credit Suisse's list just seems better in terms of spreading the bets.
The only rub with the Credit Suisse list is the transaction cost of going in and out of 20 stocks. But as Credit Suisse notes, this is a basket of ideas that satisfy some screening criteria, and not a recommendation to buy the stocks individually and collectively. Choosing only one stock per sector, thus
one of either Merck (NYSE:MRK), Pfizer(NYSE:PFE), Johnson & Johnson (NYSE:JNJ) or Eli Lilly (NYSE:LLY)
and so on, helps winnow down the choices to close to 10 stocks.
Disclosure: I have no positions in any stocks mentioned, and no plans to initiate any positions within the next 72 hours.