Priceline.com (NASDAQ:PCLN) has long mystified and amazed me. The one time many years ago when I tried to use its airline reservation system, I balked at relinquishing the ability to choose my own itinerary. I always thought PCLN would occupy a tiny, low-margin, niche in travel reservations, yet earnings report after earnings report, the company appears to deliver excellent results.
PCLN revenues are much larger than Orbitz (NYSE:OWW) revenues. In 2010, PCLN finally overtook Expedia (NASDAQ:EXPE) in revenues.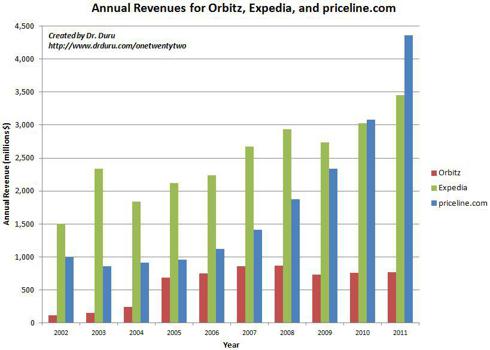 Annual Revenues for Orbitz, Expedia, and priceline.com
Source: MSN Money
EXPE recently traded to all-time highs after its late April earnings report. Expedia spin-off Trip Advisor (NASDAQ:TRIP) is up about 45% since its debut in December, 2011. Obviously, there is plenty of money in travel reservations!
With earnings coming up for PCLN, and given recent successes in analyzing post-earnings prospects for Amazon (NASDAQ:AMZN), Best Buy (NYSE:BBY), and Apple (NASDAQ:AAPL), I decided finally to take a look at the post-earnings prospects for PCLN. In summary, it seems that given the recent divergence in price versus earnings and revenue growth (that is, a more expensive valuation), PCLN is "due" for a rare post-earnings sell-off. Moreover, the May earnings cycle is PCLN's worst performing month for post-earnings price performance.
However, I find it difficult to bet on such a pullback given PCLN's overall stellar post-earnings performance to-date and overall strongly positive skew to the upside. Unfortunately, the history on price changes going into earnings does not provide the definitive and clinching conclusion as it did for the Apple post-earnings trade. The following analysis uses the template I created for the Apple analysis.
First, the fundamentals for PCLN have remained strong over the past five years, even through the recession. The graph below compares the quarterly year-over-year (YoY) changes in earnings per share (EPS) and revenue to PCLN's stock price (on a log scale). The last data point uses price as of Tuesday, May 8th and assumes PCLN will hit current consensus estimates.
Note how growth took a steep dive last quarter and this deceleration is expected to continue for the coming earnings report. On a quarterly basis, the stock price has been little effected. In other words, the continuing surge in the stock price suggests investors are confident in future earnings and/or revenue growth expectations.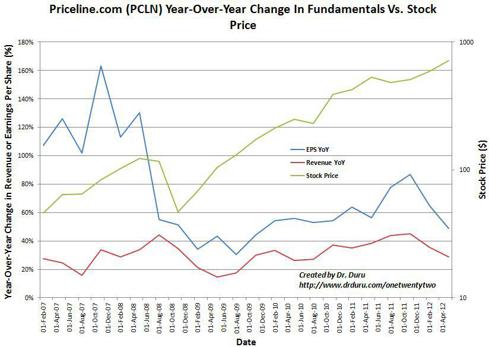 Priceline.com Year-Over-Year Change In Fundamentals Vs. Stock Price
Source: EPS and Revenue data from MSN Money, stock price data from Yahoo! Finance
Until the last four days of trading, it appeared that the market was anticipating yet another strong earnings report from PCLN. After retesting the rising 50-day moving average (DMA) on April 24th, PCLN soared 10%. However, it stopped cold of making fresh all-time highs. The subsequent selling resulted in another test of the 50DMA, this time on very high selling volume. This trading action all but confirms PCLN has made a top for now given the selling was so strong from the all-time highs in early April.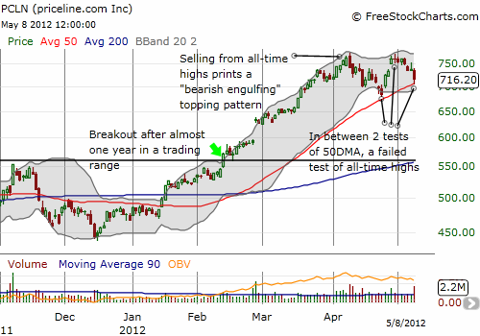 priceline.com's stock prints a topping pattern that gets confirmed with a break of 50DMA support
Source: FreeStockCharts.com
The average price change coming into Wednesday evening's earnings is now 0.2% for the past two weeks and -0.9% for the past one week. While the past week has been rough for PCLN, there have been six other earnings cycles over the past 21 (since 2007) that have had worse performance. Nine of the last 21 earnings cycles have delivered a down day immediately preceding the earnings report.
None of this trading is strongly correlated to PCLN's price performance the day after earnings are reported. (Note: if PCLN reported earnings before the market open in the morning, the day "after" earnings means the same trading day). The charts below summarize the relationships broken down by year and then aggregated by month of the earnings report (regardless of year).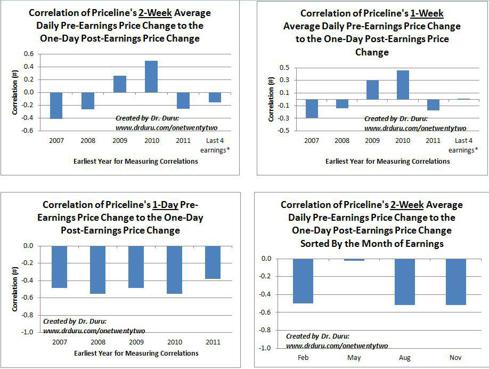 Correlation of Price Changes Pre-Earnings to the Price Change the Day After Earnings For Various Aggregations of Time
Note there are no particularly strong correlations. In this case, I consider a correlation above 0.75 and below -0.75 or so to be strong. Since I am biased toward thinking PCLN will trade down following earnings, the above data provide a very weak expectation for a positive close for Wednesday's trading ahead of earnings.
Over these same 21 earnings cycles, PCLN has traded up the day following earnings an amazing 17 times, for an 81% post-earnings winning record. However, and this is a BIG "but", three of those four post-earnings sell-offs occurred during the May earnings report. The May report is the only one of the four quarterly reports with a losing record.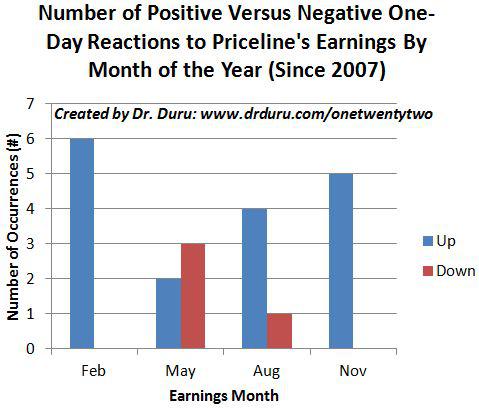 Number of Positive Versus Negative One-Day Reactions to priceline's Earnings By Month of the Year (Since 2007)
The range of post-earnings price performance has been quite remarkable. The vast majority of the time, PCLN jumps at least 5%. There have been four occasions where PCLN has managed one-day price gains between 20 and 25% (excluding 20%)!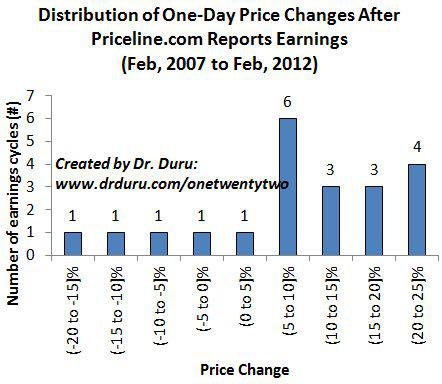 Distribution of One-Day Price Changes After Priceline.com Reports Earnings (Feb, 2007 to Feb, 2012)
So, PCLN can deliver tremendous post-earnings gains, and these gains are heavily skewed to the upside.
Overall and all things considered, the arrows are pointing south for PCLN post-earnings, but making such a bet includes high risks. I definitely do not want to short shares (shorts have remained relatively constant over the past year at under 10% of float). In a case like PCLN, I like to trade spreads. They cap potential profits in exchange for tightly limiting risks. The spread also eliminates most of the high risk premium embedded in a volatile stock like PCLN.
If PCLN manages to soar post-earnings yet again, history shows little potential for a fade. Since 2007, PCLN has only faded 4 of its 17 positive post-earnings closes. The last time was the November 7, 2011 earnings. The reversal was official on November 18, and it took 39 trading days for PCLN to recover. That recovery immediately preceded the big breakout that continues today (see chart above). In other words, PCLN can be bought on post-earnings strength.
Be careful out there!
Disclosure: I am long AAPL puts and calls.