PowerShares Dynamic Healthcare Services ETF (PTJ) was ranked 14 on the Sector Momentum Table last week, up nine slots from a month earlier. While broad market indices struggled in recent months, PTJ continued a rally it has enjoyed for much of the year. The fund gained 16.65% year to date through December 7, roughly double the S&P 500's showing for the same period. If the wider stock market continues to tread water and the health care sector's vitals remain in check, PTJ is likely to climb even higher on the Sector Momentum Table before the close of the year. Consumers usually cut back on spending during tough economic times, but health care expenses are one part of their budgets they're unlikely to trim. Moreover, the $2 trillion the U.S. spends on health care every year is expected to double by 2016. In short, health care stocks hold a rare combination of growth potential and defensiveness—characteristics that have been highly appealing to investors during the shaky market climate of recent months.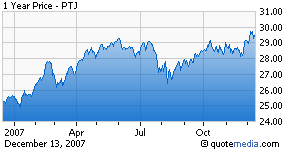 PowerShares offers investors three very different takes on the health care sector: PTJ, PowerShares Dynamic Healthcare (NASDAQ:PTH) and PowerShares FTSE RAFI Health Care (PRFH). While PTJ homes in on such service providers as drug distributors and managed- care firms, PTH and PRFH invest throughout the sector, holding shares of drugmakers, medical equipment companies and other non-service firms that PTJ avoids.
PTJ has little in common with PRFH, which focuses on the largest health care stocks. PRFH's portfolio is dominated by such pharmaceutical giants as Pfizer (NYSE:PFE) and Merck (NYSE:MRK), and its average market cap of about $49 billion dwarfs PTJ's $6.6 billion average. The two funds recently shared only one top-ten holding. PTH is a closer match, but the overlap between the funds is still slight. PTH's average market cap typically mirrors PTJ's, but the fund's broader focus recently left it with only three of the same top-ten holdings. And while PTH usually invests in 60 stocks, PTJ sticks to 30.
PTJ's tight focus on a fairly small number of stocks, all in one corner of the health care sector, is likely to make the fund more volatile than its peers. That hasn't been much of a problem since PTJ's inception in September of 2006, as health-care services shares have performed consistently well. All but five of PTJ's recent top 25 holdings gained more than 20% year to date through December 7, and only one showed a loss.
Express Scripts (NASDAQ:ESRX) has the distinction of being not only the fund's top position, at more than 5% of assets, but also the portfolio's best-performing stock in 2007. The stock gained nearly 102% through the first week of December, boosted recently by a stronger-than-expected forecast for 2008 earnings. Express Scripts is a pharmacy benefit manager [PBM], which means that it purchases and distributes drugs and medical services on behalf of third parties such as managed-care firms and employers. While top pharmaceutical firms in the coming years will suffer from the release of new generic versions of major drugs, the trend is likely to boost sales and profit margins for Express Scripts. The firm also stands to benefit from an increase in home-delivery pharmacy services and specialty pharmaceuticals, each of which offer higher profits per script than traditional prescriptions.
Recent PTJ number six holding Medco Health Solutions (NYSE:MHS) faces stiff competition from the smaller Express Scripts, but there's been enough business lately to keep both companies prospering. Medco gained 86% year to date through December 7 and is solidifying its position as the leading mailorder prescription provider.
Aetna (NYSE:AET), CIGNA (NYSE:CI), UnitedHealth Group (NYSE:UNH) and WellPoint (WLP), all top PTJ holdings, represent the fund's large stake in the managed care industry. These firms haven't performed quite as well as PBMs in 2007, largely due to increasing competition. Stocks in these firms tend to be highly cyclical, and after a few years of strong performance they may have reached a peak.
That said, some of these stocks have shined lately: Number two holding Aetna delivered 86% year to date returns through December 7. And regardless of cyclical downturns, an aging population and increased incidences of disease should keep demand high for the services these companies provide over the long term.
Currently, none of PowerShares' three health care funds are represented in the PowerShares Momentum Tracker Portfolio. That will change if they continue moving up the Sector Momentum Table as they have in recent weeks. To a large extent, the direction these funds head on the table will be determined by how urgently investors desire a defensive position in a potentially hostile market.
There are plenty of other factors to keep an eye on, however, including politics. Health care is emerging as a headline issue in the presidential campaign, and many of the ideas being discussed could have a major impact on the companies represented in this fund. The PowerShares Momentum Tracker will continue to monitor the performance of this fund and its brethren, looking for technical indications of the funds' likely direction.