"Notwithstanding the stock's recent performance, which I acknowledge is not what we want to see, this was one of the absolute best quarters for Solazyme in our 9 years as a private or public company...."

- Jonathan Wolfson, Solazyme CEO
The following is a quick list of some of the major talking points found in the 2012 first quarter earnings conference call for Solazyme (SZYM). The list is by no means exhaustive, and investors can find the conversation here.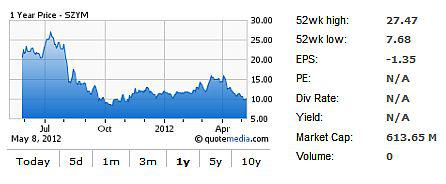 Key Points of Progress:
Bunge (NYSE:BG). Solazyme has finalized its joint venture with Bunge. Bunge's operations specialize in sugar milling & oil processing capabilities, and the union with Solazyme's technology will significantly increase the value of their agribusiness assets.

Dow Chemicals (DOW). Solazyme recently announced an official offtake agreement with Dow along with a deepening of the relationship into a phase 2 joint development agreement. The offtake agreement mitigates Solazyme's price risk associated with fluctuating feedstock costs. The JDA secures relations and opens a door for further product exploration between the two companies.
U.S. Navy. Solazyme gains the title of having the first advanced biofuels in history to be used by the Department of Defense in active operational deployment. The USS Ford sailed from Everett, Washington to San Diego, California on 95,000 liters of Soladiesel. This advancement beyond test phases lines the company up nicely for ongoing developments. Mr. Wolfson alluded in the Q&A session for increased "potential for an RFP for a DPA program which is in the planning process with the DoD". Presumably this is in reference to a request for proposal for a delivery purchase agreement by the Navy.
Volkswagen (OTCPK:VLKAY). The 12-month evaluation program with Volkswagen is a useful program that fully demonstrates the drop in compatibility of Solazyme's fuels. It opens the door to another relationship, and will be useful for Volkswagen to optimize its engines to clean fuel technologies.
Algenist. Since its inception one year ago, Algenist sales have doubled in regards to average monthly sales. Solazyme views this example as a performance marker of its ability to enter into commercial markets on its own. Partner QVC has experienced seven sell-out sessions in the first quarter of 2012 compared to the four times in the 10 months of 2011. A second brand is in the works. Store space and shelf space has increased.
Altein. SRN announced new product Altein which fills a void in the market for non-allergenic protein products that have no adverse tastes. Protein demand is on the rise, and current product typically entails whey and soy - two products with allergen issues. Initial indications suggest Altein addresses a $10 billion industry which is growing 6% annually.
Major Highlights:
Low Scale Risk. Addressing one of the largest fears when it comes to Solazyme's ability to scale, Peter Licari laid out assurances of Solazyme's ability to remain contaminant-free. Low nitrogen environments and low pH levels equate to very low contamination risk. The company has thus far successfully increased scale 18,000-fold since early test phases. Solazyme needs to increase scale less than 5-fold from the current 128,000 liter scale. This would bring expected tank sizes to be less than 640,000 liters in Moema.
New Oil Profiles. The company asserted it has achieved the ability to tailor oils that far exceed the capabilities of current plant oils. This challenge goes out to agricultural rivals such as Monsanto (NYSE:MON), Dupont (DD), Syngenta (NYSE:SYT), and Dow who have all invested years and hundreds of millions into trait modifications with limited results. As seen in the following chart, the company was able to completely eliminate polyunsaturated levels.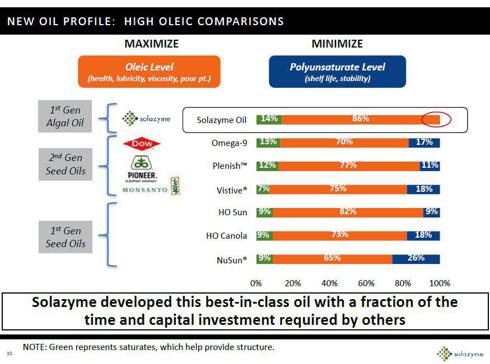 Setbacks:
Cost Saving Measures. As Roquette provided all of the capital for SRN, it made the decision of making modest downstream improvements to the 5000 metric ton phase 2 facility. This caused a delay that will ultimately push back operational status by a quarter.
Capital Commitment Increases. Though initially providing estimates for roughly $50 million for each partner in the Bunge JV, the company now expects maximum capital expenditures to rise to $72.5 million. This cost rose in light of anticipated purchases in Brazil that did not materialize and the rising cost of work in Brazil. However, the company also announced its confidence in using 60% debt for the JV, bringing its total cash commitment to a low $20-$30 million. Despite the setback, the end result looks to be favorable.
Disclosure: I am long SZYM, BG.