This week we find a pullback, as more 90% of the ETFs I track are lower: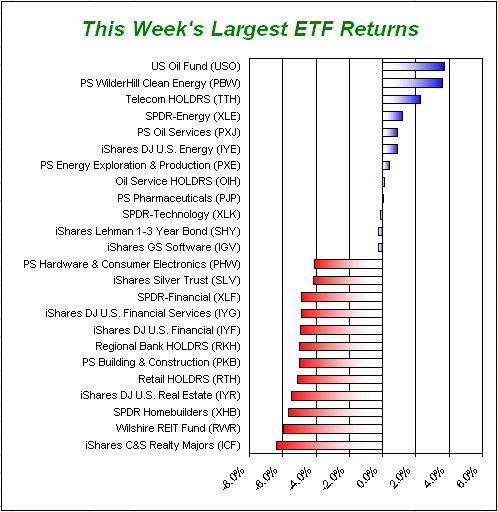 The big news this week was, of course, the quarter-point rate cut by the Fed and the market selloff that followed. If you missed the action on Tuesday this post shows the intraday chart of the action as well as how the indices ended that day. We did see a bounce back attempt on Wednesday morning amid chatter of plan by the Fed to battle the credit crunch but that enthusiasm faded as the day wore on. The rest of the week was more or less a listless drift.
The US Oil Fund (NYSEARCA:USO) and PowerShares WilderHill Clean Energy Fund (NYSEARCA:PBW) are tied for the lead with minor strength in telecom and energy-related funds such as the Oil Service HOLDRS (NYSEARCA:OIH) and the SPDR-Energy (NYSEARCA:XLE).
A look at the bottom half of the list shows real estate and homebuilders at the very bottom but they weren't materially weaker. In other words, the selling was rather broad based and not focused on any one area, though it is worth pointing out that the SPDR Homebuilders (NYSEARCA:XHB) fund was last week's stand-out leader. The XHB bounced from an all-time-low last week amid a plan by the government to freeze some subprime rates. This week's drop gave back a good portion of last week's gains.
Index performance this week: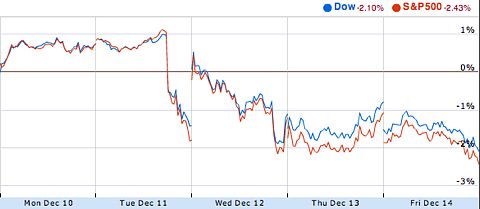 Index performance year to date: