Zynga (NASDAQ:ZNGA) is a possible Facebook (NASDAQ:FB) play with long-term growth prospects.
Facebook's IPO, slated for May 18, could provide a short-term catalyst for Zynga. Going forward, growth in the user base and online gaming could make this stock a solid long-term investment. If you look at the long-term trends Jim Cramer talks about in mobile, cloud, and social media strategies, Zynga is in a great position in all of these areas.
Zynga accounts for 15% of Facebook's revenue, yet Zynga is only worth about $6 billion with a little over $1 billion in cash. Facebook will likely be worth over $100 billion after its IPO.
Q1 results showed active users growing over 20% year over year, and average daily bookings per average daily user were up 8% year over year. Advertising revenue was up over 200% year over year in Q1. The company remains focused on increasing its reach and engagement. The company is also working hard to grow mobile; however, mobile has lower average daily bookings per average daily user. The company believes it can better monetize mobile games, although monetizing mobile platforms has been challenging for many companies.
One area of concern in the quarter is that while revenue is up about 32% year over year, expenses were up almost 100% year over year. I believe this high R&D number should start to pay off as games are launched in the back half of this year. Overall headcount was up over 50% year over year, one of the main drivers of the increase in expenses.
Caesars (NASDAQ:CZR), MGM Resorts (NYSE:MGM), and Boyd (NYSE:BYD) have all entered into partnerships with online gaming companies to prepare for the eventual legalization of online poker in the U.S. Wynn (NASDAQ:WYNN) is in talks with Zynga about a possible partnership in online gaming. One of the strengths of casino companies is their ability to manage and grow their player database to increase gambling volumes. Pairing a land-based casino with an online casino allows for even greater player development. It allows land-based casinos to gain to the entire world with an online platform, and use that to drive those customers from online to the casinos. For Zynga, it could gain access to all of Wynn's current players and market the online casino to them. You could imagine a player's card system that is integrated across online and real casinos.

Click to enlarge image.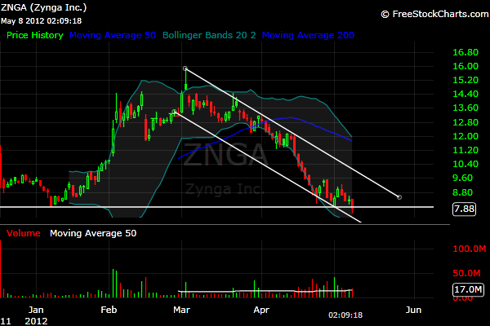 Entry Point
$8 is a key level for Zynga, and if the stock can find some support here this could be a launch point into the Facebook IPO. With over 10% of the float short and the stock about 20% below the 20-day moving average and 35% below the 50-day moving average, I think Zynga could be set to pop. The first resistance I see is around the $10 level of the top end of the descending trend channel.
Disclosure: I am long ZNGA.