It isn't often that a stock falls 50% in a single session, but Green Mountain Coffee Roasters (NASDAQ:GMCR) had the unfortunate distinction of doing just that on May 3rd after a worrisome earnings release.
Though the extent of the move may be somewhat surprising, the short case was far from unknown. David Einhorn, a well-known hedge fund manager, presented a very thorough case as to why longs were doomed. Sam Antar, the self-described "former criminal CFO of Crazy Eddie's" turned fraud-investigator, has been talking about the imminent downfall of GMCR for quite some time. (He also tweeted a picture of a victory martini recently). But GMCR's decline has already been thoroughly covered, so a more important question may be: what stock will be the next GMCR, that sheds a significant portion of its value in the blink of an eye?
Some of the high-fliers of the market have already fallen. Groupon (NASDAQ:GRPN), the online deal merchant, has dropped lost two thirds of its value in less than seven months since its IPO. This and all charts are courtesy of StockCharts.com.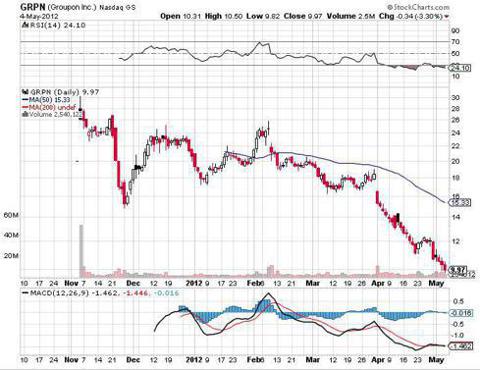 OpenTable (NASDAQ:OPEN) is another high flier that has fallen significantly from its peak. Unlike Groupon, OPEN shares climbed for years after going public, but shares now trade at levels seen two years ago, with a lot of shareholder value destroyed (and created) in the process.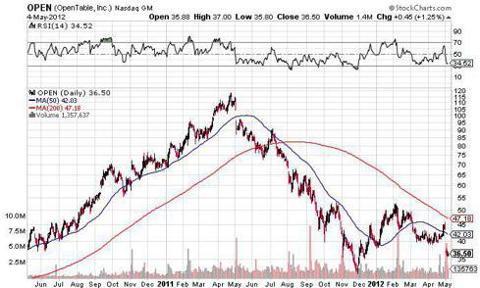 However, there are still many seemingly-unstoppable star stocks, including Salesforce.com (NYSE:CRM), Amazon.com (NASDAQ:AMZN), and Chipotle Mexican Grill (NYSE:CMG). Might any of these companies collapse in GMCR-like fashion?
Amazon.com is frequently pointed to as an the exemplification of the second technology bubble. While shares are certainly richly valued, currently trading at a triple-digit price to earnings ratio (as the company's profitability has declined in recent quarters), I do not believe that a decline in Amazon shares is imminent.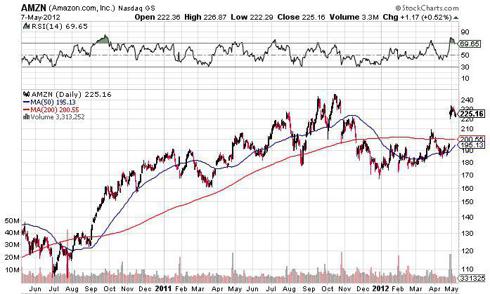 Shares popped after the most recent earnings report, when Amazon did crush (lowered) expectations. Shares now trade within 10% of all-time highs made in late 2011. Though shares do appear overvalued based on most traditional valuation methods (i.e. price/earnings ratios), I believe that the company is in a better position than bears realize (or want to acknowledge).
Amazon has transformed itself from an online retailer into a diversified, modern company. They now have many successful and industry-leading business lines; Amazon is now a major player in hardware (Kindle), software (custom Android build in the Kindle Fire), Cloud Computing (Amazon Web Services), and fulfillment. In fact, third-party sellers are now responsible for over one-third of sales on Amazon.com; Amazon simply collects various selling and/or fulfillment fees for providing services ranging from displaying the item on the website to storing and shipping the order. Amazon has many opportunities to expand its current offerings; for example, if Amazon chooses to, it extend its fulfillment tenticles further; right now, Amazon hires third-party delivery companies that presumably make a profit; in the future, Amazon could deliver packages itself to consumers (in high population density areas), and maybe even take market share from other delivery companies.
Recent margin contraction has been a concern that bears stress, but I believe that it's a non-issue. Amazon has the ability to raise prices on its many different types of users whenever it chooses to. Third-party sellers become deeply dependent on Amazon (trust me, I'm one of them), allowing Amazon to exercise pricing power over the commission and fulfillment rates that are charged; the same goes for many of its other non-retail services. Additionally, many consumers (again, such as myself) that live in areas where traditional shopping is not particularly attractive (I'm in NYC, but the same may be true for a rural consumer) can afford to pay a few percent more for items from Amazon and still save time and money versus traditional shopping.
Shares will swing up and down, and the stock is probably just about fully-valued, but I do not think that a collapse is imminent. Amazon is just doing too much right at the moment, and it has the ability to mitigate business weakness with strategies like price increases.
Chipotle Mexican Grill is another wonder-stock that is on an incredible run. More so than other stocks that I've mentioned, CMG shares have relentlessly surged upwards without showing much weakness. Only over the past month have shares retreated slightly, and they are now hanging near the important 50-day moving average inflection point.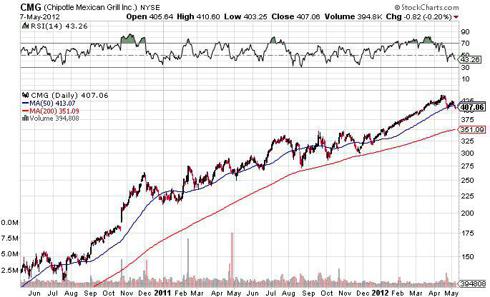 Though I do not own shares and would not buy at this valuation, I believe that CMG may have more room to run before an eventual collapse. The Chipotle story is easy to understand and get behind: they sell affordable, trendy, and moderately-upscale food to relatively-affluent consumers. (Despite the plethora of lunch options in New York, Chipotles reliably have lines of people willing to pay a couple bucks more for a decent burrito than they'd pay for a good sandwich at a local deli.)
Shares currently trade at a valuation of roughly 55 times trailing and 36 times forward earnings. The price to earnings growth ratio of 2 isn't exactly cheap, but not alarmingly expensive. If Chipotle can continue to build out stores successfully, shares may grow into their valuation. Other positive developments (i.e. if their Asian concept becomes successful) could provide additional support for the share price.
However, the company will need to earn three times as much as it currently does in order to trade in line with McDonald's (NYSE:MCD), the best-in-class fast food enterprise. Therefore, any slipup by Chipotle will be rewarded with potentially-massive share price declines.
Unlike Chipotle and Amazon.com, I think that Salesforce.com's reckoning day may be sooner rather than later. Shares have managed to maintain one of the more ridiculous valuations among high-flying stocks; with a $21 billion market cap, CRM trades at 9 times sales and 200 times EBITDA, while losing money on a GAAP basis (statistics from Yahoo! finance). While these metrics are nothing new for Salesforce.com, other darlings like Green Mountain Coffee and Open Table have suddenly fallen from favor (and lofty valuation) because of poor earnings reports. The same could easily happen to CRM.
Additionally, technically, Salesforce.com looks like it may be weakening.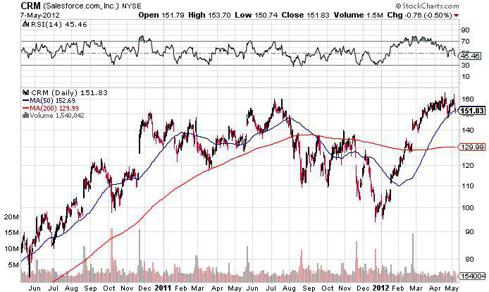 After running up to all-time highs during 2012, shares have now dipped below the 50-day moving average, which is a basic (but important) technical indicator. Over the past three sessions (May 3, 4, and 7), shares have fallen over $10 from May 3's intraday high.
Salesforce.com is to report earnings on May 16th, and this may be the pivotal report. Shares and expectations are at all-time highs, and recently, companies that disappoint seem to face harsher punishments from the Street than in quarters past. If Salesforce.com's report is not perfect, there may be potential to fill the gap in the 130s, or even the gap around 110. Even if shares fell by a third, they would still trade at a P/S of 6 and PEG of 2.3.
I believe that Salesforce's situation is worth a bearish gamble. Shorting shares exposes oneself to large loss potential, so I have picked up some June $100 puts in anticipation of a weak earnings report. The chance of a massive payoff is admittedly very slim, but as GMCR has reminded the market, massive declines are not impossible.
Disclosure: I am short CRM.
Additional disclosure: Short CRM via $100 puts; may add additional put options (or close the postion) at any time.