Citizens Communications (CZN) should be an exception to out-of-favor telecom stocks, says Barron's. The $4 billion company generates more than $500 million annually in cash, maintains 5%-6% annual growth and garners 55% margins on its dollars. Its 8% dividend yield is double that of T-bills; it represents a "manageable" 60% of generated cash. A recently completed $250M share buyback has not affected the dividend, while an anticipated 2008 buyback program will likely boost shares further. Stifel Nicolaus thinks Citizens' hefty dividend makes it a worthy hedge against broader market turbulence.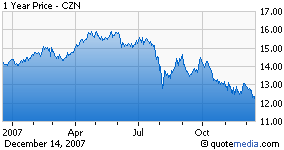 Down from $16 earlier this year, the $12.20 shares carry a 7.5 enterprise value to Ebitda (earnings before dividends, interest, taxes, depreciation and amortization) multiple. Citizens' fixed-line customer loss rate, 5.1% in Q3, is lower than that of rivals, but Citizens is focusing on broadband and internet customers anyway, particularly in smaller towns and cities where it has an edge. Free computers or satellite dishes are enticing customers - DSL subscribers rose 17% to 2.46 million customers in Q3 - but margins are being preserved as the company sticks to its $30M cost-cutting program. Integration of its $1.3B Commonwealth telecom acquisition this year has yielded $21M in cost savings in Q3, almost double that of Q2. Barron's Roundtable investor Scott Black of Delphi Management forecasts $15-$16 shares.
Seeking Alpha's news briefs are combined into a pre-market summary called Wall Street Breakfast. Get Wall Street Breakfast by email -- it's free and takes only seconds to sign up.