Back in March 2012, I received got a Tweet from Matt Miller, host of Bloomberg Rewind. I had been a guest on his show in November 2011.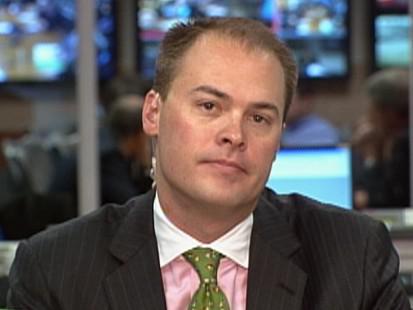 I'm very upset with Matt Miller. He has completely changed my beloved prime time viewing habits, so much so that Comedy Central executives have checked in on me to see if everything was alright, as I was no longer tuning into Chappelle Show reruns at 8 PM. Maybe it's a kiss of death for a beyond middle aged white guy to say that Bloomberg Rewind is "hip and happening," but it's really an enjoyable and educational hour to top off the day. But Miller didn't reach out to me for my adulation.
The day that I appeared on his nightly broadcast happened to be the same day that Green Mountain Coffee Roasters (NASDAQ:GMCR) was getting hit in the after hours. Its shares went down about 40% after having reported quarterly earnings. Idiot that I am, I mentioned it during the show, as an example of a company that I had owned. Not because it was a great stock, but because it had nice options premiums, due to all of that volatility, momentum and uncertainty. Since I was on the show to promote my book, "Option to Profit," which happened to focus on how to create income streams from stock holdings, it seemed a good example of how real risks accompany the potential for benefits. Some might refer to that as "disclosure." I consider it similar to "informed consent."
Capitalists like to capitalize on opportunities, but the other characteristics, such as risk taking are precisely the things that I profess not to like. But in a Ted Haggard kind of way, I fully embrace them, sinner that I am.
Following the November $20 plunge, I nursed shares back by a combination of buying new shares and exercising the strategy that I call "Having a Child to Save a Life," as well as selling puts. Again and again. Little by little accumulating premiums to offset the unrealized capital losses on the underlying shares.
It is a process that works, unless a company is irreparably broken. Thinking back to November, Green Mountain certainly had many outstanding issues, including accounting and inventory, but there was no reason to believe that it was destined to join the likes of Enron or WorldCom.
In the time period from November 8, 2011, to March 9, 2012, Green Mountain shares had climbed their way back to as high as $70. In fact, there were even rumors, albeit ridiculous ones, that Green Mountain was going to be added to the S&P 500.
Shares fell a bit when that didn't occur, but the next big hit came from the news delivered by its new "partner" Starbucks (SBUX). Call me old fashioned, but I'm of the generation that believes that when you have some kind of "agreement" it usually means collaboration. So it was a surprise, not just to me, but to lots of people, based on Green Mountain's price response to Starbucks' announcement that it was coming out with a competing single unit machine. I guess they just agreed to compete.
Usually, if you're in the same line of business, that's implied. It was nice of them to codify their agreement to go at each other. Given the players, you would really have to believe that credibility and staying power would be on the side of Starbucks. Their respective share prices following the Starbucks announcement certainly validated one company's perceived value over the other's.
Maybe coincidentally, Green Mountain took its Starbucks-related hit on a day that I was within a long stone's throw of the Bloomberg studios. I no longer get to New York very often, but on that day's business trip I also had an opportunity to try a Green Mountain product for the first time.
I'm not much of a coffee aficionado, but it was pretty insipid.
Following that day's plunge in Green Mountain's shares, out of curiosity I decided to look at the one-year performance of Gold, Starbucks and Green Mountain.
Up until that plunge, coffee, although perhaps more bitter, was a better portfolio performer than gold. Even Green Mountain Coffee's version was a better choice.
Matt Miller's Tweet on that day in March was to jog his memory regarding my current position on GMCR. I like it when people want to share my pain. I think he had wanted to see whether I'd come to my senses.
As it turns out, Green Mountain is one of a very small number of momentum stocks that I own, being a reasonably conservative investor and trader and one who consistently writes covered calls or sells puts to generate income. Do so consistently and long enough and you could find your stocks cost basis has gone down to zero. That's much better than your stock going down to zero.
Take Green Mountain for example. The scorecard since my first purchase of shares in April 2010 is as follows: Realized capital gains: $17,076. Options premiums received: $46,864. I'm on the hook for a capital loss of $22,167 if I sell my current shares today (May 7, 2012). In that time 17,100 shares have gone through my hands through purchase, assignment, repurchase, etc. at an average cost of $40.05 per share. That means that a particular lot of shares, which I usually hold for a week to a few weeks at a time has spun off $2.44/share in capital gains and premiums, or an ROI of 6.1%.
Booyah. (Want to see the transaction details?)
But wait. That's the ultra-conservative analysis. No one reports their results on the basis of cash flow. The knock your socks off analysis considers that typically 1,000 shares or less were held at any one time, so the total return for those 1,000 shares was actually 104% in a 24 month time period. That's 52% per year.
Booyah, Booyah.
But I know what you're thinking. You're thinking "what if?"
What if I lived in a world of perfect knowledge and perfect timing. What if I sold my shares at the 24-month high of $112? I know that I'm thinking that, because I go through the "what if" analysis on every hedged position. I do so not to stoke feelings of regret, but rather to continually evaluate the covered call methodology as I apply the concept.
Based on the monthly average holding of about 712 shares (the 17,100 shares over 24 months) a theoretical gain from having divested all shares at the top at a final gain of $72/share would have resulted in a profit of $51,264.
Only $51,264, Booyah.
In fact, from that $42 low point in November, I've added approximately $15,890 in premiums on an average 750 shares, or $21/share in added value from renting out shares to those happy to speculate in their attempt to leverage their funds with option purchases.
Not surprisingly, when Green Mountain reported its most recent earnings on May 2, 2012, the shares reacted. With Green Mountain, the challenge had always been predicted the direction of that reaction. Just prior to the report, shares closed at $47.30, which was about $6 ahead of where it plunged to from the $62 on the day that I appeared on Matt Miller's show.
As it may turn out the nearly 50% drop in share price after the May 2012 earnings report may be Green Mountain's last such out-sized move as its days as a "momentum" stock may have come to an inglorious end. I knew I shouldn't have become addicted to Nespresso.
For me, Green Mountain now represents either an opportunity to purchase more shares and aggressively sell calls on the lower priced lots to whittle down the loss, as I've previously done, or an opportunity to create a strategic tax loss.
Since I don't follow the Bernard Baruch axiom and cut losses at 10% those are the only two choices. Getting on with it could have started as early as May 3, 2012 by buying back the May 4, '12 $52.50 calls and selling the May 11, '12 $35 calls for $0.35, but it takes a lot of $0.35 premiums to make up for $20 of share price that had evaporated into the ether.
Looking down at my wrist adorned with an ever-present elastic band, I see WWARPD? What Would a Reasonable Person Do?
A reasonable person would probably move on and find a better place to park the money.
If that's the alternative, count me out. Out, but not down.
By the way, my first purchase of shares came shortly after CNBC's Herb Greenberg raised his first of many flags about accounting issues and the possible need to re-state earnings. Shares plunged and the crowd didn't notice me as I was walking in the direction opposite to which they were running. That was about two years ago. Greenberg was as right then, as he is now, it's just that the accounting actuarial process grinds exceedingly slowly, for which I am grateful.
Disclosure: I am long GMCR.