Since the mid-September shut down of TimesSelect, nytimes.com (NYSE:NYT) grew significantly in September and October, and leveled off in November. The Old Gray Lady's site crossed the 10 million threshold of U.S. unique visitors in October, a level of traffic not seen since February, 2004. This recent growth spurt brought nytimes.com back in the Top 100 Sites on the Internet.

Growth at nytimes.com outpaced rivals usatoday.com and washingtonpost.com (WPO), but not wsj.com. The financial news icon actually doubled U.S.-based unique visitors from 1.5 million in June to 3 million in November, despite residing behind a paid subscription wall.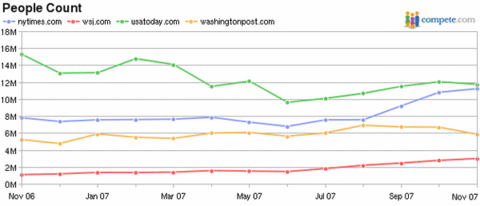 Incidentally, the biggest English news sites on the web are cnn.com and news.yahoo.com (YHOO), each with roughly 24 million U.S. unique visitors in November.
Since nytimes.com heavily promotes video and rich multimedia, a good engagement metric is Average Stay, which hovered between 8:00 and 10:00 minutes per visitor over the past year. At wsj.com, Average Stay (and Pages/Visit) swung broadly in response to the financial reporting periods. Both have grown without sacrificing engagement.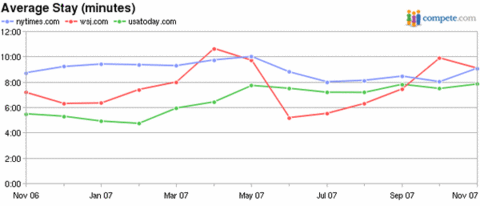 So while nytimes.com stimulated growth by trashing TimesSelect, wsj.com has somehow managed to double traffic in roughly the same period without tearing down that pesky pay wall.
Imagine the response when News Corp. (NASDAQ:NWS) opens up wsj.com as rumored. If the recent deal with Digg is any indication, traffic to the site could grow as much as 12x on buzz and excitement. The deal permitted referrals from Digg to access wsj.com freely, and stimulated a 12x increase in referrals in the two weeks following the announcement on November 13th.

A more likely, long-term scenario puts wsj.com at 4x traffic growth, alongside its chief online rivals, nytimes.com and forbes.com. The latter finished November with 10.7 million U.S. unique visitors.