As 2007 winds down, investors in Genitope (GTOP) are keyed up for the final results of its experimental, personalized cancer immunotherapy treatment MyVax in the treatment of B-cell non-Hodgkin's lymphoma. Results are expected some time this month, so the wait should not be much longer in what has been a long ride for the Company and its investors as two previously planned interim analyses failed to halt the trial early and demonstrate convincing effectiveness for MyVax. The most recent interim analysis of July 2006 was especially disheartening as the Company had expected to achieve statistical significance at that point for MyVax that would have allowed for an early end to the trial, but instead resulted in a tanking stock price from the $6 range to around $2 per share. Shares have since recovered, most recently trading around $3.50 per share with increasing volumes and volatility in anticipation of the make-or-break MyVax results due any day now. The most recent tally of short interest reveals a brazenly bearish stance with just over 11 million shares held short, which equates to about 26% of all shares outstanding and about 39% of the float. The opinion of analysts following the stock also varies widely from a low target of just $1 to a high of $17.50 per share.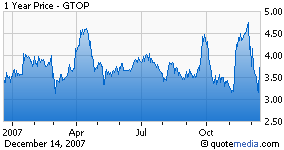 For MyVax to demonstrate a statistically significant benefit during the final analysis, it must pass a higher than normal statistical threshold by being so effective that there is less than a 1% chance that the results are due to chance – whereas most drug trials are powered to achieve less than a 5% chance that results are due to chance, i.e. a p value of 0.05. Genitope and MyVax make for a compelling story that may offer cancer patients a novel, personalized treatment option and I hope the trial is a success on that basis. However, from an investor standpoint, I am inclined to stay on the sidelines for the final trial results and would not be comfortable taking a position either short or long on the stock as it is poised to either quadruple overnight on success or crater below a dollar on failure to achieve its primary endpoints. Given the massive open interest and implied volatility already priced into the Company's options; they do not provide the typical hedging benefit that would otherwise exist and the stock itself is trading at a level that is comparable to a call option on the success of MyVax. While I held a long position and took a loss from the previous interim analysis; I will be watching from the sidelines this time around and hoping for success of MyVax for the benefit of cancer patients while realizing that it appears to be a long-shot to achieve its primary endpoints at the final analysis from an investment standpoint.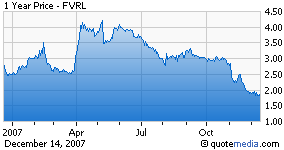 Favrille (FVRL) is closely related to Genitope and likely to trade in sympathy with the latter's pending MyVax results. Favrille is developing its own experimental cancer immunotherapy called FavId which is also being evaluated in a Phase 3 clinical trial for the treatment of B-cell non-Hodgkin's lymphoma. While the Company expects to report results for FavId later in 2008, investors in the Company will not have to wait that long for a definitive move in the stock based on MyVax results. With the stock currently trading at 52-week lows, it appears most investors are simply waiting for Genitope to report its results and react accordingly.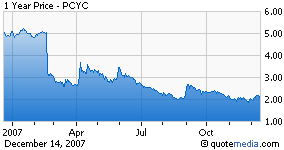 Another unrelated micro-cap biotech stock with a major catalyst remaining before year-end is Pharmacyclics (NASDAQ:PCYC). The Company has a pending PDUFA date of 12/31/07 for its experimental cancer drug Xcytrin, which is classified as a radiation sensitizer in order to enhance the tumor-killing effects of radiation therapy. Some controversy surrounds Xcytrin as the FDA originally refused to even consider the Company's new drug application and Pharmacyclics instead filed the NDA under protest in order to obtain a review from the agency. Xcytrin has failed to achieve its primary endpoints in previous studies, but has demonstrated a trend pointing toward a clinical benefit by prolonging the time to progression among lung cancer patients whose malignancy has spread to the brain. Back in June, Allos Therapeutics (NASDAQ:ALTH) decided to end development of its radiation sensitizer, efaproxyn, after failing to meet its primary endpoints in a pair of Phase 3 studies.
Investors appear to be skeptical on the chances for Xcytrin with about 10% of all shares outstanding held short at the most recent update. While I agree that Xcytrin deserves a chance to undergo the NDA review process; it appears poised to receive either an approvable letter or outright rejection given the original refusal to file ruling and the previous failures to achieve statistical significance. Although the remainder of the Company's cancer drug pipeline is in the early stages of development, Pharmacyclics enjoys a cash cushion of over $1 per share and zero debt which should provide some support to the stock price ahead of a likely disappointment on the upcoming Xcytrin decision.
Disclosure: none