Market Recap: After a good start to May, the market has looked weak since. That weakness continued today as concerns over Greece, Italy and Spain grew again. Italy and Spain saw bond yields rise to levels that are concerning, and Greece's government is not looking strong at all right now with its issues over elections. Those European concerns are creating a situation where the dollar is rising as the euro declines. Wholesale inventories did decline in March, which was a positive surprise. The market, though, is lacking a catalyst right now and so latching onto the issues abroad.
Tomorrow, we do get a key jobless claims report as well as trade balance. Both reports have the ability to influence the market, so a bullish case would look for surprises there. Misses, though, could power this market even lower.

Two Trades
A pairs trade that we added to the mix today was Visa (NYSE:V) long and Mastercard (NYSE:MA) short. Visa has been outperforming Mastercard as of late, and we expect that to continue. Market weakness will affect MA more than V as it is more expensive first off. Further, V seems to have bottomed after earnings, while MA has continued to drop, recently failing its 50-day MA. Further, Visa has gotten much more love from analysts. Both earnings were decent, but the technicals suggest more weakness in MA. V has held up well in recent weak days while MA has not.
Trade #1: Long V, Short MA
(Click to enlarge)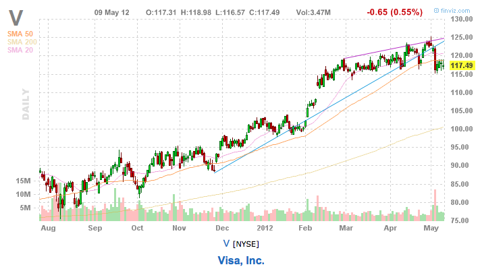 (Click to enlarge)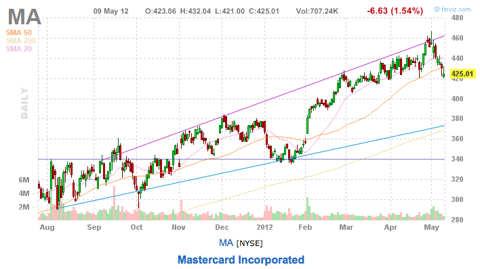 Tomorrow's Outlook
The market's outlook for tomorrow really depends around the data coming from jobless claims and the trade balance as well as more movement in the euro and the dollar. One factor that will move those two currencies is additional European data. Tomorrow, we are going to be looking closely at the ECB Monthly Report as well as the Bank of England rate decision. Those two reports have a lot of weight and can really move around the euro, so we need to be aware of those reports. We also have big reports out of China as well to investigate about its manufacturing. It's a busy day tomorrow once again with a lot of catalysts.
Commodity Talk
Right now, we believe that oil is still in a downward trend, and we look for a good mental support to come in at 95. The commodity did dip below the 200-day MA, so we are still in a downtrend. We like shorting United States Oil (NYSEARCA:USO). Gold is in the same boat as oil right now, and we still believe more downside in SPDR Goldshares (NYSEARCA:GLD) is available.
Our Moves
We had a nice day today as we took some solid gains off the table. We got a 15% gain in a Las Vegas Sands (NYSE:LVS) reverse iron condor that we had on since before earnings. Additionally, we were able to exit a long-term position in Papa Johns (NASDAQ:PZZA) for a 21% gain. We added a reverse iron condor in Priceline.com (PCLN) for earnings as well as long options play in Disney (NYSE:DIS).
We have the following positions. In our Short-Term Equity Portfolio we are long V, Dick's Sporting Goods (NYSE:DKS) and Hershey's (NYSE:HSY), short MA, Johnson Controls (NYSE:JCI) and Russell 2000 (NYSEARCA:IWM). In our Options Portfolio, we are long DIS, Panera Bread (NASDAQ:PNRA), Polaris Industries (NYSE:PII), Monster (NASDAQ:MNST), Dollar General (NYSE:DG). We are short BP (NYSE:BP) and Apple (NASDAQ:AAPL). We have a reverse iron condor on Ultra Proshares Financial (NYSEARCA:FAS). In our Earnings Alpha portfolio, we are long Wynn (NASDAQ:WYNN), Western Digital (NYSE:WDC), Teva (NYSE:TEVA). We are short Amazon (NASDAQ:AMZN). We have a reverse iron condor in Las Vegas Sands and PCLN.
Chart courtesy of finviz.com.
Disclosure: I am long DIS.