iShares Asia region country-based ETFs fell across the board last week, after two weeks of broad gains, with Friday's down market exacerbating losses. iPath ETN MSCI India (NYSEARCA:INP) declined for the first time in five weeks, while iShares FTSE/Xinhua China 25 (NYSEARCA:FXI) gave back all of its recent gains.
iPath ETN India, -2.7%, fared better than other regional funds considering the potential downside if there were heavy profit-taking. INP is still up almost 100% for the year.
iShares FTSE/Xinhua China 25 remained the second-best performer among the funds surveyed, but its 9.5% loss last week shaved its ytd return to under 54%.
iShares Malaysia (NYSEARCA:EWM) lost the least last week, -2.5%, but its ytd return slipped below 40% again. EWM has been among the best regional performers the past two weeks.
iShares Japan (NYSEARCA:EWJ) was among the biggest decliners, falling nearly 7% on the week and now down by a similar amount for the year. EWJ had returned to positive territory the week prior. Meanwhile, iShares Taiwan (NYSEARCA:EWT) dropped 8.8% and is barely in positive territory ytd (+1.0%).
Monday (12/17) Asian Market Summary: Markets Drop Sharply
See the chart below for last week's results. There are two sets of returns for each ETF: the past week [light blue] and year-to-date [purple].
Note, the bars for the iShares S&P 500 index (NYSEARCA:IVV) are colored differently for comparative purposes.
Click to enlarge chart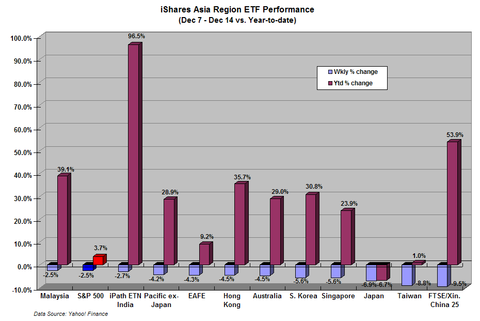 Disclosure: The author does not own shares of any funds mentioned in this article.
Recommended reading: Country P/E to GDP Growth Ratios: Emerging Markets Top List • How Will South Korean Election Affect Its Economy?
Here is a list of the relevant ETFs and their tickers.
iShares Australia (NYSEARCA:EWA)
iShares FTSE/Xinhua China 25 (FXI)
iShares Hong Kong (NYSEARCA:EWH)
iPath ETN MSCI India (INP)
iShares Japan (EWJ)
iShares Malaysia (EWM)
iShares Singapore (NYSEARCA:EWS)
iShares S. Korea (NYSEARCA:EWY)
iShares Taiwan (EWT)
iShares EAFE (NYSEARCA:EFA)
iShares Pacific ex-Japan (NYSEARCA:EPP)
iShares S&P 500 (IVV)