What has happened to Transmeridian Exploration (TMY)? This small, undervalued company was featured in the Wall Street Journal in August, and received takeover bids in November. When the bids were announced, the stock stood at $2.06 per share. Now, they trade at a 20% discount hovering around 1.60.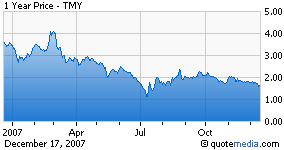 Given that multiple estimates have been done valuing the company between 600mm-1.5bln, how is it possible that it goes down after confirmed takeover bids? How is it possible for it to go down below the purchase price of CEO Lorrie Oliver not 4 months ago at $1.90?
People continue to worry about the lack of information regarding the process of the takeover. Rumors have spread that the deal either has fallen through or is failing to meet the potential that was given to it.
However, there has been no news from the company confirming or denying either event. Message boards have been rampant with paid bashers saying they have filed for Chapter 11, are letting other regional companies acquire profitable lands cheaply without contest, and institutions are selling their "secret shares". They have not filed for bankruptcy and whether they allow other companies to put in cheap bids for land does not change the value of the current assets.
I do not even know how to address the idea of secret shares in general, but I have not seen any massive Institutional unloading. Therefore, it can somewhat safely assumed that the reason for this rather undeserved decline in stock price is due to uneasy investors selling their positions under influence from bashers.
Since my last article, Transmeridian has shown that it can pump more than the 4000 bpd required to remain profitable. All the events that have happened since November continue to make Transmeridian Exploration a sensible acquisition for a large company, and therefore a sensible addition to any portfolio.
Disclosure: Author has a long position in TMY