U.S. MARKETS/HOUSING
Broad Sell-Off to Start the Week
The Dow Jones Industrial Average slipped 172.65 points (-1.3%), the Standard & Poor's 500 index ended 22.1 points lower (-1.5%), and the Nasdaq fell 61.3 points (-2.3%) Monday. Volume on the NYSE was 1.39 billion shares, and decliners routed advancers by a ratio of about 5:1. The U.S. 10-year Treasury was up 23/32 in price, pushing yields down to 4.15%.
All sectors ended in the red, with energies (-2.5%), tech (-2.2%), and basic materials (-3.5%) showing the most weakness. Crude fell $0.64 to $90.63/barrel.
Housing Starts (8:30 AM) and State Street Investor Confidence Index (10:00 AM) will be released Tuesday. Watch out for Best Buy's (NYSE:BBY) and Goldman Sach's (NYSE:GS) earnings among others.

Recession? Bah! Fed's Plosser Says
In an interview with the Wall Street Journal, Philly Fed President Charles Plosser said he doesn't foresee a recession in the coming quarters, and noted recent inflationary measures indicate price-increases are more broad-based than previous indications. "If you really believed the economy was going to be in recession for the fourth and first quarters or the first and second quarters, which I don't, there's not much the Fed can do stop that," he said. The bigger question, Plosser contends, is "what will the economy look like and what will inflation look like in the summer and beyond?" Aggressive monetary policy now, he said, could result in a "terribly inflation-risky environment" next year.
Plosser said Q4 and Q1 2008 are likely to be weak, but he's optimistic "things will have significantly improved" by Q3 and Q4 of next year. Recent inflation data, he said, make it unlikely current price increases are isolated price shocks. "It may be evidence that monetary policy had been too easy." Plosser also said he felt the Fed should reconsider its "balance of risks" assessment (Fed's Plosser: FOMC Should Ditch "Balance of Risks" Outlook).

Homebuilder Confidence Remains at Record Lows
U.S. homebuilder confidence failed to improve in December, holding to the same record low for a third straight month. The National Association of Home Builders/Wells Fargo index was 19, as expected by economists; any number below 50 indicates a low measure of confidence on the part of homebuilders. The reading is the lowest since the index began tracking homebuilder sentiment in 1985. Treasury Secretary Hank Paulson told a town hall meeting in Orlando Monday housing market woes will "take some time" to work themselves out. Douglas Smith, chief economist for the Americas at Standard Chartered Bank in New York, sounded a similar note saying, "In the near term, we shouldn't have a lot of high hopes."
Despite scaled back building on the part of homebuilders trying to work off excess inventory, increased foreclosures and tighter lending practices have meant the housing glut has continued unabated. "Builders continue to look for signs of improvement in the ongoing mortgage market crisis that is weighing on housing and the overall economy," NAHB President Brian Catalde said. Further exacerbating problems, many potential buyers are holding out for home prices to drop even more, keeping current 'for sale' units on the market for extended periods of time. Tuesday sees reports on November Housing Starts and Building Permits; both numbers are expected to continue their trend of monthly declines.

Manufacturing Index Plummets
The New York Fed's Empire State manufacturing index fell to a seven-month low, it said Monday. The survey of NY State manufacturing plants is considered one of the earliest indications of U.S. factory conditions. General business conditions plummeted to 10.31 in December from 27.37 in November, the lowest reading since May and well below the 20.00 forecast by economists polled by Reuters. New orders fell to 14.26 from 24.49.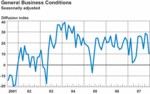 Shipments were down to 21.08 from 32.19. Unfilled orders dropped to -10, the lowest in almost a year, from -1.20. "There's a lot of weakness in unfilled orders, which can be considered a forward measure," said economist Robert Brusca. "It is consistent with idea that the economy is slowing down."
The index measuring the manufacturing outlook for the next six months rose to 32.4 from 30.5, but a measure of expectations for orders six months out fell to 29 -- the lowest since September 2001. The drop suggests manufacturing growth is "probably going to slow down," Dresdner Kleinwort economist Kevin Logan said. "We haven't seen it that low since 2001, and that's perhaps a signal that things are slowing."

Fed's Plosser: FOMC Should Ditch "Balance of Risks" Outlook
Philly Fed President Charles Plosser said in a Wall Street Journal interview Monday the FOMC should reconsider its policy of assessing the balance of risks between growth and inflation in its statements. Plosser contends a clear-cut pronouncement as to whether weak growth or inflation is the Fed's primary concern "may convey too much confidence about where it thinks interest rates are headed." Markets tend to assume that if the Fed's focus is on inflation, it is inclined to raise rates; if it's on weak growth, it is inclined to cut rates; and that if the statement references "balanced risk," the Fed will likely keep rates steady. In late October, the Fed's statement spoke of balanced risk, yet governors were later forced to backtrack after ensuing credit market tightness undid much of the perceived healing that resulted from Fed cuts beginning in August.
WSJ editor and Fed-watcher Greg Ip says it's unclear how widely shared Plosser's views are. Recently, the FOMC overhauled its communication strategy, including more-frequent economic forecasts, but stopped short of changing the basic structure of its statements.

United Rental/Cerberus Delay Trial; Possible Settlement
Shares of United Rental (NYSE:URI) jumped Monday after the company's trial against Cerberus Capital Management was postponed by one day to explore a settlement. United Rental is taking Cerberus to court in an attempt

to force the buyout firm to complete its deal to purchase United Rental for $34.50/share. The trial was set to begin Monday, but was delayed "to allow the parties to continue settlement discussions that were recently initiated," United Rental said. The announcement gave hope to investors who would like to at least part of the $4 billion deal go through. The deal was one of several leveraged buyouts that collapsed after the credit markets slumped in the late summer. United Rental finished 3% higher to $24.25 Monday.

Real Estate Developer Gets $1.4B Cash Infusion
Goldman Sachs (GS), Abu Dhabi's ever-expanding investment arm and others have agreed to invest $1.4 billion into privately-held Related Cos., a deal that will allow it to continue investing despite today's less borrower-friendly climate. The deal, expected to be announced today, includes about $400 million from Goldman and Michael Dell's investment firm MSD Capital, giving them a 7.5% stake in Related. Abu Dhabi and Saudi company Olayan Group will invest about $1 billion, sources told the Wall Street Journal.
Related CEO Stephen Ross said the firm began seeking outside investors before the August credit squeeze that wrought havoc on mortgage-related securities. It "was so good we knew it wouldn't last," he said. "Deals are going to require a lot more equity going forward." Ross said the current capital infusion will allow his firm to diversify; it recently acquired the Equinox chain of fitness centers and a majority interest in retailer Virgin Megastores NA. Related was formed in the early 70s to build and develop government-subsidized housing, which it still does. It eventually expanded to developing high-end office and retail venues, including its crown jewel, the Time Warner Center. Together with Vornado Realty (NYSE:VNO), it runs a $14 billion project in downtown NYC which involves building two train terminals and a new Madison Square Garden.

WSB Sponsor
TECHNOLOGY
Adobe Tops Estimates, Issues Strong Guidance
Adobe Systems Incorporated (NASDAQ:ADBE) topped consensus analyst EPS estimates by 1 cent in its recently ended quarter (F4Q07), while beating consensus revenue estimates by $25 million. Non-GAAP operating income was $362.2 million, versus $256.4 million a year ago, representing 39.7% of the company's total non-GAAP revenue. Non-GAAP net income was $289.6 million, compared to $198.9 million a year ago, and good for non-GAAP EPS of $0.49.

On that basis, analysts were expecting EPS of $0.48. Total revenue grew 34% to $911 million in the latest quarter, versus consensus estimates of $886 million. Adobe CEO Shantanu Narayen noted, "continued adoption of our Creative Suite 3 family of products, record revenue for Acrobat and strong momentum in our enterprise business." Narayen said the company is "positioned to achieve a sixth consecutive year of double-digit growth." (Adobe Systems F4Q07 (Qtr End 11/30/07) Earnings Call Transcript)
Looking ahead, Adobe expects revenue of $855 to $885 million next quarter (F1Q08) non-GAAP operating margin of 40%, and EPS of $0.44 to $0.46; consensus estimates had been for adjusted EPS of $0.42 on total sales of $837 million. Piper Jaffray analyst Gene Munster, who rates Adobe's shares a Buy, was enthusiastic about the company's outlook. "They raised the first quarter and by a good amount," he said. Adobe also gave a full-year 2008 operating margin target of 39% on revenue growth of approximately 13%. Shares, which fell 2.87% in composite trading Monday, fell another 0.7% in extended trading.

DoCoMo, Softbank Potential Japan Carriers for Apple's iPhone - WSJ
Apple (NASDAQ:AAPL) CEO Steve Jobs has spoken with executives from Japan's number-one and number-three wireless operators, NTT DoCoMo (DCM) and Softbank (OTCPK:SFTBF), in preparation to rollout his company's blockbuster iPhone in Japan, one of the world's biggest and most sophisticated mobile markets, the Wall Street Journal reported Tuesday. A solid entry into Japan is key to Apple reaching its stated goal of 10 million iPhones sold by the end of 2008, or 1% of the global market. Japan's nearly 100

million mobile users buy a new cellphone every two years, on average, often expensive feature-loaded models.
Sources say that DoCoMo is likely to be Apple's first choice, in light of the preference Apple has shown so far to rollout with top-tier mobile operators. A sticking point in the negotiations, sources say, is that Apple wants the same revenue cut it's getting from current carriers AT&T (NYSE:T) in the U.S., Deutsche Telekom's (DT) T-Mobile of Germany, France Telecom's (FTE) Orange, and Telefonica's (NYSE:TEF) O2 in the U.K.; some estimates put it at about 10%. If unable to come to terms with DoCoMo, Apple may turn to Softbank, which is aggressively pursuing its larger rivals' customers.

Qwest Drops on Weak Strategy Update
Edward Mueller, CEO of Qwest Communications (Q), promised a strategy update (after taking over as CEO in August) by year-end; he delivered one Monday. Investors were unimpressed with his largely unchanged plans for the firm. Coupled with a broad market sell-off, shares fell 4.1% to $6.72.

Mueller said the company plans to spend around $1.8 billion on capex in 2008, compared to an expected $1.6B to $1.7B this year, but he didn't provide a financial outlook, instead saying it will come on the firm's analyst day event on Feb. 25.
The bulk of Mueller's strategy is to continue upgrading Qwest's fiber-optic network, while simultaneously cutting costs and improving customer service. Mr. Mueller wouldn't comment on any potential divestitures or acquisitions, but he said Qwest will try to strengthen existing partnerships, such as ones with DirecTV (NYSE:DTV) and Sprint Nextel (NYSE:S). He also said he doesn't envision offering an Internet TV service similar to one rivals AT&T (T) and Verizon (NYSE:VZ) are promoting. Qwest gained back about 1% to $6.79 in after-hours trading.

Qualcomm Buys Noise Reduction Developer Softmax
Qualcomm (NASDAQ:QCOM) said Monday it has purchased private noise reduction technology developer Softmax. Terms of the deal were not disclosed. Qualcomm, a digital wireless communications company, will use Softmax's technology in "handsets, Bluetooth

headsets and other consumer devices." CEO Sanjay Jha said, "The acquisition of SoftMax will allow new opportunities for our customers to differentiate themselves by providing a superior level of voice quality to end users." It was Qualcomm's second acquisition in as many months; last month, the company bought Firethorn, which provides mobile banking services, for $210 million. Shares were down 0.7% Monday.

FINANCIAL
National City Sets Aside $700M for Loan Losses, Says Worst May Be Over
National City (NCC) said Monday it will take a $200 million charge this quarter related to defaults and distressed mortgages. The regional bank also said it would reserve about $700 million to cover increasing

delinquencies and future defaults, after setting aside $361 million to handle losses for bad loans in the third quarter. "The mortgage business continues to be under stress," the company said. It did, however, signal the worst may be over. "As of the end of November, the balance of loans in the warehouse consisted mainly of agency-eligible and other loans deemed readily salable, and no additional losses of significance are expected," it said in a SEC filing. It said fourth-quarter net interest income will likely be "flat to down slightly" compared to the third quarter. Shares of National City fell 0.7% to $16.51 Monday.

ENERGY AND MATERIALS
National Oilwell Varco, Grant Prideco in $7.5B Merger
Oil drilling and services companies National Oilwell Varco (NYSE:NOV) and Grant Prideco (GRP) jointly announced early Monday a merger through which National Oilwell Varco will acquire all of Grant Prideco for $23.20 in cash and 0.4498 of its own shares per GRP share. The deal values GRP at $58 per share, a 22% premium to Friday's closing price of $47.46.


The deal was unanimously approved by both companies' boards. According to the press release, the transaction is "expected to be accretive to earnings and cash flow per share for National Oilwell Varco in 2008," assuming full-year cost savings of $40 million.
Analysts praised the merger. According to Susquehanna Financial's Brian Niemiec, "The merger is a solid move for National Oilwell Varco, as it is generally considered one of the strongest players in the oil machinery sector," adding it "should greatly improve its footprint in the sector." Natixis Bleichroeder analyst Roger Read added, "National Oilwell gets one of the best drill-bit businesses and a drill-pipe business with a large market share." Tudor, Pickering, Holt & Co. analyst Dan Pickering believes the merger will boost National Oilwell's EPS by roughly 5% in 2008.
The combined company will have a market cap of $32 billion. National Oilwell says it has already secured bank commitments for the bulk of the cash portion of the merger; the remainder will be paid for with cash on hand. GRP shares closed up 13.6%; NOV shares were down 8.6%. It has gained 131% YTD.

Plains Exploration to Sell $1.75B of Assets; Boosts Buyback
Plains Exploration & Production Company (NYSE:PXP) said early Monday it will sell oil and gas properties to Occidental Petroleum (NYSE:OXY) and XTO Energy (XTO) for $1.75 billion. The company also said its board of directors approved a $1B stock repurchase program to replace the existing authorization with around $158M remaining. In addition, the board approved a $1.15B capital budget for 2008.

PXP's sales to Occidental total $1.55B for 50% stakes of working interests in its oil and gas properties located in West Texas, New Mexico and Colorado. The company's sales to XTO total $250M for separate properties in New Mexico and Texas. "We are pleased with the values being realized today through these transactions with Oxy and XTO which are significantly higher than our properties are currently valued in our stock price allowing us to use the proceeds to buy back PXP common shares and reduce debt," said CEO Jim Flores in a statement. Shares of PXP lost 1.7% to $54.30 on Friday, but gained back 1.6% to $55.17 on the news. OXY fell 3% and XTO lost 2.7% Monday.
Additional Reading: Oil & Gas Industry Leaders, Investment Opportunities • XTO Energy in a Class by Itself - Barron's
Illinois Tool Works Down 4% After Lowering Guidance
Illinois Toll Works (NYSE:ITW) lowered its Q4 earnings guidance by $0.04/share to a new range of $0.82-$0.86. Guidance for the year has been lowered to a range of $3.32 to $3.36. Analysts previously estimated Q4 EPS of $0.88 and $3.38 for the full-year.


The company cited ongoing weakness in the North American market. "During the past three months, the company has seen continuing weakness in North American end markets, and as a result lower than expected base revenues and operating margins." Illinois Toll Works has suffered due to the current U.S. housing slump which has lowered demand for products related to construction. However, in the last decade the firm's U.S. dependence had dropped to 50% of sales from 65% of sales. The company also said that acquisitions were cutting into profit margins. Illinois Tool Works purchased the filtration portion of Filtertek Inc. from Esco Technologies Inc. (NYSE:ESE) for $77.5 million. In October, it agreed to buy Densit from FLSmidth. The previous month, it acquired Avery Berkel, a food retail weighing unit of Avery Weigh-Tronix.
Shares were down 4% in pre-market trading to $53.50 from Friday's close of $55.90 and continues to trade around this level. At least one analyst said the news was not altogether bad. "The downward revision was modest, as the midpoint of the company's forecast full-year earnings growth range is now 11% instead of its previous 12%," Morningstar analyst John Kearney wrote. "Our 2007 projections were even more conservative than the bottom end of the company's revised earnings range."

DryShip to Aquire 30.4% of Ocean Rig, Shares Plunge.
DryShips (NASDAQ:DRYS) agreed to acquire about 30.4% of offshore drilling contractor Ocean Rig ASA, traded on the Oslo exchange, for about $405 million. Separately, DryShips CEO George Economou acquired approximately 4.4% of the share capital of Ocean Rig.
Ocean Rig owns and operates two ultra deepwater semi-submersible drilling rigs, built to operate in water depths between 7,500 to 10,000 feet.

These rigs are currently on charter to ExxonMobil and Shell. Ocean Rig has reported that it expects to enter into new employment contracts for its two UDW rigs with terms up to five years at very attractive day rates. Demand for ultra deepwater rigs is expected to be strong for 5 to 10 years. DryShips game plan is to capitalize on this expected strong demand, but investors have responded negatively. DryShips shares dropped 14.35% to $72.18. DryShips, which owns and sails 45 freighters, said it plans to finance the deal with $162 million in cash on hand and $243 million in debt.

HEALTHCARE/BIOTECH
Bristol-Myers Sells Imaging Business for $525 Million
Bristol-Myers Squibb (NYSE:BMY) said Monday it will sell its medical imaging business to Avista Capital Partners for $525 million. Bristol-Myers announced two weeks ago it would sell the unit as part of a restructuring effort to become

a "next-generation BioPharma company" and concentrate on adding to its dwindling pipeline. The deal marked private equity company Avista's sixth investment in the healthcare industry. David Burgstahler, a partner at Avista, said the unit should be a "great fit for our healthcare portfolio, as it addresses the healthcare industry's increasing need for improved diagnostic tools." Shares of BMY fell 1% to $27.81 Monday.

INTERNATIONAL
Mixed Tuesday in Asia
Asian markets were mixed Tuesday.
The Nikkei fell 0.27%. Yahoo Japan (YHOO) climbed 2.6% after Monday's 6% dive. Trend Micro (OTCPK:TMICY) gained 2.4%. Nikon (OTCPK:NINOY) dropped 4.7%.


The Hang Seng was up 0.51%. Hong Kong and China Gas (OTCPK:HOKCY) gained 4.9%, China Petroleum (NYSE:SNP) was up 3.6%, and China Life (NYSE:LFC) was up 1.8% after Monday's 4.3% slide. Petrochina (NYSE:PTR) was down 2.2%.
China's Shanghai Composite lost 0.83%.
"Today, pessimistic views on U.S. economy got an upper hand in the market," said Fortis Asset Management CEO Hitoshi Yamamoto. "But it's difficult to talk about the market at this time of the year. Foreign investors are effectively on vacation, and the overall market is more prone to be moved by index futures trades."

Europe Markets Rising Tuesday
Major Europe indices were up slightly as of 5:40 a.m. EST.
London's FTSE was higher by 0.43%. Troubled U.K. bank Northern Rock led the way, up 3.7%. BAE Systems (OTCPK:BAESY) was 3.2% higher. Insurers Standard Life and Prudential (NYSE:PUK) were up 2.4% and 1.9%.

Losers included miners Anglo American (AAUK) -1.3% and Rio Tinto (RTP) -1.3%.
The French CAC 40 was up 0.45%. Air France-KLM (AKH) was up a solid 2.7%. sanofi-aventis (NYSE:SNY) was 1.5% higher. L'Oreal led losers (OTCPK:LRLCY), down 1.3%.
The Dax was 0.31% higher. Siemens (SI) was up 1.6%.
ECB's Gift of Unlimited Liquidity
The European Central Bank [ECB], eager to avert a year-end liquidity crunch, announced Monday it plans to offer unlimited funds to banks at below market rates in an auction Tuesday. The exact rate is set at or above 4.21% for a period of two weeks -- consistent with the ECB's goal of keeping rates near its 4.0% target. This marks the second time the ECB has said it will meet all bids at a specified rate; the first was this past August when the U.S. subprime mortgage mess began to unfold. At that time, the ECB injected overnight loans to banks totaling an unprecedented €95 billion. "There is always a heightened need for liquidity at the end of the year, but this year it is magnified because of the ongoing credit squeeze and cash hoarding," commented Nathalie Fillet, a London-based BNP Paribas interest-rate strategist. Inter-bank euro lending rates fell from more than 4.9% prior to the ECB's announcement to around 4.5% afterwards. The U.S. Federal Reserve is also providing liquidity to banks in auctions of up to $40B through year-end, in conjunction with efforts by global central banks to try and restore confidence to money and credit markets.

MUST-READS ON SEEKING ALPHA TODAY
Have Wall Street Breakfast emailed to you every morning before the market opens.