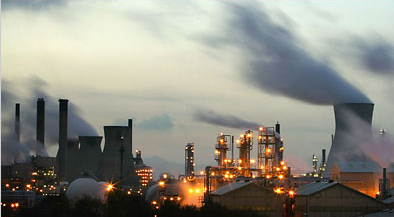 Oil has been getting quite ravaged in the month of May so far, due to a heavy drop in the Euro and increase in the Dollar as well as a mixture of data that has not pointed to positive catalysts for higher oil prices. Yet, how has oil typically done in May, moving into the summer months when more people drive and use air conditioning?
Oil has not shown a great pattern in May. It has been up in 14/26 past years, so it's just above even. Yet, oil is already down over 10% for the month. The max drawdown on oil in any month has been in 2010 when we saw a 12% decline in the price of oil. Oil started this month at 103.50 and is trading at 96.50 at the time of this article, for a 7% decline. So, we could see some more downside. Much more than 10% would be a pretty drastic month. We would be buyers of oil on a move to 92.50 purely based on historical analysis. The best vehicle to trade oil is United States Oil (NYSEARCA:USO) with equity.
In our research, we also looked at average gains of oil companies as well as their max drawdowns. May has been strong for oil companies. The companies we investigated are Baker Hughes (NYSE:BHI), BP (NYSE:BP), Transocean (NYSE:RIG), ExxonMobil (NYSE:XOM), ConocoPhillips (NYSE:COP), Halliburton (NYSE:HAL), and Schlumberger (NYSE:SLB). Here is average gains for past fifteen years:
Click to enlarge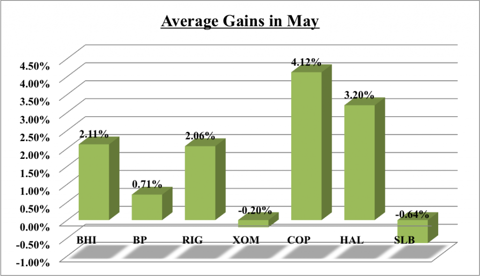 Every company other than XOM has averaged a gain, but these are averages. To get better trading ideas, we want to know max drawdowns or max gains:
Click to enlarge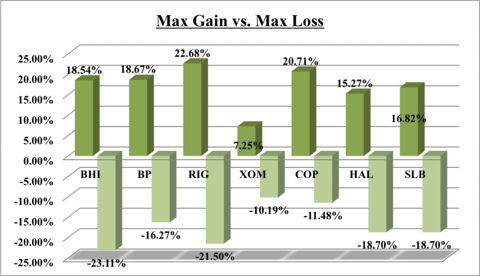 Based on this data, we believe the best opportunities are in XOM and COP. With XOM, the max drawdown takes us to about 79. With COP, the max drawdown takes us to about 50. Therefore, we like the following trades:
Play #1: XOM, Jun16, 77.50/75 Bull Put Spread
Max Gain: 9.5%
Play #2: COP Long: SLB Short
The market is still murky, but this data can give you some better ideas of just where everything can go.
Disclosure: I am long USO.