Transocean (NYSE:RIG) announced its first quarter 2012 results on May 2, 2012. Here are some of the highlights from this report:
First quarter revenues totaled $2.331 billion. This is a decrease from the $2.422 billion in revenues in the fourth quarter of 2011.
First quarter 2012 net income attributable to controlling interest was $42 million. This is a significant improvement from the $6.119 billion loss that was taken during the fourth quarter of 2011. The reason for this huge disparity can be found by looking at the "net unfavorable items" category on the income statement. Transocean had $184 million of such items in the first quarter of 2012. The company had $6.176 billion of such items in the fourth quarter of 2011. If these net unfavorable items are backed out, we can see that Transocean still had a higher net income in the first quarter of 2012 compared to the fourth quarter of 2011: $226 million versus $57 million.
Revenue efficiency was 90.4% in the first quarter of 2012 compared to 91.9% in the fourth quarter of 2011.
Fleet utilization was 61% for the quarter.
First quarter 2012 operating and maintenance expenses were $1.410 billion. This is an improvement from the fourth quarter of 2011 which saw operating and maintenance expenses of $1.565 billion excluding estimated loss contingencies associated with the Deepwater Horizon incident.
Operating cash flows for the first quarter of 2012 totaled $540 million. This is a decrease from the $563 million that the company had in the fourth quarter of 2011.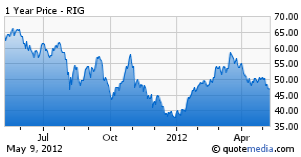 Over the last few months, I have written several articles showing the strong fundamentals for the offshore drilling market (you can read the latest article here). Transocean made a point of restating these trends during their earnings conference call. According to Terry Bonno, Transocean's SVP of Marketing, "Utilization and dayrates are continuing to improve and have reached levels not seen since the last cycle."
The company stated that there is increasing demand in all operating environments. In particular, there are now opportunities to collect dayrates well in excess of $600,000 per day in near-term ultra-deepwater markets. Transocean itself contracted out the Deepwater Expedition for two years at $650,000 per day earlier this quarter. That particular contract included options to extend the contract for up to an additional two years at a dayrate of $695,000.
Transocean's competitor SeaDrill (NYSE:SDRL) is also collecting dayrates close to this level. The Deepwater Expedition was Transocean's last available ultra-deepwater drillship. The company is already in advanced discussions with customers for the use of rigs that do not become available until late 2012 or even 2013. This all adds support to my convictions that the fundamentals for ultra-deepwater drilling companies are very strong until at least 2014 and possibly beyond.
Transocean states that the company has been seeing similar market trends in the deepwater, midwater, and shallow water environments. These echo similar statements that SeaDrill made at the Howard Weil 40th Energy Conference at the end of March. Spot rates for offshore drillings rigs are now from $460,000-$490,000 for deepwater rigs, $350,000 for midwater floater rigs, and $150,000 per day and up for premium jack-up rigs.
These are approximate numbers only as the actual contractual dayrates for rigs also depend on other factors such as the location of the assignment. Transocean has been able to secure several new contracts at these high rates over the last quarter. This should serve to increase top-line revenues, particularly if the company is able to reactivate their idle equipment and contract it out into the tightening market.
Transocean managed to decrease their operating and maintenance costs during the first quarter of 2012 from the fourth quarter of 2011. The company expects that costs will rise again during the second quarter, however. One reason for this is that Transocean had $70 million less in net costs to shipyards during the first quarter than during the fourth.
During the Q&A session following their presentation, Transocean stated that these costs are going to hit the company during the second quarter, driving costs up significantly. The third and fourth quarters should look better from a costs perspective but the company stated that the first quarter operating and maintenance costs were lower in the first quarter than in any remaining quarter in 2012.
The company's revenue efficiency fell to 90.4% in the first quarter. The company expects to increase this over the remainder of the year and finish off the year with an average revenue efficiency of 92%. However, Reuters states that Transocean is targeting 94% revenue efficiency for the 2012 fiscal year. A decline in revenue efficiency indicates that the company was less successful at maximizing revenues than it was during the last quarter. An increase to 92% or even 94% would be a great improvement.
While even 94% revenue efficiency would be worse than what SeaDrill typically accomplishes but it would be better than what Ensco (NYSE:ESV) achieved last quarter (although Ensco was certainly in this ballpark if the rigs obtained from Pride International are excluded).
Overall, analysts are optimistic here and for good reason. Earlier in this article, I stated that the company is poised to increase top-line revenues as the company reactivates idle rigs into the tightening market environment. In fact, that has been happening. Utilization has increased since the first quarter of last year, climbing to 61% from 55%.
There is plenty of room here for Transocean to grow their revenue simply by reactivating idle rigs. If the company succeeds in its goal to increase revenue efficiency, that will also produce top-line growth. Analysts are expecting these factors to drive double-digit revenue growth over the next two years.
Disclosure: I am long SDRL.