Shares of Activision Blizzard (NASDAQ:ATVI) were up modestly in after-hours trading after the company released first quarter earnings that beat Wall Street expectations. The company also raised full-year earnings guidance to 65 cents per share on a GAAP basis (up from 63 cents) and to 95 cents per share on a non-GAAP basis (up from 94 cents). Subscribers to the company's role-playing game World of Warcraft held steady at 10.2 million, even with the quarter before, after losses in previous quarters.
In short, the first quarter of 2012 was a success for the company; but that is nothing new. Activision has grown remarkably -- and steadily -- to become the world's largest video game publisher by market capitalization. And what is particularly surprising about the company -- and the stock -- is how steady that growth has been. ATVI has a beta of only 0.58, and its ten-year chart shows a solidly steady upward trend: []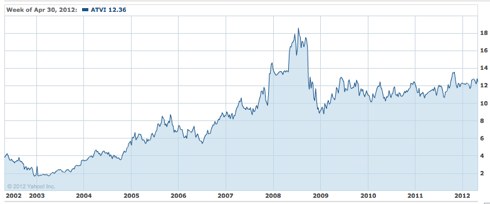 10-year chart of ATVI 4/29/02 to 4/30/12; courtesy Yahoo! Finance
Over the past 10 years, ATVI has returned a solid 8.36% annually, not including annual dividends paid from 2010-2012 totaling 49.5 cents. In short, it trades far more like an stable, old-line manufacturer than a more modern tech stock. Given Activision's history -- its games go back to the Atari 2600 in the early 1980s -- this makes sense.
As such, at current valuations, Activision looks like a smart long-term holding. At Wednesday's close of $12.40, the stock trades at 19 times GAAP guidance, but just 13 times non-GAAP guidance. Backing out the company's $2.90 per share in cash net of long-term liabilities, ATVI can be had for just ten times 2012 non-GAAP earnings.
Free cash flow has been solid as well, totaling nearly $3.3 billion over the past three years. (First quarter FCF was weak, due to the seasonal nature of the company's accounting and a substantial increase in the deferred revenue balance.) Given the company's $10 billion enterprise value, annual FCF in the range of $1.1 billion provides a solid return.
In short, nothing stands out as a truly compelling or awe-inspiring reason to buy Activision Blizzard. Its long-term growth rate has been solid, but unspectacular; analysts expect much of the same going forward. Other than a sharp drop in the 2008-09 financial crisis -- when the broad market fell some 50% -- and the 2007 merger with Blizzard, then owned by Vivendi (OTCPK:VIVHY) -- there haven't been newsworthy peaks, or terrifying valleys, in the company's stock. Activision has simply produced solid growth and return on equity, creating new blockbusters (such as the Call of Duty franchise and World of Warcraft) to replace old ones (such as Tony Hawk skateboarding games and the Guitar Hero series).
Investors now seem to be questioning whether the company can continue that success. WoW is now seven years old, facing increased competition (such as that of Electronic Arts' (NASDAQ:EA) Star Wars RPG) and, as noted, facing lower subscriber numbers. EA's Star Wars game itself lost 400,000 subscribers in the fourth quarter, raising concerns that the RPG model as a whole is losing steam. Adding further pressure, sales of all video games fell 25% year-over-year in March, according to NPD Group, though its figures only include in-store purchases, as opposed to digital downloads.
So, can Activision persevere in the current climate? The company is optimistic about new franchises, including next week's release of Diablo III; the company on the Q1 conference call also pointed to new releases in the Call of Duty and Skylander series, along with new content to reinvigorate the World of Warcraft franchise. It's obviously impossible to predict whether Activision will find a new blockbuster -- or resurrect an old one -- but investors should remember that the company has successfully navigated this very competitive market for over 40 years now. At some point, management should get the benefit of the doubt. In addition, there are several bullish factors for ATVI investors, both in the short- and long-term:
1. Activision Blizzard has consistently provided exceptionally conservative guidance.
As noted, ATVI currently trades at just 10x 2012 non-GAAP guidance when backing out its substantial net cash balance. But, if history is any indication, that guidance will likely be exceeded, and the slight raise after the first quarter should provide more evidence that Activision Blizzard's 2012 results will outstrip its initial projections. Here is a look at the company's initial guidance -- and results -- over the past four years:
| | | | | |
| --- | --- | --- | --- | --- |
| Year | Guidance (GAAP) | Results (GAAP) | Guidance (non-GAAP) | Results (non-GAAP) |
| 2009 | $0.22 | $0.281 | $0.61 | $0.69 |
| 2010 | $0.47 | $0.492 | $0.70 | $0.79 |
| 2011 | $0.56 | $0.92 | $0.70 | $0.93 |
| 2012 | $0.63 | ??? | $0.94 | ??? |
1 -- excluding $0.19 writedown in intangible assets due to market weakness; results were $0.09 including non-cash loss
2 -- excluding $0.16 writedown in intangible assets due to market weakness; results were $0.33 including non-cash loss
data from company earnings releases
Should the trend hold, ATVI could easily see 2012 non-GAAP EPS over $1 per share, and should see free cash flow again over $1 billion after a substantially negative working capital adjustment in 2011. Given a share price in the mid-12's, and an enterprise value of around $10 billion, both figures are more than acceptable.
2. Its competitors aren't providing much competition.
Electronic Arts is near a 52-week low after lowering full-year guidance for sales and earnings. While its net revenue projection is roughly neck and neck with that of ATVI, the weakness in Star Wars shows the company's struggle to move into the digital realm long dominated by Activision Blizzard. THQ Inc. (THQI) is hemorrhaging cash and facing rumors of bankruptcy. Take-Two Interactive (NASDAQ:TTWO) this week delayed its BioShock Infinite release until February. And Zynga (NASDAQ:ZNGA) is near an all-time low amid criticism of its acquisition strategy and its development capabilities, with Forbes' Paul Tassi calling the Facebook game developer "a creatively...and morally bankrupt company." While Activision Blizzard's growth is hardly eye-popping, it clearly remains best of breed in the sector.
3. New consoles may breathe some life into what has become a relatively stagnant market.
The Xbox 360 from Microsoft (NASDAQ:MSFT), the Sony (NYSE:SNE) PlayStation 3, and the Wii from Nintendo (OTCPK:NTDOY) were all released between 2005 and 2006. While companies have added movement sensor-based capabilities such as those of Microsoft's Kinect, the consoles themselves appear due for an upgrade.
Sony is rumored to be first in line, with a release date of late 2013. New consoles could breathe new life into the sector; more importantly, future consoles may restrict the used games that have been so profitable for video game retailer GameStop (NYSE:GME). That restriction may provide gains for not only ATVI, but other developers such as EA and TTWO.
In short, what investors have in ATVI is an industry leader with a long history of success, a valuation that appears reasonable -- at worst -- and some legitimate industry-wide and stock-specific tailwinds that provide a solid bull case. Activision Blizzard isn't "a screaming buy", or "poised to double", or any of the terms that market analysts love to throw around it. It is a well-run company that generates solid cash, and through a small dividend and the retirement of $2.5 billion in stock from 2009-2011, returns that cash to its shareholders. It is a company that still leads its competitors, and has room for a reasonable amount of growth. And it is a stock that offers the potential for excellent returns for long-term value investors, with its strong cash-balance and still-enviable franchises providing a significant margin of safety. In the case of ATVI, that should be enough.
Disclosure: I have no positions in any stocks mentioned, and no plans to initiate any positions within the next 72 hours.