Jefferies is out with a monster call on DryShips Inc (NASDAQ:DRYS) after the company yesterday morning announced they had acquired a 30.4% stake in Ocean Rig ASA, an offshore drilling contractor.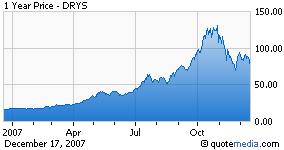 After selling off 14% yesterday, and 45% over the past six weeks, the firm believes DRYS shares are extremely oversold given the current strength in dry bulk shipping charter rates, expectations for dry bulk shipping charter rates to strengthen further in 2008, and an improving outlook for the dry bulk shipping market in 2009. In fact, DRYS shares now trade at 3.6 times 2008E EPS, 3.1 times 2008E CFPS, and 3.9 times 2008E EV/EBITDA.
With dry bulk shipping charter rates likely to increase further next year, they believe their current estimates could actually prove conservative. Although the firm would have preferred for DryShips to utilize its surplus cash flow to either acquire additional dry bulk vessels, pay down debt, repurchase shares, and/or increase the Company's dividend payments, nonetheless, DryShips still has the most operating leverage to the attractive dry bulk shipping market. As a result, the firm reiterates their Buy rating and their 12-month price target of $160 per share.
Notablecalls: I can't believe the stock was DOWN yesterday on heels of the Ocean Rig deal. After all, it's accretive to 2008 EPS! The deal is so good George Economou, the CEO & Chairman of DRYS himself took a 4.4 percent stake in Ocean. The guy bet his own dinero!
Also, check out the conviction of Douglas J. Mavrinac, Jeffco's Martime Group Head as he stands by his Buy rating with a whopping $160 price tgt. This is a $70 stock! And it's not a biotech! This call is bound to generate buy interest. This ought to be a $80+ stock today.
When DRYS takes off, keep an eye on the other Dry Bulk names: EXM, GNK, TBSI, DSX and EGLE.
(Did I just sound like Cramer?!)