ThinkEquity is upping their target on PeopleSupport (NASDAQ:PSPT) to $24 from $18, saying the company is ripe to be acquired, and an acquirer could be willing to pay an EV/EBITDA multiple of 15x its new 2008 estimate, which is how they arrive at their new $24 price target.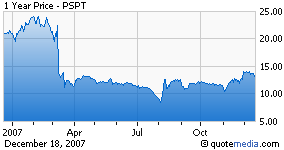 PSPT shares are cheap, with roughly $5.45/share in net cash and a current EV/EBITDA multiple of only 6.3x firm's new FY'08 EBITDA estimate. Inthe case of private equity, eliminating $5-7M in public company expenses and improved operating efficiencies could easily improve cash flow by another $5-10M annually. In the case of M&A, the firm believes multiple companies could see value in PSPT, specifically the large Indian outsourcing vendors that they believe are searching for new growth opportunities outside of India.
Reiterates Buy.
Notablecalls: PeopleSupport last week rejected IPVG and AO Capital Partners' unsolicited offer to acquire a majority stake for $15 per share. Over the weekend, RBC Capital upped their target to $19 from $15, saying the stock should go higher here but now we have ThinkEquity's Nate Swanson out with a Street high $24 target. That's bound to generate plenty of buy interest as PSPT has been hugging around the $14 level for the past couple of weeks. I suspect we are going to have a breakout day today!
I like the outsourced BPO market a great deal. I think eTelecare Global Solutions (ETEL) remains one of the undiscovered gems in the space.