Or was it same time last year?
It seems as though we're back where we were at the same time last year. While last year's slowdown was partially caused by the Japanese earthquake, we also had high gas prices to deal with. As NDD has pointed out (and I believe coined), the oil choke collar works like a charm. Here is the chart of gas prices from This Week in Petroleum []: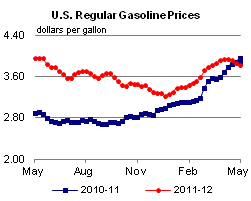 Prices this year are higher than last year, which probably makes up for the lack of a catastrophic event (such as an earth quake) slowing the economy.
Over the last month (more or less) we've learned that every major EU country is getting hit by recession. Now the voters in several countries have replaced their governments, which is going to make the markets more nervous regardless of who is elected. These political events may replace the overall effect of the Japanese earthquake last year in this year's market drama, effectively putting a break on any forward motion.
The market news is also negative. The BRICs markets are now in bear market territory. The US markets are clearly in a correction and US bonds are again catching a safety bid. Commodities are selling off, with oil taking a huge hit.
In short, we saw this picture last year. Although the players are now different, the overall effect is probably going to be the same.