Synta Pharmaceuticals (SNTA) is a biopharmaceutical company focused on discovering, developing, and commercializing novel pharmaceutical drugs for extending and enhancing the lives of patients with severe medical conditions, including cancer and chronic inflammatory disease. Synta has a unique drug discovery process which has generated all Synta compounds. The discovery process involves the use of a unique chemical library, high throughput screening and in vivo modeling capabilities. Synta has a strong intellectual property position of over 700 issued or pending patents.
Research Platform
Synta's research platform involves a unique chemical library of over 120,000 small molecules and plant extracts. The platform then uses high throughput screening capabilities linked to the chemical library to facilitate the rapid identification of new drug candidates. The next step includes an in vivo testing facility that evaluates the safety, efficacy and pharmaceutical properties of the compounds. Then it uses a chemistry-driven discovery combined with a biology-driven validation in clinical trials. Once the research platform has a compound it uses target elucidation to identify the therapeutic intervention points of novel, promising drugs.
The Cancer Drugs
Synta Pharmaceuticals lead cancer drug is called Ganetespib. It is an Hsp90 inhibitor in over 20 trials for various types of cancer. Ganetespib targets one chaperone protein, Hsp90, which is required for the proper functioning of many types of cancer. This drug is the first Hsp90 inhibitor to demonstrate this broad range of activity with a favorable safety profile. There is the potential of many partnerships with various types of cancer with Ganetespib.
The most advanced cancer trial for ganetespib is the GALAXY trial. It is a Phase 2b/3 trial designed to compare standard of care docetaxel with or without ganetespib in a second-line advanced NSCLC (non-small cell lung cancer) treatment setting. The Phase 2b portion of this trial is targeted to enroll 240 patients with cancer markers which are best suited for enrollment in the Phase 3 portion of this trial. Based on the encouraging results seen to date, Synta plans to meet with regulatory agencies and advance to the second-stage Phase 3 portion of this trial before the end of the year.
Synta's second cancer drug is called Elesclomol. It is a mitochondria targeting drug in Phase 2 clinical trials for non-small cell lung cancer and ovarian cancer, as well as in Phase 1 clinical trial for acute myeloid leukemia. Elesclomol triggers apoptosis (cancer cell death) through disrupting mitochondrial energy metabolism of cancer cells. In three trials, involving over 800 patients, anti-cancer activity was shown in patients.
Synta's third cancer drug is called STA-9584. It is a dual-acting vascular disrupting agent (VDA) that has demonstrated potent anti-tumor activity in preclinical models, including activity against large, established tumors. VDAs exhibit activity against established tumor vascular networks, causing severe interruption of tumor blood flow and necrosis of the tumor mass.
Inflammation Drugs
Synta's first inflammation drug is called CRACM inhibitors. Calcium release activated calcium modulator (CRACM) ion channel inhibitors are compounds that modulate the calcium signaling pathway in immune cells that drive inflammatory responses, including the secretion of TNF-alpha and IL-2. Synta CRACM inhibitors have shown potent in vivo inhibition of TNF-alpha and IL-2; activity in immune disease models including rheumatoid arthritis, psoriasis, and inflammatory bowel disease. These CRACM inhibitors have an acceptable safety profile.
Synta's second inflammation drug is called IL 12/23 inhibitors. Interleukin (NYSE:IL) inhibitors are novel, small molecule drug candidates that inhibit the production of cytokines interleukin-12 (IL-12) and interleukin-23 (IL-23). IL-12/23 inhibitors are believed to be important regulators of the biological processes underlying certain autoimmune and inflammatory diseases.
Chart of Synta Pharmaceuticals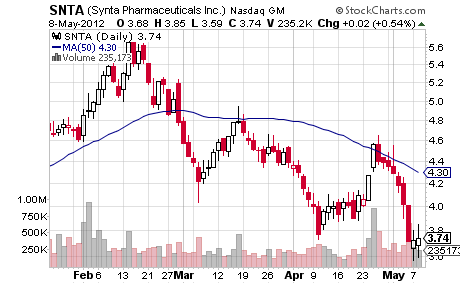 Synta Pharmaceuticals has been in a downtrend since January and February when they raised $33 million with a stock sale. This downtrend has continued as the market has tried to find an equilibrium price. Then on May 2, 2012 Synta made a deal to raise up to $35 million, in periodic sales. This pushed the stock down some more. With the market in a downtrend and Synta raising money it's hard to say when Synta Pharmaceuticals will be a good buy.
Disclosure: I have no positions in any stocks mentioned, and no plans to initiate any positions within the next 72 hours.