By Scott Martin
The latest spurt of investor interest in the stocks of Ho Chi Minh City has cemented the lead the Vietnamese ETF VNM has managed to achieve over just about everything else in the world of emerging market funds. The question is how long it can push its planet-beating performance?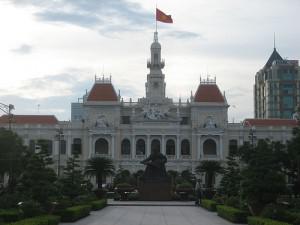 Ho Chi Minh City, Saigon
First, the numbers. Year to date, VNM has given traders a 44.67% rally, towering above all other emerging market funds and indeed most of the ultra-long leveraged ETFs as well.
Unless you're running at triple leverage or more in a hot sector like technology (NASDAQ:TQQQ) or biotech (NASDAQ:BIB), VNM is far ahead.
Even past favorites like the Egypt fund (NYSEARCA:EGPT) and the Colombia fund (NYSEARCA:GXG) are dragging with performance of "only" 34% and 26%, respectively. Nothing in the BRIC comes remotely close.
The secret of VNM's success starts with its underlying market. Vietnamese stocks are up an impressive 41% so far this year as traders frustrated with China (NYSEARCA:FXI) and bewildered in Indonesia (NYSEARCA:IDX) crowd into every investment opportunity between them.
As the least crowded investable market in Southeast Asia, Vietnam is playing out the classic emerging markets story: Open to Western capital but still exotic enough to give traders a sense that they're exploring a new frontier.
Laos, Cambodia and Myanmar are completely virgin territory for Western investors, but the lack of ground-floor opportunities to participate in their economies makes their growth and industrialization prospects fairly moot.
Thailand (NYSEARCA:THD), Malaysia (NYSEARCA:EWM) and Singapore (NYSEARCA:EWS) have already played through this process. While still opaque to many U.S. traders, these markets at least have structures in place for those who want to educate themselves and play.
Indeed, VNM today looks a lot like EGPT and GXG looked a few years ago, when both Egypt and Colombia were taking tentative steps toward opening up to foreign investment.
Egypt soared until last year's uprisings derailed the economic liberalization process.
Colombia continues to develop, as yet without the crisis of confidence that customarily ends a frontier market's initial growth spurt.
VNM may never see that kind of crisis either, but market capitalism is still barely a decade old in the country - half the median age of the robust 85 million population - so there have been few real tests.
Inflation is still an issue as capital floods into the country and foreign corporations set up joint ventures to exploit its resources and tap its eager labor pool. Manufacturing costs are lower than they are in China, so there's plenty of room for prices to climb - and from such a low base, even incremental inflation hurts even more.
Unfortunately, VNM is overwhelmingly invested in just two relatively inflation-sensitive sectors: Banks and energy. A full 49% of the fund is allocated to financial service providers like Bao Viet, JSC Bank and Vietin Bank, which government policy has so far protected from the problems facing the rest of the world's financial institutions. So far, so good.
The bulk of the fund's 25% in energy holdings are actually U.S., Indian and British exploration companies drilling in Vietnamese waters for oil. These stocks are more directly correlated to global fuel prices than to anything intrinsic to Vietnam, so really need to be considered separately.
In all, beyond the banks, only 20% of VNM is truly Vietnamese: Utilities, manufacturers, plantation operators, consumer plays. These are the stocks that casual investors probably think of when getting into an emerging market for the first time.
If you trust the oil companies and like the banks, that may be enough of a taste of Vietnam to keep your interest - and just maybe, to keep VNM flying. Otherwise, sad to say, the oil companies and the banks are the only way to get that taste, but if they go sour, their combined weight is more than enough to swamp the fund as a whole.