As widely expected, Arena Pharma's (NASDAQ:ARNA) stock has been halted for trading until the results of a vote from an FDA advisory is known later today whether to recommend Arena's weight loss drug, lorcaserin to the FDA regulators for approval or rejection.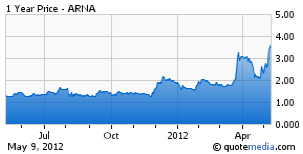 In September 2010, an FDA panel of experts voted 9-5 to recommend against the approval of Arena's lorcaserin. An FDA advisory panel in February voted 20-2 to recommend the approval of Vivus' (NASDAQ:VVUS) obesity drug Qnexa.
Based on what I can ascertain at this time, I predict lorcaserin will receive an approval recommendation from the majority of the advisory panel in a vote that should cut along the lines of 70/30 in favor of. If a favorable vote is the outcome, then I expect Arena's stock price to resume trading with a bid around $6 a share, possibly $7.
If you are holding shares short of the Arena stock and have not hedged your bet via the option chain, it is likely in my opinion you will not be too happy later on today.
Personally, I do not like any of these weight loss drugs, as I feel they set a bad precedent, and the advantages to be gained by taking these drugs are minimal at best. I am also concerned that people who really do not have a need for these drugs will be loosely prescribed them, as well as possible dependence on a pill over a proper diet and exercise. However, my personal opinion does not matter when it comes to business, and it is likely both lorcaserin and Qnexa will gain approval.
The last trade on Arena stock shows 600 shares going through at a price of $3.60 before the official halt of trading.
Disclosure: I have no positions in any stocks mentioned, and no plans to initiate any positions within the next 72 hours.