We've all heard the saying, "Don't count your chickens before they're hatched." Well, that's the perfect way to sum up the latest developments in the first-quarter earnings reporting season. Two weeks ago, I noted how we were off to a record start. Specifically, the earnings "beat rate" - the number of companies beating analysts' expectations for profits - was at an unheard of 72%. (The all-time high is 73%.)
And it was near 80% for S&P 500 companies, which prompted jubilant headlines like SmartMoney.com's "Earnings Season So Far: A Blowout."
Fast-forward to today, though, and we need to rewrite those headlines because the beat rate is collapsing. As of Monday's close, it dropped to 60%, according to Bespoke Investment Group. Here's what you need to know about the sharp reversal. And more importantly, how I'm adapting my trading strategy to contend with the troubling situation.
Are Corporate Profits Plateauing?
In a matter of weeks, the steady stream of companies torching expectations like Apple (NASDAQ:AAPL) has slowed to a trickle. Now, we're overrun with a steady stream of disappointments. From natural gas major, Chesapeake Energy (NYSE:CHK), to cloud-computing company, Rackspace (NYSE:RAX), and insurance giant, Prudential Financial (NYSE:PRU), to casino operator, Wynn Resorts (NASDAQ:WYNN).
The trend is most evident - and most frightening - when you graph it. Take a look: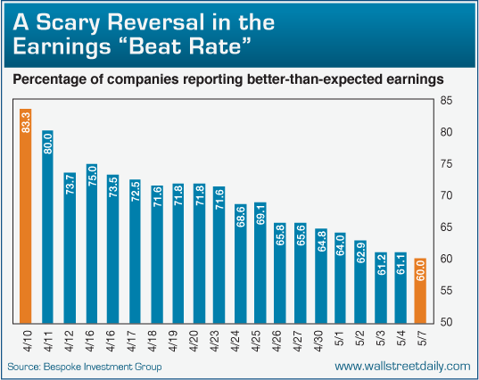 Barring a miracle, there's no way the beat rate's going to rebound above the historical average of 62% before Wal-Mart ((NYSE:WMT) closes out the reporting season on May 17.
Now, we could easily dismiss all the bad news. After all, analysts did raise earnings expectations for the S&P 1500 Index in the four weeks preceding earnings season by the widest margin since 2008. In other words, the bar wasn't set low like pundits keep insisting. It was actually pretty high.
Moreover, on an absolute basis, earnings remain hunky-dory. In fact, this quarter is probably going to be the third most profitable quarter ever for the S&P 500 Index, according to S&P's number-cruncher extraordinaire, Howard Silverblatt. Doing so, though, would be turning a blind eye to the root of the troubles…
You see, companies might be reporting record profits. But they're also stockpiling cash. At present, there's over $3 trillion sitting on corporate balance sheets. That means the profit gains are still coming on the backs of cost-cutting and related efficiencies, not organic growth.
That's a problem. As I've said before, companies can't cut costs indefinitely. Such a strategy isn't sustainable. Instead, for companies to keep growing profits, they need to put their cash to work.
I'm not talking about spending on mergers and acquisitions, which are always a terrible investment, as my colleague Matthew Weinschenk recently pointed out. I'm talking about funding organic growth initiatives via capital expenditures, more hiring, and more research and development. Then, and only then, can we expect corporate profits to keep climbing and share prices to follow suit.
Stick to the Spenders and Triple Threats
From an investing standpoint, we need to respond to the recent earnings developments by focusing on companies bucking these two trends. I'd insist on buying companies that are reinvesting their cash to promote organic growth. I'd also stick to companies reporting better-than-expected earnings. If you really want to be safe, I'd suggest sticking to triple threats - companies that beat earnings estimates, beat revenue estimates and raised guidance. Such fundamental strength should translate into higher profits and, in turn, higher share prices.
To help you out, here's a shortlist of companies that meet these stringent criteria:
3M (NYSE:MMM)

Abbott Labs (NYSE:ABT)

LinkedIn (LNKD)

MasTec (NYSE:MTZ)

National Retail Properties (NYSE:NNN)

NXP Semiconductor (NASDAQ:NXPI)

Seagate Technology (NASDAQ:STX)
Bottom line: Since corporate profits appear to be plateauing, we need to work extra hard to find companies bucking the trend.