Investor confidence fell sharply in November according to the State Street Investor Confidence Index released Tuesday. Global investor confidence fell by 9.9 points to 65.9 from last month's 74.3. North American investors led the decline with a more-than 10 point drop from 75.4 to an all-time low of 65.3. European investor confidence improved from 83.9 to 85, while Asian investor confidence fell from 86.6 to 85.8.
"This month, our quantitative measure of global investor confidence established a new low, cementing the evidence that investor risk appetite has been strongly impacted by the one-two punch of the August and November credit crises," State Street's Ken Froot commented. "In very recent days, we do see institutional investors following more of a holding pattern than a selling pattern, but the overwhelming conclusion from the data is that they are much more skeptical about fundamentals than they were in the first half of the year." Froot noted the congruence of investor and consumer lack-of-confidence: "The North American pessimism is mirrored almost exactly in the behavior of U.S. Consumer Confidence over recent months, the first time since 2003 that we have seen such congruence."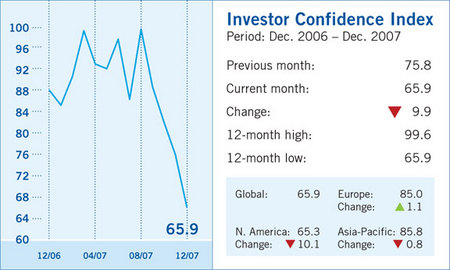 Seeking Alpha's news briefs are combined into a pre-market summary called Wall Street Breakfast. Get Wall Street Breakfast by email -- it's free and takes only seconds to sign up.