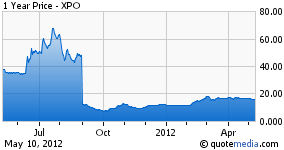 XPO Logistics (NYSEMKT:XPO) announced earnings results after the market closed on Wednesday with revenue of $44.6 million a gain of 7.4% year-over-year ($400,000 shy of estimates) and an EPS of ($0.36) which was a penny better than expectations. At this point in the company's growth strategy I feel as though current earnings are irrelevant, although I do understand that immediate earnings are important to some investors. Within the company's earnings report I see three things that I consider important: The company executed its first acquisition, the company opened two additional cold starts along with Phoenix operating with extreme success, Bradley Jacobs is not afraid to spend money, and the company has a lot of money.
Acquisitions
Perhaps the biggest news for the company is the fact that it completed its long awaited first acquisition. As a XPO investor, I have often expressed my frustration both through writing and to the CEO, Bradley Jacobs, regarding the lack of acquisitions. In fact when I had asked Jacobs about the lack of acquisitions back in February he responded by saying, "It's not a board game where you just move pieces and make it work. After you buy them you have to integrate and optimize them. We now have the accounting and finance team in place and present to move forward with this plan. But you must have the pieces in place for acquisitions to be successful". I suppose he felt as though Continental Freight Services, a company based in South Carolina, fits the part as a company that can be easily integrated with the company's business structure.
According to the press release, XPO acquired Continental for $3.4 million, and the company has returned revenue of $22 million over the last 12 months. Therefore, it's a very small company considering the brokerage business itself is very fragmented with businesses able to support up to $100 million in annual revenue. Honestly, I was expecting to see a larger acquisition, or a company with more revenue if Jacobs plans to reach the $500 million goal that he continues to reiterate. Yet according to Jacobs the new acquisition can be "scaled up" quickly with salespeople and additional carrier capacity. Therefore, I am sure it was a good deal, if the company fits into the strategic plan, can be integrated easily, and has room to grow. Overall, I am just happy to see an acquisition and believe it is the first of many that we can expect in the coming months.
Cold Starts
Back when I spoke with Jacobs he continued to reiterate how important cold starts are to the growth of the company. In regards to his goals with cold starts Jacobs said, "In absolutes we want 20 cold starts in truck brokerage over the next five years. Our goal is to have 5 new brokerage locations by the end of 2012 but the number depends on the number of quality people that we can find."
I have never been a big fan of the cold starts, probably because they are not near as sexy as a high profile acquisition that produces immediate revenue. However, I don't believe I ever considered the potential success and speed at which these cold starts could grow. Already, Phoenix, a cold start that was opened in December, has returned revenue of $760,000, in just four months! I find this to be amazing and truly speaks to the methodical nature of Bradley Jacobs, who is very calculated in making any decisions. I should have known that XPO, and Jacobs, had crossed all their t's and dotted all the i's before deciding on Phoenix as the first of its many cold starts. Therefore, I will not question the newest cold starts in Ann Arbor and Dallas, I will just sit back and expect that both will grow and work quite fine.
Spending
One of the primary reasons I like XPO so much as an investment is because Jacobs is not a CEO who is afraid to spend money to make money. He is not a CEO who lives to please today, which means he is not preoccupied with crunching numbers to meet earnings expectations or consuming himself with the stock's price today, because he sees the total picture of the company's potential. It is quite refreshing for a CEO to make necessary moves to grow a business, which includes hiring the maximum number of talented workers regardless of its effect on a quarter's bottom line. Some may suggest that his spending is out of control, however I continue to point to the fact that Jacobs has built several multi-billion dollar businesses from basically his kitchen table in a period of less than five years. Therefore, I don't care that SG&A expenses were up 111.1% or that purchased services were up nearly 300% year-over-year. In my opinion, Jacobs and his staff are all very experienced and know a lot more about building a large company, very quickly, than either you or me. So if the spending is necessary in order for the company to grow, then it's a good thing that XPO, and Jacobs, has a lot of money.
Cash
In March the stock was crushed when it announced a stock offering to raise cash. The primary reason being the fact that Jacobs had often stated that they had enough cash for this particular phase of the growth strategy. Yet once again Jacobs proved that it is always better to be wise and opportunistic rather than worried about tomorrow's stock price, because the company raised $136.7 million in net proceeds. Therefore, the company now has an incredible $204 million in cash compared to $74 million last quarter. The stock has nearly doubled because of its large cash position and the fact that Jacobs invested $150 million into the company back in 2010. Now it has even more cash and more flexibility to grow even faster. As a result I believe the future has never been brighter and as an investor I have never been so optimistic following the results of its most recent quarter.
Disclosure: I am long XPO.
Disclaimer: The information in this article should not be used to make any investment decisions. It is the opinions of the author and should not be substituted for your own due diligence