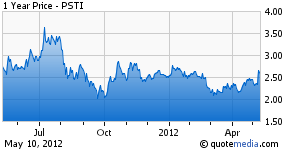 Pluristem Therapeutics, Inc. (NASDAQ:PSTI) is a sleeper among the new generation of cell therapy Companies.
In the past, administering cells into the human body to address a variety of conditions has traditionally been through veins. PSTI has found a new way, one that will revolutionize medicine.
Imagine this: instead of a patient being subjected to the painful and prolonged process of intravenous injection, he will now, with PSTI's technology, enjoy the benefit of less-hurtful intramuscular needle therapy.
PSTI, hurtling along while investors do not notice, has recently gained FDA clearance to begin Phase II for their patented Placental eXpanded (PLX) cells injected through muscle tissue, initially for peripheral arterial disease, commonly known with physicians as PAD. Several months ago, PSTI reported to the public that the same platform technology made heart muscle stimulate blood vessels that was shown to improve cardiac efficiency and, much like stem cell therapy, decrease the size of cardiac infarct, or diseased heart tissue that leads to heart attack.
The company has results showing that PLX cells administered intramuscularly are more effective than if given intravenously, due to an enhancement of red blood cells. To strengthen the data, PSTI used a vigorous animal model - irradiation of the subjects. Results are astounding.
Shares woke up on Wednesday, after PSTI announced the use of PLX on a seven year-old girl suffering from a disorder known as bone marrow aplasia, where red blood cells are produced in dangerously low quantities. The company delivered its therapy free of charge. Treatment took only two weeks, compared to potential months of bone marrow transplantation. Even more exciting, results point to PLX's effectiveness in treating other disorders that come from low levels of red blood cells. This small patient continues to be in fine health.
In our world of large pharmaceutical and biotechnology companies introducing ways to treat people that have no end to humiliation and pain, PSTI is giving an alternative - cell therapy that is easy to use for practitioners, and easy on the patient.
This is just one of PSTI's forays into healing those left without options. We urge investors to
take a careful look at the company, which is trading far below the value of its technology.
PSTI's closest compound to approval in the US, PLX, would be addressing no less than eight million Americans, costing our beleaguered health care system billions of dollars.
Investors should take notice of similar publicly-traded companies in the market to address PAD. Cardiovascular Systems (NASDAQ:CSII) and Spectranectics (NASDAQ:SPNC) are trading at market caps of $169 million and $361 million, respectively, compared to PSTI's $130 million. We predict that this disparity will not last long and that PSTI performance will far exceed these in the short term to reach a level closer to MesoBlast (MBLTY.PK) which trades at approximately a $2 billion dollar market cap.
Disclosure: I have no positions in any stocks mentioned, and no plans to initiate any positions within the next 72 hours.