The USDA came out with a surprise increase in its estimate for 2011 ending corn stocks this morning - up 50 million bushels to 851 million. Most everyone in the trade was taking the lead from strong export sales of old crop corn, and expecting a decrease.
The weekly export report was also bearish, with only 224,200 metric tons sold of old crop corn, and 249,200 for the 2012 crop.
The 2012/2013 estimated corn carryout was also higher, 1.88 billion bushels versus the 1.7 billion trade estimate but lower than my penciled in estimate of 2.17 billion. The USDA called for the average new corn price to decline to $4.20-$5.00, a big drop from $5.95-$6.25 in 2011.
The increased carry-out was due to an above trend 166 average bushels/acre yield estimate on 89.1 million harvested acres. The combined ingoing supply for 2012 therefore was high at 15.66 billion bushels, but this was offset by higher estimated feed and residual use by 900 million bushels, due to increased residual disappearance (the fudge factor to explain March 1 corn stocks that were extremely low as estimated by the USDA statistical arm - NASS).
Corn crops for Brazil and Argentina were estimated higher, rather than lower, than the last estimate.
Brazilian corn was estimated higher by 5 million tons to 67 million, and Argentina up to 25 million tons rather than the whisper number of as low as 20 million caused by the extreme drought conditions.
All in all, I expect new crop December corn futures to tumble below $5 from their $5.16 close yesterday.
(Click to enlarge)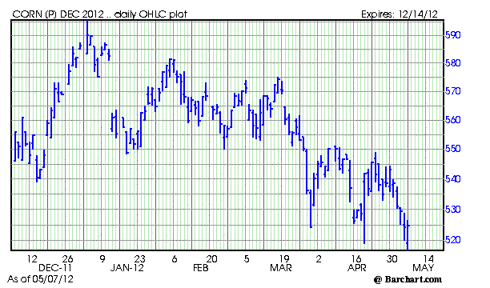 Producers leveraged to nitrogen prices in the U.S. include CF Industries (NYSE:CF), PotashCorp (POT) and Agrium (AGU), as well as MLP's such as Terra Nitrogen (NYSE:TNH), Rentech Nitrogen (NYSE:RNF) and CVR Partners (NYSE:UAN). I have argued the nitrogen fertilizer business in the U.S. has become a concentrated oligopoly with high transportation costs and barriers to entry limiting the access importers have to the Midwest corn belt.
For quite a while I have made it clear I prefer CF Industries to the MLPs because of their greater size, diversification, capital resources and ability to grow the business. Valuation has been much less expensive, although the MLPs have been coming down in price faster in a downturn, as I had predicted several times this year.
Fertilizer represents as much as $160/acre of planted corn, according to AgriSolutions Inc. This is a significant portion of the cash costs to produce corn.
Agrium has estimated $122/acre for 2012 corn in their most recent investor presentation.
I questioned the adequacy of this number on the earnings conference call yesterday.
I estimate nitrogen fertilizer alone is costing the farmer $100/acre, leaving little room for phosphate and potash.
Although many corn farmers have already sold their 2012 corn crop at higher prices, their future appetite to bid up purchases of fertilizer may be limited.
This morning's DJIA rally on relief over Europe will hopefully support fertilizer stocks that had experienced a sharp sell-off.
Disclosure: I have no positions in any stocks mentioned, and no plans to initiate any positions within the next 72 hours.