NovaGold Resources Inc. (NYSEMKT:NG) reported drill results at Donlin Creek that we believe could be some of the most exceptional drill results of any mining company in 2007. The release represents the results of 156,000 meters of drilling completed over nearly two full years. In addition, they provide the most complete visibility on the resource at Donlin Creek since the Barrick Gold Corporation (NYSE:ABX) acquisition of Placer Dome was announced October 31, 2005, and support our belief that Donlin Creek rates as one the world's largest undeveloped gold deposits. We see the release of these results as an indication that Barrick and NovaGold are now working cooperatively to develop Donlin Creek (click all charts to enlarge).
Fig. 1 Grade Thickness Map
Source: NovaGold
NovaGold management expects "to convert a significant amount of the previously reported Inferred resources to the Measured and Indicated category," which should later be upgraded to reserves. Drill results average 67 meters of gold mineralization grading 3.61 g/t gold (1.0 g/t cutoff) per drill hole. While projects vary, some open pit mines at grades averaging one gram per ton may be economic. We anticipate that the NovaGold and Barrick teams should work together successfully and complete a resource upgrade early in 2008 in support of a Feasibility Study by mid-2008.
Fig. 2 Donlin Creek Section 4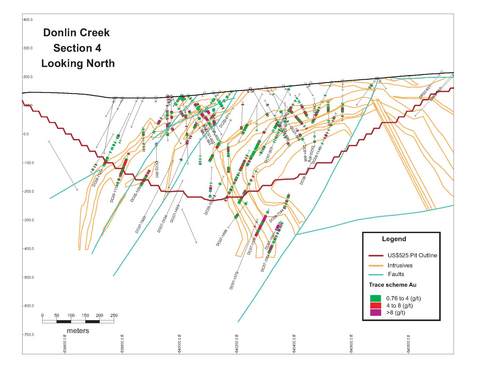 Source NovaGold
Management believes the Donlin Creek deposit remains open with potential for "significant expansion." They note drill hole DH-1444 in the East Acma area, completed in the summer of 2006, intersected 198 meters of 3.65 g/t gold (722 gram-meters), extending beyond the pit limit at depth. This hole was followed up in 2007 with hole DH-1556 intersecting 299 meters grading 5.26 g/t (1,573 gram-meters) and DH-1564 intersecting 308 meters grading 4.60 g/t (1,417 gram-meters). These drill holes can be located in Fig. 1 Drill Thickness Map and Fig. 2 Donlin Creek Section 4. We understand that this new zone remains completely open to further expansion laterally and at depth and well beyond the current resource model represented by the pit boundary on the cross sections. While still early in the process of estimating the expansion of the resource, we believe the project with additional drilling and study should evolve into an even larger gold resource in 2008.
We continue to believe that the Donlin Creek project may be the story for both NovaGold and the mining industry in 2008. Due to lack of prior reporting, relatively little is known or understood regarding the potential growth of gold resources or economic viability of the project. The release of drill results for both 2006 and 2007 should provide evidence of both size and grade of the Donlin Creek project which should support growth in the conceptual pit with further drilling and study. We are also of the opinion that the Feasibility Study due by mid-2008 may support an optimized plan addressing power delivery that may help offset industry concerns for growing capital and operating costs.
Conclusion
While the decline in the share price since the announcement to place the Galore Creek project on hold is difficult to internalize, relative to the recent past, the stock is arguably quite cheap compared to a fundamental assessment of management accomplishments, advanced project status, and current gold price near $800 per ounce. We believe the current price level reflects the decision to postpone development at Galore Creek and a combination of tax-loss selling, margin-calls, stop losses and short selling, that poorly reflects the assets representing ownership of the Company's shares creating an opportunity for some investors.
It is worth remembering that Barrick previously acquired about 14% of NovaGold at $16.00 per share. This was based on a valuation of $100/oz of Measured and Indicated gold resource with complete understanding of Donlin Creek at an assumed 30% ownership, and sufficient knowledge of Galore Creek to outbid NovaGold on the acquisition of Pioneer. With regard to Galore Creek, Teck Cominco Ltd. (NYSE: TCK) is spending an additional $220 million at Galore Creek to earn a 50% interest in the project with at least $150 million to be spent over the 12 month period. Clearly Teck Cominco sees value at Galore Creek.
It is interesting to compare NovaGold today to when the Company was last at a similar price level. Presently the Company's Rock Creek project is scheduled to move into full production 2Q08, a resource update/upgrade is expected on its Ambler project, and 50% ownership of the world-class Donlin Creek project is confirmed. We also believe that the value of Galore Creek is not fully represented in the price of the Company's shares. We conclude that the current price level for NovaGold shares provides an attractive entry point or opportunity to increase an existing position.
Disclosure: The author is long NG and has no positions in any other stocks mentioned in this report. An affiliate of the author's employer provides corporate advisory services to NG.