Over the years, canny investors have done very well for themselves by buying beaten-down stocks just as the year comes to an end and tax selling ceases to be a factor. This year should be no exception. I believe that buying "beaten downs" at year-end comes down to a single major decision. Is the stock way down because of a temporary problem or perception, or is the long-term future of the company in question. I believe that Investors who can answer this question correctly can come away with a portfolio of bargains, especially this year.
There are a wide variety of companies on the new low (or nearly new low) list, some of which may be ready to transition from laggards to leaders. Some clues to which stocks may be ready to turn upward are already available.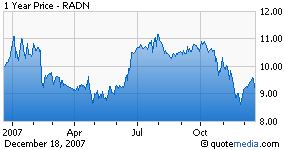 For example, Radyne (RADN) a Phoenix-based company that specializes in satellite communications components, is selling fairly close to a 52-week low. However, in recent weeks both Discovery Partners and Millwood Capital have taken 5%+ positions in Radyne, with Discovery actively pushing for sale of the company at a premium. The attraction in Radyne is a record backlog, new products and a relatively clean balalnce sheet.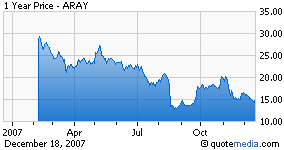 Another example is Accuray (NASDAQ:ARAY), developer of the Cyberknife for treating solid tumors. ARAY was a ballyhooed IPO early in 2007 but nearly every shareholder is now sitting with a loss in the stock. In recent days, a director has stepped up and bought 30,000 shares in the open market. The company has no debt and in November reported a backlog in excess of $600 million.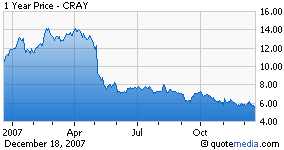 Take a look at Cray Inc. (NASDAQ:CRAY), the original supercomputer company. The stock is making new lows in recent days but the company has recently launched its next-generation supercomputer, an introduction that was delayed until a new AMD processor became available. Orders are starting to come in and CRAY looks well-positioned to start a new upcycle. In selecting year-end bargains, look for clues such as these that may indicate the direction of the company in 2008.
Disclosure: none