ArcelorMittal (NYSE:MT) just reported earnings and provided guidance which the market is reacting positively to in early trading. It might be time to start to nibble on these very beaten down shares (The stock is down over 50% from its 2011 summer highs).
Key Highlights from the company's earnings report
Steel shipments rose 1.2% to 22.2 million metric tons.
Said saw good demand from U.S. market, while it is challenging in Europe. The company's CEO stated risks are less than they were in November.
Sees overall consumption demand of around 4% in FY2012.
Iron ore and coal production expected to increase by approximately 10% in FY 2012
ArcelorMittal - "ArcelorMittal, together with its subsidiaries, operates as an integrated steel and mining company worldwide". (Business Description from Yahoo Finance)
4 reasons MT has long term value at just over $16 a share:
The stock is very cheap at just over 5 times forward earnings and 44% of book value. It also yields 3.9%.
The stock is way under analysts' price targets. The median analysts' price target for the 10 analysts that follow the stock is $26.50.
Earnings are projected to march substantially higher over the next two years. The company made $1.30 a share in FY2011 and is expected to book $1.91 a share in earnings for FY2012 and $3.24 in FY2013.
After a heavy fall in summer, the stock looks like it has spent the last nine months building technical support at just over the $15 level (See Chart)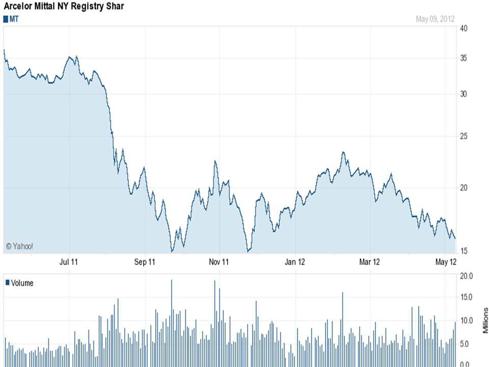 Disclosure: I have no positions in any stocks mentioned, but may initiate a long position in MT over the next 72 hours.