There is something very ominous going on with Darcy Klug's lawsuit against Omni Energy Services (OMNI). See AP article excerpt below describing the lawsuit:
Klug's suit, which was filed in federal court on December 12, 2007, by attorneys Andre' F. Toce and Joseph Arshawsky, details the dramatic turnaround in the company's fortunes led by Klug and president/CEO James C. Eckert and the company's subsequent refusal to pay them promised compensation…

Under their employment contracts and related incentive compensation agreements, Klug and Eckert were to receive their equity incentives upon any of several specified "triggering events." But each time one of those events occurred, the company and the board of directors, being guided by Sciotto, refused to make good on their obligations to the two executives.

The first triggering event occurred in June 2006 when a majority of the independent directors changed, a change that should have led to payment of the compensation packages.

Then in June 2007, investment banker Citigroup, which had been retained to explore strategic alternatives, brought to OMNI several qualified buyers interested in purchasing the company at a premium to its stock price. This, too, required OMNI to pay the incentives in full. But the board failed even to analyze the proposals, and OMNI refuses to pay Klug.

Klug is seeking a judgment from the defendants in the amount due under his incentive compensation agreement, $16.83 million, plus interest and attorneys' fees. This value is based on the stock price on June 30, 2006, when payment of the equity incentives was first triggered.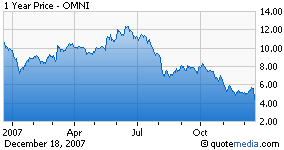 Can someone please explain why Klug bought an additional 36,000 shares at $5.0599 on 11/19/2007? Klug's holdings as of the latest filing are now 835,338 shares. We haven't seen a copy of the docket yet, but there is definitely something more going on.
Other articles on the web claim the suit alleges that management is in cahoots with others in a short selling scheme. As these rumors did not disclose any sources or references, we will have to disregard them for now until we see the docket.
The suit in U.S. District Court, Western District of Louisiana, Lafayette Division, is assigned case number 6:07-CV-02149 to United States District Judge Tucker L. Melancon and Magistrate Judge C. Michael Hill.
Stay tuned.
Disclosure: Affiliate is long some shares, nothing to write home about. We don't cover OMNI on a regular basis and were recently asked to look into this.