by Larry Gellar
Wells Fargo (NYSE:WFC) has disclosed that the Department of Justice may pursue legal action against the bank for possibly violating anti-discrimination laws in its homeowner financing. With a 34% share of the market for U.S. mortgages, Wells Fargo is certainly vulnerable here, and the claims are interesting, to say the least. Specifically, the Department of Justice is contending that Wells Fargo may have pushed African-Americans towards subprime loans and also failed to maintain its bank-owned homes in minority communities. In fact, this comes after the mortgage giant paid an $85 million fine last July for misplacing good borrowers into subprime loans as well as document falsification. While Wells Fargo may be on the hook again for more damages and penalties, I still think the bank is a solid way to gain exposure to the financial industry.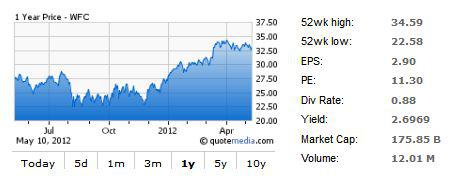 Compared to other financial institutions, Wells Fargo's stock is offering pretty good value right now. The stock has a price to earnings ratio of 11.34, compared to 12.06 for U.S. Bancorp (NYSE:USB), 53.02 for Regions Financial (NYSE:RF), 14.88 for BB&T (NYSE:BBT), and 11.84 for PNC Financial Services (NYSE:PNC). Wells Fargo's price to book (1.36) and price to sales ratios (2.19) are closer to the middle of the pack, but I'm okay with that for a bank of this caliber. Furthermore, Wells Fargo's margins are above average (20.03% net profit, 29.22% operating), so it seems reasonable that this company will be able to grow profitably in the future.
Of course, one place where Wells Fargo will try to grow profitably is through its mortgage business. Based on what I'm seeing, Wells Fargo is taking the right steps to correct its previous mistakes. A recent press release from the company says that the company has 749,806 active trial or completed mortgage modification in the works. Approximately 84% of those modifications were performed via the bank's own programs, and this should help to keep any issues in-house. Furthermore, Wells Fargo is reporting that over 93% of its home loan customers are current on their mortgage payments. This is an impressive statistic, as well as the fact that less than 2% of owner-occupied properties have resulted in a foreclosure in the past 12 months. Additionally, Wells Fargo has been active in creating loans for both refinancing and new home purchases.
In fact, Wells Fargo's dominance in the mortgage business has been well documented. Obviously, the most important statistic is the bank's aforementioned 34% market share, but also the second biggest market share. JPMorgan Chase (NYSE:JPM) is at a measly 10.6%. Additionally, Wells Fargo and U.S. Bancorp increased the amount of loans they made in the first quarter, whereas JPMorgan Chase, Bank of America (NYSE:BAC), and Citigroup (NYSE:C) all experienced a decrease in their loan volume. To the extent that JPMorgan Chase, Bank of America, and Citigroup continue to have trouble with their investment banking and trading units, this could be a very significant development.
I'm also optimistic about the industry's future ability to overcome regulation challenges. Citigroup, Morgan Stanley (NYSE:MS), UBS (NYSE:UBS), and Wells Fargo were recently fined for improper sales of leveraged and inverse exchange-traded funds, but the fine amounts were petty at best. Despite the case involving $27.1 billion of transactions, the fines were only slightly over $9.1 million. FINRA's director of enforcement, Bradley Bennett, noted that the fines were small due to the fact that the securities did not collapse or have significant losses, and I believe this is an important revelation. Assuming the economic recovery moves forward appropriately, financial penalties should stay within reasonable amounts. In other words, I expect that the most draconian penalties will be reserved for situations of economic crisis.
Wells Fargo can even benefit from some regulations. Because other banks like Bank of America and JPMorgan have more assets, Wells Fargo Chief Financial Officer Tim Sloan has commented that Wells Fargo will be in a "competitive advantage" pending the new legislation. During this same conference, Mr. Sloan also addressed the question of Wells Fargo's future acquisition plans. Shareholders will remember that the bank has been fairly aggressive in this regard, picking up firms like Merlin Securities LLC and BNP Paribas SA's North American energy-lending unit. Here's what Mr. Sloan had to say:
There's no question that the environment in Europe and the capital constraints that those financial institutions have has created an opportunity for us to purchase mostly U.S., dollar-denominated assets.
Based on those comments, I suspect Wells Fargo will stay aggressive, which should serve the bank well while it can still push its advantage.
In fact, the Merlin acquisition is particularly interesting. The company is a prime brokerage and technology provider with offices in San Francisco and New York. Considering how much other banks are making from this business of clearing trades and providing other services for hedge funds, the deal should prove to be lucrative, although Wells Fargo did not disclose how much the subsidiary cost. Still, Merlin figures to be a good match for Wells Fargo, which until now has not had much play in the investment industry. It appears that the bank feels now is a good time for entry, seeing as the most dangerous issues of the financial crisis have subsided.
With its 2.65% dividend yield and safe business practices, Wells Fargo is a very easy choice for gaining exposure to the financial industry. The company had a whopping $13.665 billion of operating cash inflow during 2011, and the bank's strong position in the mortgage industry is perhaps its most impressive feature. I also expect Wells Fargo to benefit from an improving business climate for financials in general. Look for future acquisitions to give this stock even more of a boost.
Disclosure: I have no positions in any stocks mentioned, and no plans to initiate any positions within the next 72 hours.