MACRO AND HOUSING
Tuesday Wrap: ECB Tender and Solid Earnings Support Markets
The Dow Jones Industrial Average rose 65.3 points (+0.50%), the Standard & Poor's 500 index increased 9.7 points (+0.63%), and the Nasdaq ended up 10.56 points (+0.84%). Volume on the NYSE was solid at 1.46 billion shares, and advancers beat decliners by a ratio of about 3:2. The U.S. 10-year Treasury note ran up 6/32 in price, yielding 4.13%. All sectors managed to finished with gains, with energies (+1.4%) showing the most strength. Crude fell $0.14 to $90.49/barrel in a wild session. Crude Inventories (10:30 AM) will be announced Wednesday, along with earnings from Morgan Stanley (NYSE:MS), Nike (NYSE:NKE), and Oracle (NYSE:ORCL).

Fed's Proposed Lending Rules Ignite Fierce Debate
The U.S. Federal Reserve proposed new rules Tuesday that aim to severely reduce some of the high-risk mortgages responsible for recent mortgage-market turmoil. Some critics said the measures fell short. Highlights of the proposed rules include prohibiting a lender from relying on a borrower's unverified income or assets; putting the onus on lenders to consider borrowers' ability to repay the loan; restricting repayment penalties; and requiring lenders to set up a escrow account through which the borrower will pay property taxes and insurance, from which the borrower may opt out after a full year. "Unfair and deceptive acts and practices hurt not just borrowers and their families, but entire communities, and, indeed, the economy as a whole," Fed Chairman Ben Bernanke said Tuesday. "They have no place in our mortgage system."
Democratic lawmakers criticized the Fed for failing to act before the current wave of home foreclosures and for not seeking more substantial changes in mortgage-industry practices. They also said the rules address a subprime market that has largely dried up: At the 2005 peak of the housing bubble, lenders dished out about $625 billion in subprime loans; presently, the annual rate is only about $50 billion. Senate Banking Committee Chairman Christopher Dodd said that following what he considers a lack of sweeping changes, he is now considering taking more power away from the central bank. Conversely, bankers were generally supportive; the Independent Community Bankers of America called the rules an "important step."
Wednesday, the Fed is set to announce the results of its $20B auction of low-rate 28-day loans to banks (The Fed's Two- Prong Plan to Thaw Credit Markets). A successful auction would support the Fed's claim that its present measures are succeeding.

Investor Confidence Plunges
Investor confidence fell sharply in November according to the State Street Investor Confidence Index released Tuesday. Global investor confidence fell by 9.9 points to 65.9 from last month's 74.3. North American investors led the decline with a more-than 10 point drop from 75.4 to an all-time low of 65.3. European investor confidence improved from 83.9 to 85, while Asian investor confidence fell from 86.6 to 85.8.
"This month, our quantitative measure of global investor confidence established a new low, cementing the evidence that investor risk appetite has been strongly impacted by the one-two punch of the August and November credit crises," State Street's Ken Froot commented. "In very recent days, we do see institutional investors following more of a holding pattern than a selling pattern, but the overwhelming conclusion from the data is that they are much more skeptical about fundamentals than they were in the first half of the year." Froot noted the congruence of investor and consumer lack-of-confidence: "The North American pessimism is mirrored almost exactly in the behavior of U.S. Consumer Confidence over recent months, the first time since 2003 that we have seen such congruence."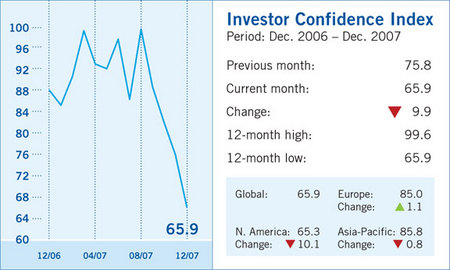 Give Troubled Borrowers Cash - Greenspan
"I'm saying instead of in effect 'taxing' financial institutions and giving the funds to the homeowners, we'd be far better off, as far as the future structure of our financial markets are concerned, to do it strictly with cash," former Fed Chairman said Tuesday in an interview with the Wall Street Journal. "Do it out in the open. Do it cleanly and with transparency, not by hidden processes." Greenspan was clarifying remarks made on ABC News's This Week that "cash is available and we should use that in larger amounts, as is necessary, to solve the problems," after which people were left wondering what exactly should be done with the cash.
"Emergency aid is what I'm talking about, similar to what government does in natural disasters," he said, adding those who qualify for "rate relief" under currently proposed measures would be the same ones that receive his suggested cash grants. Greenspan said giving money to borrowers facing foreclosure, rather than forcing banks to change the way they do business, "is far less damaging to the economy and far simpler, without the ongoing consequences for the markets." Greenspan is worried that if lenders are compelled to change the terms of outstanding mortgage contracts, it could erode their trust the system and impair market function. "If I'm a mortgage lender and I know my contracts with borrowers can be abrogated for political reason I will feel it necessary to charge a higher premium to offset that. Any time you undermine contract rights, there are consequences for risk premiums in the future," he said.

Housing Starts, Permits Drop
The Commerce Department said Tuesday housing starts fell in November, after increasing in October, and building permits dropped to their lowest level in 14 years. For the month of November, housing starts fell 3.7% to an annual seasonally-adjusted rate of 1.187 million homes, having jumped a revised up 4.2% in October. The November figures were ahead of economist estimates of a 5.7% drop to a 1.16 million annual rate. "The housing shock is about half-way over," Ethan Harris, chief U.S. economist at Lehman Brothers, said. "We expect home prices to fall through the end of 2008."
Construction permits, which are a gauge of future construction, fell 1.5% to a 1.152 million home rate, the lowest level since June 1993. Economists were anticipating a 0.5% increase to a 1.164 annual rate. By region, housing starts dropped 16.3% in the Northeast, 1.5% in the Midwest, and 6.9% in the West. They increased 0.3% in the South.

WSB Sponsor
TECHNOLOGY
Palm Beats Estimates, Sinks on Soft Guidance
Palm Inc. (PALM) reported a slight beat in adjusted net income in its latest quarter (F2Q08), but weak forward guidance pushed shares sharply lower (-7.6% as of 4:24 PM ET) in after-hours action. The company reported a net loss of $9.6 million (-$0.09/share). Adjusted EPS were -$0.07, which excludes stock-based compensation and restructuring charges. Sales were $349.6 million, including $282.4 million in Smartphone revenue.

Palm sold 686,000 Smartphone units in its latest quarter, an increase of 11% from a year ago. Estimates were calling for adjusted EPS of -$0.09 on sales of $348.2 million.
For the current quarter, Palm expects adjusted EPS in a range of -$0.14 to -$0.16 on revenue of $310 to $320 million, short of the -$0.04 on revenue of $356.2 million analysts had been expecting. Commenting on Palm's net loss and projection for further net losses, Palm CEO Ed Colligan said, "We are transforming Palm to exploit the market opportunity and instilling operational rigor throughout the organization. We've taken actions to align our expenses to the current operating environment and are focusing on core initiatives that will have the greatest impact on achieving our long-term success," (check back later for Palm's earnings call transcript). The company said it will no longer offer "specific financial guidance" but "will continue to provide general business guidance and comments on industry trends." Palm shares gained 4.96% during regular trading Tuesday.

Take-Two Halves Losses; Q1 Guidance Disappoints
Take-Two Interactive (NASDAQ:TTWO) posted a smaller loss in the company's fiscal fourth quarter and beat estimates, but shares sank on a weaker-than expected outlook for the coming quarter. The video game developer's net loss came in at $7.1 million ($0.10/share) compared to a loss of $14.0 million ($0.20/share) last year. Revenue increased 9.7% to $292.6 million. Analysts were expecting a loss of $0.23/share on sales of $293 million. "Sales were led by BioShock, NBA 2K8 and Carnival Games, all of which were new titles released this quarter, as well as Grand Theft Auto

catalog titles," the company said (full earnings call transcript later today).
For FQ1 2008, Take-Two expects a loss of $0.50-$0.60/share on $175 million to $225 million in revenue, well below the average forecast of a loss of $0.08/share on revenue of nearly $290 million. "Take-Two enters fiscal 2008 with the strongest, most diverse product lineup in our history - much of it internally developed and owned IP - which positions us well for the continued growth of the interactive entertainment market," CEO Ben Feder said. "We are building on our existing franchises while creating new hits such as the award-winning BioShock and Carnival Games." Games due out in 2008 include Grand Theft Auto IV (Q2), Midnight Club: Los Angeles, Bully: Scholarship Edition, Sid Meier's Civilization: Revolution, Major League Baseball 2K8 and NBA 2K9 -- all of which sold over 1 million copies of previous versions. New brands including Borderlands and Don King Presents: Prizefighter and Nick Jr. titles. For the full-year, Take-Two reiterated its previous outlook of a profit of $1.30-$1.50/share on $1.1-$1.4 billion in revenue. Analysts have projected sales of $1.36 billion for 2008. Shares of the company fell after the release, trading down 4.6% to $17.20.

Philips Higher on News of $7.2B Buyback
Philips Electronics (NYSE:PHG) announced early Wednesday it plans to repurchase €5 billion ($7.2B) of common stock over the next two years, beginning Jan. 2. The company credited its repurchase decision to a Dutch tax law revision adopted late Tuesday, which increased the limit for tax-free share repurchases. Philips' CEO Gerard Kleisterlee called the buyback an "additional important step" in the company's capital re-allocation process. "Philips is well under way to achieve its goal of an efficient balance sheet before the end of 2009."

Since 2005, Philips has bought back €5.2B of its shares and made €6.5B of acquisitions.
A Philips spokesman said the buyback is not related to a letter received from activist investor shareholders Jana Partners and D.E. Shaw Group, who own a combined 1.6% stake in the company. Philips said the shares from the forthcoming share repurchases will be subsequently cancelled. In addition, its existing share buyback program (€820M repurchased of €1.63B approved) will be terminated Wednesday. Analysts and investors alike reacted positively to the buyback news. Ordinary shares of Philips were last up 1.6% to €30.49 in early afternoon trading in Amsterdam. Philips' ADRs rose 2.1% to $43.20 on Tuesday. Philips is an 11% component of iShares MSCI Netherlands ETF (NYSEARCA:EWN).

Sprint Hopes New CEO Hesse Can Reverse Predecessor's Failures
After more than two months in corporate governance limbo, Sprint Nextel (NYSE:S) announced Tuesday current Embarq Corp. (EQ) CEO and Chairman Dan Hesse would take over as its new CEO and President effective immediately. Gary Forsee stepped down as Sprint's top executive during the second week in October (full story). Shareholders hope Hesse can reverse the failures of his predecessor, which saw repeated market share losses to larger wireless carriers AT&T (NYSE:T) and Verizon (NYSE:VZ), falling profits and widespread complaints of inferior network coverage and customer support.


Hesse comes to Sprint with a lifetime of wireless business managerial experience. Before taking the helm at Sprint spinoff Embarq, he spent 23 years at AT&T, serving as President and CEO of AT&T Wireless Services from 1997-2000, then the nation's largest wireless provider. According to Tuesday's Wall Street Journal, "Mr. Hesse has earned high marks from Wall Street for his stewardship of Embarq." Board member Irvine O. Hockaday, Jr., who chaired Sprint's CEO search committee, believes Hesse "is a proven leader with deep wireless experience as a chief executive and an established track record of generating strong operating performance. He has the board's full support to take decisive actions necessary to improve our performance." Sprint shares fell 1.1% on the news Tuesday; they are lower 26% YTD. Embarq shares were slightly lower on the news; they are lower by 9.4% YTD.

MEDIA
FCC Reverses 'Dual Ownership' Ban; Imposes 30% Cable Market Cap
The FCC reversed a 32-year ban on media companies owning a TV station and newspaper in the same media market, with both committee Republicans and Chairman Kevin Martin supporting the reversal, and both Democrats opposing it. The new ruling applies only to the nation's 20 largest media markets; beyond those markets the FCC approved a new set of requirements for companies wanting to own both a TV station and newspaper. Martin, who is a Republican, called the loosening of the dual ownership ban "relatively minor" as it only allows companies to own a single major newspaper within a given market. The ruling was criticized as "not going far enough" by diversified media companies News Corp. (NASDAQ:NWS) and Tribune Co. (TRB). The commission also allotted 42 permanent waivers for media companies that currently own a newspaper and TV stations.
Despite outcry from Democrats on Capitol Hill that the reversal would lead to a new round of consolidation in the media industry, Chairmen Martin sided with the FCC's two Democrats in a second ruling Tuesday that will limit cable companies to a 30% national subscriber cap. As of now, such a ban poses a threat only to Comcast (NASDAQ:CMCSA), the nation's largest cable provider, which claims a 27% national market share. FCC commissioner Robert McDowell, a Republican who opposed the cable cap, believes it is "sure to be struck down by the court," citing an appeals court's dismissal of a similar restriction in 2001. Comcast Executive VP David Cohen also stated a high degree of confidence the cap would be struck down in the court system as "unconstitutional."

Tribune Bankers Scouring Books Before Committing - Source
Tribune Co. (TRB) executives faced aggressive eleventh-hour questions Tuesday from skittish bankers reluctant to fund the final portion of Sam Zell's $8.2B deal to take the company private, the Chicago Tribune reported late Tuesday. Unnamed sources close to the company say the banks were "scouring company records" before committing. The Tribune says it is unclear what exactly the bankers were looking for, but their apprehension

likely stems from current credit-market tightness which will probably leave the bankers unable to sell the remaining $4.2B in debt to third-part investors.
Sources say Tribune CEO Dennis FitzSimons is prepared to step down once the deal closes. Zell is slated to take over as chairman, but it is not clear who the new CEO will be. Zell is likely to play an active role in the company's functions. Mr. Zell has in the past criticized Tribune's lackluster performance and hinted he would run things differently if he were in charge. He has intimated dissatisfaction with Tribune's highly-centralized corporate structure and slowness in decision making.
Shares closed Tuesday at $33.31; Zell is slated to pay $34/share.

RETAIL
Costs Hit Darden Profits
Darden Restaurants Inc. (NYSE:DRI) said Tuesday that second-quarter earnings fell short of expectations amid soft sales and higher costs. The news, released after the closing bell, sent shares down 7.5% to $33.60 AH, after rising 1.3% in the regular trading session. The company reported earnings of $43.5M ($0.30/share) down from $61.7M ($0.41/share) a year ago, even as sales climbed to $1.522B from $1.298B. "While we are pleased that our sales growth this quarter once again outpaced our industry, we did see some sales softness because of what continued

to be a difficult consumer environment," said CEO Clarence Otis. "As a result of this softness and a tougher than anticipated cost environment, we were unable to meet our expectations for earnings growth." Analysts had expected earnings of $0.50/share and revenue of $1.54B, on average.
The company said its acquisition of RARE Hospitality and other items cut profits by about $0.12/share. Sales costs rose 20% including 22% higher food and beverage prices and a 16% rise in labor costs. Same-store sales at Olive Garden and Red Lobster rose 3.2% and 0.1%, respectively.
Looking ahead, Darden said it expects EPS growth of just 2%-4% including acquisition-related costs, or 7%-9% without. That implies earnings ranges of $2.58-$2.63/share and $2.71-$2.76/share, respectively. It expects revenue to grow 19%-20%, which implies a range of $6.63B-$6.68B. The average analyst estimates are for earnings of $2.82/share and revenue of $6.7B.

Game Sales Pump Best Buy Earnings
Best Buy posted a better-than-expected 71% gain in FQ3 earnings-per-share on a 17% increase in revenue. Shares gained 0.9% over the course of the day. Gross profit margins were flat at 23.5%, while operating income was up 1.2% to 3.5%. Net earnings were $228 million ($0.53/share), up from $150 million ($0.31) a year ago. Quarterly revenue was $9.93 billion, up from $8.47 billion last year. Both EPS and revenue beat consensus analyst estimates of $0.40/share on revenue of $9.42 billion. Comps were up 6.7% during the quarter.


Looking ahead, CFO Jim Muehlbauer boosted Best Buy's full-year EPS outlook to $3.10 to $3.20, from previous guidance of "the top half of the range of $3.00 to $3.15." The firm said it now expects to open 150 new stores in fiscal 2008, up from 130-135 previously. "When we get it right for the customer and the employee, it's electric. It's very rewarding when it all comes together, like it did this quarter," CEO Brian Dunn said (full earnings call transcript later today).
Entertainment software posted a huge 23.1% jump in same-store sales, and comprised 19% of Q3 revenue. Consumer electronics (+2.4% comp) led the revenue mix with 41%, followed by home office (+6.5% comp) at 28%. Appliances (-1.8% comp) accounted for 6% of quarterly revenue. Its Pacific Sales unit, which sells high-end home improvement products, saw revenue decrease 3% to $75 million amid a challenging housing environment.
In a Dec. 11 note, Morningstar analyst Brady Lemos said, "We think Best Buy will benefit from a shakeout in the consumer electronics industry. Virtually all of Best Buy's closest rivals, including Circuit City (NYSE:CC) and Tweeter, have struggled to remain profitable as competition has heated up and consumer spending has slowed. As pricing pressures intensify, we expect Best Buy to further distance itself from its peers and emerge as an even more dominant specialty retailer once consumer spending rebounds."

FINANCIAL
Goldman, I-Banks Drop on Firm's 'Horrible' November
Shares of Goldman Sachs (NYSE:GS) fell more than 3% Tuesday following a strong start on the heels of knockout earnings (Goldman Profits on Subprime Shorts, Beats Targets), after the company warned analysts of short-term weakness in the markets, and CNBC reported an unidentified senior Goldman executive called the firm's November "pretty horrible." "September was not good, October saw good business transaction, and November was very difficult," said spokesman Lucas van Praag. Off the record, a more candid senior exec. said the last two weeks of the month "were probably" the worst in Goldman's history. Street sources say the difficulties are related to credit-market issues, perhaps bond-trading losses and writedowns on bonds already on its books. "We're cautious about the near-term outlook for our businesses as we see dislocation in some of the world's capital markets has continued," CFO David Viniar said in a media conference call.
CNBC also quotes unnamed sources who say Merrill Lynch (MER) may have to add another $6 billion to a previous $8.4 billion writedown. Morgan Stanley (MS), which reports Wednesday, is rumored to be looking at another $6 billion asset-related writedown to add to its previously-announced $3.7 billion, CNBC says.
Shares of Wall Street investment banks fell. Goldman dropped 3.4%; Merrill fell 1.3%; Morgan Stanley lost 2.9%; Bear Stearns (NYSE:BSC), which reports Thursday, fell 1.6%; and Lehman (LEH), which reported a 12% drop in earnings last week, gave up 0.25%.

Bear Stearns CEO Cayne May Step Aside - CNBC
Bear Stearns (BSC) is considering replacing CEO Jimmy Cayne, CNBC reported on its website Wednesday, without naming sources. Last month, the Wall Street Journal posted a lengthy expose that ridiculed Cayne's lack of leadership during an August crisis that saw two Bear hedge funds collapse amid heavy losses and investor withdrawals. It accused him of frequent golf games and trips

to bridge tournaments that left him out of touch during critical junctures, and said he sometimes smoked marijuana after bridge. (Cayne denied the accusations.)
There have been suggestions Cayne might relinquish his role to president Alan Schwartz, while retaining his role as chairman. Bear Stearns lost 1.6% in Tuesday trading.

Goldman Profits on Subprime Shorts, Beats Targets
Wall Street investment bank Goldman Sachs (GS) topped analyst estimates for the eighth straight quarter Tuesday, as it cashed in on credit-market shorts. It also reiterated its focus on effective risk management. Shares climbed 2.1% in pre-market trading, but fell throughout the day after the firm warned analysts of short-term weakness in the markets (Goldman, I-Banks Drop on Firm's 'Horrible' November). Q4 earnings were $3.22 billion ($7.01/share), up from $2.85 billion ($6.13) a year ago. Revenue climbed 14% to $10.74 billion, but fell 13% from last quarter's $12.33 billion.


By segment, financial advisory revenue jumped 98% to $1.2 billion leading its investment banking segment to a 47% revenue gain of $1.97 billion. Trading and investment revenue was up 4% including a 9% gain in equities trading and a whopping 127% ($734 million) gain in "other corporate and real estate gains and losses" as Goldman cashed-in by shorting slumping housing and residential lending markets. Both Lehman (LEH) and Goldman have reported net short exposure to the subprime mortgage market. Asset management revenue was up 29% to $1.84 billion. "Looking forward," CEO Lloyd Blankfein said, "we continue to see significant growth opportunities across the global economy," (full earnings call transcript later today).
"Goldman has successfully managed risk... and we believe its star is set to shine for years to come," Morningstar analyst Ryan Lentell said in a recent note. "Unlike most of the other major investment banks, Goldman has avoided any major missteps in the credit markets."
Rivals Morgan Stanley (MS) and Bear Stearns (BSC) report Q4 earnings Wednesday and Thursday respectively. Last week, Lehman Bros. topped estimates, but overall revenue and earnings fell (full story). Goldman shares finished down 3.4%.

TRANSPORT
GM: Phase One of UAW Buyouts; Auto Price Hike on Higher Steel
General Motors (NYSE:GM) said Tuesday it reached an agreement with the United Auto Workers [UAW] on the first phase of a comprehensive special attrition program for hourly employees at the company's Service Parts and Operators facilities across the U.S. The Wall Street Journal reports about 5,200 employees will be offered buyouts. GM had 74,000 unionized employees as of last April. The company is negotiating terms with the UAW for additional buyouts of remaining unionized employees.

GM aims to cut costs by replacing higher-paid veteran employees with lower-compensated new hires, or in some cases, by not replacing positions at all.
Separately, GM also said it raised prices on its 2008 model cars and trucks by as much as $1,500 or about 1.5% on average. GM said the "targeted price increase is designed to partially recover ever-increasing commodity costs." Most autos will increase by $100 to $500, with some seeing no change and others like the Cadillac XLR rising by $1,500. Prices of autos currently in dealer inventory are unaffected through the end of the year. Shares of General Motors gained 2% to $26.93 on Tuesday and were fractionally lower to $26.91 in extended activity.

INTERNATIONAL
Asia Wednesday: Hong Kong, China Gain; Japan Sees Red
Shanghai and Hong Kong were up strongly Wednesday, while Japan saw red.
Nikkei -1.17%. NTT DoCoMo (DCM) gained 1.7% after the Wall Street Journal said Tuesday it is Apple's (NASDAQ:AAPL) number-one choice as Japanese iPhone carrier (DoCoMo, Softbank Potential Japan Carriers for Apple's iPhone - WSJ).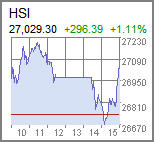 Hang Seng +1.11%. China Unicom (NYSE:CHU) gained 6.3%. China Netcom (NYSEARCA:CN) was up 3.2%. CNOOC (NYSE:CEO) gained 3.5%. Shanghai Composite +2.18%. "The market just lacks the energy," analyst Shigemi Nonaka said of Japan's drop. "The market was mostly moved by short-term dealings. There is not much reason to sell, but not much to buy either." "We can see the turnover is shrinking, so even though the market rebounded, the upward momentum isn't so great," strategist Linus Yip said of the Hang Seng. He noted a year-end rally was unlikely now.

Europe Inches Down Wednesday
European markets were down slightly in early afternoon trading Wednesday as of 7:15 a.m. ET.
FTSE -0.34%. Miners Anglo American (AAUK) and Rio Tinto were down 2.7% and 1%. Barclays (NYSE:BCS) fell 1.5%. BP (NYSE:BP) was down 0.8% while Royal Dutch Shell (NYSE:RDS.A) gained 1.5%. Northern Rock jumped another 5.5%. CAC -0.49%. Losers included Peugeot (-2.3%) and Alcatel-Lucent (ALU -1%). Sanofi-aventis (NYSE:SNY) was up 0.6%. Dax - 0.24%. Infineon (IFX) was up 1%. Deutsche Bank (NYSE:DB) was down 0.8%. The Bank of England is scheduled to release the minutes of its Monetary Policy Committee's December meeting, at which it cut interest rates for the first time in two years to 5.5%. "You are getting a response from the central banks which is good, but I think the market would like more confidence that actually you will get policy rate cuts," Dresdner Kleinwort strategist Philip Isherwood said. "Very large-scale liquidity provision is good but it does highlight there is a problem. The number of banks that took the money shows that actually it appears to be reasonably widespread in terms of the need for liquidity over the year-end or otherwise." The ECB said Tuesday it loaned over $500B in low-rate funds (ECB Injects $500B; Interbank Rate Plummets).

ECB Injects $500B; Interbank Rate Plummets
The European Central Bank said Tuesday it loaned $500 billion (€348 billion) to banks, making good on its offer of "unlimited funds" (ECB's Gift of Unlimited Liquidity) in conjunction with coordinated action announced by five central banks last week (full story). The ECB said in a statement late Monday that it would satisfy all bids for two-week funding at or above 4.21%. The €348.6 billion two week loans -- double the anticipated amount -- resulted in a sharp decline in euro-based LIBOR rates. The auction's success may signal that policy makers, in their first coordinated action since Sept. 11, 2001, are making headway in reviving lending between banks, helping bankroll banks out of a problem they themselves created. Ryan Detrick, strategist at Schaeffer's Investment Research, said, "This is one of the biggest injections we've seen. Five hundred billion -- that's definitely trying to fix things."
Others were unconvinced: "Today's generous operation does not make banks love each other any more, so it does not solve the illiquidity mess in the banking system," High Frequency Economics' Carl Weinberg wrote.
Few are calling this the end of the credit crunch. Markets gained in early trading, quickly reliquished those gains, and as of 2:38 p.m. are up again. The dollar gained against other major currencies; gold prices rose; crude was down. The two-week euro-area interbank offered rate dropped a record 50 basis points to 4.45%, the European Banking Federation said today.

MUST-READS ON SEEKING ALPHA TODAY
Have Wall Street Breakfast emailed to you every morning before the market opens.