While people can complicate investing in a myriad of ways, only two characteristics ultimately matter - risk and return. My personal and professional investing revolves around the simple maxim of trying to earn incremental returns for the same or less risk. The strategy highlighted below has accomplished this feat over long time horizons, and is easily replicable in financial markets.
In addition to the bellwether S&P 500 (SPY, IVV), Standard and Poor's produces the S&P 500 Dividend Aristocrats Index. This index measures the performance of equal weighted holdings of S&P 500 constituents that have followed a policy of increasing dividends every year for at least 25 consecutive years. The index data is available since the end of 1989, and over the subsequent period, the S&P 500 Dividend Aristocrats index has had a higher average return than the S&P 500 (12.05% vs. 9.82%) while having less variable returns (15.11% standard deviation of annual returns vs. 18.67%).
In the twenty-two years since the dividend index was constructed it has outperformed the S&P 500 in 13 of those years (59%). Notably, the Dividend Aristocrats outperformed the S&P 500 in every down year for the latter index. In the five down years for the broader market in the sample period, the Dividend Aristocrats outperformed the S&P 500 by 15.5% per annum on average, and never outperformed by less than 8.8%. This outperformance in falling markets is likely driven by the more stable business profiles of long-term dividend payers compared to the market as a whole, the return component from the dividend, and investor preference for dividends in uncertain markets.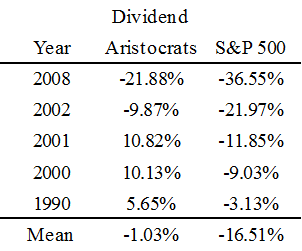 Another notable factor of the dividend strategy is that when it underperformed the S&P 500 by the largest differential (1998, 1999, and 2007) the market was headed towards large overall losses. Perhaps, this correlation is spurious and not a leading indicator, but it makes sense that prior to the tech bubble burst in the early 2000s that the Dividend Aristocrats naturally featured less recent start-ups because of the long performance requirements for inclusion. It also makes sense that when markets were heading to new all-time highs in 2007, the market correction in 2008 would be less severe for the high quality constituents in the Dividend Aristocrats index.
Many dividend strategies are heavily overweight utilities and financials, but the Dividend Aristocrats' fifty-one members feature a nice mix of sectors as seen below. Some might contend that the lower variability of returns from the Dividend Aristocrats hides the lessened diversification inherent in the smaller population, but the number of constituents still creates a statistically significant sample. Others might claim that the equal-weighted nature and lack of rebalancing at least in part drives performance. A look at the Dividend Aristocrats constituents might give readers a better sense of the inherent risk:
While the S&P 500 Dividend Aristocrats does not have a readily available ETF, State Street does administer an exchange traded fund (NYSEARCA:SDY) that tracks the highly overlapped S&P High Yield Dividend Aristocrats Index. The Index is designed to measure the performance of the 60 highest dividend yielding S&P Composite 1500 Index constituents that have followed a managed-dividends policy of consistently increasing dividends every year for at least 25 consecutive years. The Fund generally invests substantially all, but at least 80%, of its total assets in the securities comprising the Index. The S&P High Yield Dividend Aristocrats includes 40 of the 51 names listed above. Below is the historical returns of the S&P 500, the S&P 500 Dividend Aristocrats, the S&P High Yield Dividend Aristocrats Index (began in 1999), and the ETF which replicates this index (began in 2006).
Dividend Aristocrat investing has produced higher risk-adjusted returns over very long time horizons, and should be considered as part of your strategic equity allocation.
Links to Dividend Aristocrats constituents:
3M (MMM), Aflac (AFL), AT&T (T), Abbott Labs (ABT), Air Products and Chemicals (APD), Archer Daniels Midland (ADM), Automatic Data Processing (ADP), CR Bard (BCR), Becton Dickinson (BDX), Bemis (BMS), Brown-Forman (BF.B), Chubb (CB), Cincinnati Financial (CINF), Cintas (CTAS), Clorox (CLX), Coca-Cola (KO), Colgate-Palmolive (CL),Consolidated Edison (ED), Dover (DOV), Ecolab (ECL), Emerson Electric (EMR), Exxon Mobil (XOM), Family Dollar Stores (FDO), Franklin Resources (BEN), Genuine Parts (GPC), W.W. Grainger (GWW), HCP (HCP), Hormel Foods (HRL), Illinois Tool Works (ITW), Johnson & Johnson (JNJ), Kimberly Clark (KMB), Leggett & Platt (LEG), Lowe;s (LOW), McCormick & Co (MKC), McDonald's (MCD), McGraw Hill (MHP), Medtronic (MDT), Nucor (NUE), PPG Industries (PPG), PepsiCo (PEP), Pitney Bowes (PBI), Proctor & Gamble (PG), Sherwin Williams (SHW), Sigma Aldrich (SIAL), Stanley Black and Decker (SWK), Sysco (SYY), T. Rowe Price (TROW), Target (TGT), VF Corp (VFC), Walmart (WMT), Walgreen (WAG).
Constituents in S&P HY Dividend Aristocrats and SDY Not Listed Above:
ABM Industries (ABM), Black Hills Corp (BKH), Brady Corp (BRC), Commerce Bancshares (CBSH), Diebold (DBD), Eaton Vance (EV), Federal Realty Trust (FRT), Mercury General (MCY), National Fuel Gas (NFG), Northwest Natural Gas (NWN), Old Republic (ORI), Pentair (PNR), Piedmont Natural Gas (PNY), Questar (STR), RPM (RPM), Sonoco (SON), United Bankshares (UBSI), Vectren (VVC), WGL Holdings (WGL)
Disclosure: I am long SPY.
Disclaimer: The analysis for this article was undertaken to analyze whether I should shift a portion of my indexed U.S. equity funds to a dividend strategy. I am evaluating SDY.