I know the market is tanking, but Ceragon Networks (Nasdaq: CRNT) took a right across the jaw on Monday, falling almost 15% on seemingly no real news. We've written before about Ceragon, a rising player in fixed wireless and WiMAX.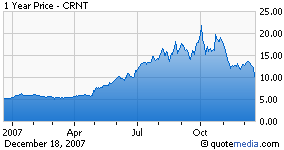 Expectations for Cergaon were tempered in the 3rd quarter when Sprint (NYSE: S) called a time-out for its large WiMAX network rollout plans in the U.S. Many investors had bet that Ceragon would be the beneficiary of such business. In the wake of news about recession and the future for WiMAX, investors who had bid up Cergaon 300% or so this year are clearly selling. We've had a large pullback, but the stock is still up 80% for 2007.
Profit taking? Certainly I'd be locking in some gains as 2007 limps to an end. Combined with a generally bad market, concern about telecom equipment spending slowing down, and talk of an Israeli analyst saying something negative about the company, investors are certainly skittish.
How much of this is macro versus micro? It's hard to say, but we're definitely of the opinion that WiMAX isn't only going to happen, but that it is happening outside of the U.S. Alvarion (Nasdaq: ALVR), another Israeli fixed wireless player, has also taken its bruising (read what we've had to say about them here), but both companies continue to roll-in new deals in emerging markets where there isn't necessarily a better platform than WiMAX. These tests will eventually translate into larger project bookings.
Disclosure: The author's fund has a position in ALVR as of December 18, 2007.