When evaluating a stock's potential value it is essential to find a group of its peers - relevant comparisons - with which to establish a benchmark for valuation analysis. Not all companies are valued the same way by investors. The most obvious valuation criterion is profitability and profitability and is reckoned very differently in different industries. This is always a function of competition unless there is some other force at play beyond the free market, like government intervention.
For opportunity I was looking at two companies in the natural gas engines and systems space whose shares have both fallen almost 50% in recent months, but both seem to lack the level of profitability to be compelling investments. Both Westport Innovations (NASDAQ:WPRT) and Fuel Systems Solutions (NASDAQ:FSYS) have found ways to grow their revenues significantly in recent years but with anemic margins and profitability. The competitive dynamics of this industry may be such that even the winners end up losers for investors.
Fuel Systems Solutions
This company has been around for a long time. The company was founded in 1958 as IMPCO (Imperial Machine Products Company). I had followed it in the late 1990s when it still traded as IMCO on the Nasdaq. Trading as FSYS over the last few years, the stock has performed well and attracted significant interest because of its industry exposure. But this is not the first time such a story has played out. In 1998 analysts and investors jumped on the bandwagon with a similar thesis claiming the company was positioned to benefit from a boom in alternatively fueled vehicles. Check out this article from 1998 appearing at MarketWatch.com:
Impco's idling stock may finally be ready to shift into high gear. "We are increasingly confident that next fiscal year will be a breakout year for the company," says Blair Brumley of Dain Rauscher in Minneapolis, who rates Impco a "strong buy" with a 12-month price target of $17. The stock is trading around $10.

Much of what's driving Mr. Brumley's bullishness is that under the Energy Policy Act of 1992, state and federal agencies are required to buy an increasing number of vehicles that run on alternative fuels. For instance, 50% of all new vehicles bought by federal agencies this year must use alternative fuels, and that figure jumps to 75% next year. Every state has similarly escalating quotas that must be met over the next few years, analysts say.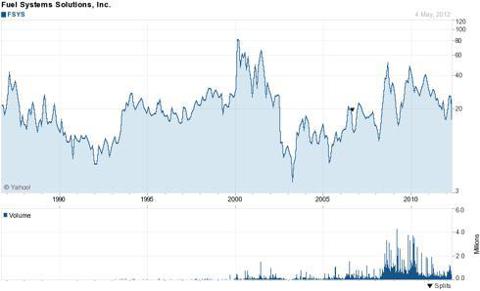 Looking at the chart, the analysts were right about the stock. But it didn't last. To be fair, everything was way overvalued in 2000 and everything seemed to unwind the same way in 2003, therefore all the movement in the stock from 1998 to 2003 was likely exaggerated. Actually, relative to the overall markets the stock moved in direct lockstep through this period, but dramatically underperforming.
(Click to enlarge)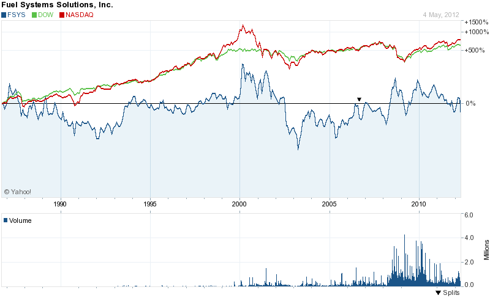 In July of 2002 the company, as IMPCO, attempted to unlock some shareholder value by jumping on the fuel cell bandwagon and spinning out Quantum Fuel Systems Technologies to shareholders, which still trades on the Nasdaq for around .60/share as QTWW. See yet another less than inspiring stock chart below. This includes a 1 for 20 reverse split in February of 2011. Curiously there are still people out there willing to recommend this company as a good play on yet another coming boom in alternative fuel systems.
(Click to enlarge)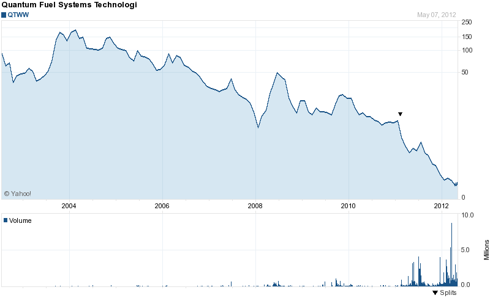 In 2004 IMPCO acquired Italian alternative fuel systems company B.R.C. Societa a Responsabilita Limitata, or BRC. This transaction gave IMPCO a major European presence in markets in which it was already well represented in North America. In 2006 the merged company filed a corporate reorganization S-4 with the SEC proposing to become a holding company under the current name Fuel Systems Solutions. With a new name and a stock near its lows the company was reborn to repeat exactly the same pattern of a decade earlier. Below is from Cabot Wealth Advisory on November 9, 2009:
One I like a lot is Fuel Systems Solutions … "The big story for Fuel Systems is the potential of the American market. About 80% of revenues each of the past three years have come from outside the United States ... a potential boon is a bill introduced by Senate majority leader Harry Reid of Nevada to provide tax incentives to buyers of natural gas vehicles, a plan that has gotten a lot of vocal support from oilman T. Boone Pickens, who owns the majority of natural gas fueling station chain Clean Energy Fuels.

"The bill would boost the tax incentive to natural gas vehicles to as much as $12,500 per vehicle and to $100,000 for natural gas fueling stations. The bill is certain to pass, if the number of its co-sponsors (77) is a reliable indicator, although it may not be addressed until after health care in September. The House of Representatives passed a bill earlier this summer authorizing $150 million to research natural gas vehicles."
This is a minor variation on the same theory that drove shares higher almost a decade earlier, that government policy was going to drive demand for natural gas powered vehicles through the roof and by extension do the same for FSYS stock. The only problem with this theory is that in November of 2009 the stock was over $33/share, twice the level it trades at today. The stock did rebound again following the financial crisis and on April 25th 2012, The Motley Fool was still telling investors that the "only way to play natural gas in this environment is to focus on companies that benefit from lower prices. Westport Innovations and Fuel Systems Solutions are two such companies to consider. As natural gas becomes more widely used for transportation and industry, these companies will see a big benefit."
On April 25th 2012 FSYS shares traded for $22/share or roughly 27% higher than today's quote after a post earnings mauling on May 3rd 2012. I don't blame these analysts for looking to these companies for exposure to an appealing sounding trend supported by government policy. This is why I started looking at them after the recent fall. But history is often the best predictor of the future and these companies appear to be perennial disappointers and cash destroyers.
When FSYS reported Q1 earnings on May 3rd it surprised investors with a quarterly loss of $1.2 million on 7% annual revenue growth to $97 million. This sent shares tumbling almost 20% but I really don't know how surprising it could have been given that the company posted a profit of only $400,000 in the previous year's quarter and its gross margins are roughly 23%. Couple that with the fact that its revenues have declined for three straight years along with profits and don't you have to start questioning the overall market dynamics of the industry.
When you look at estimates for 2013 on Yahoo Finance you still see analysts predicting double digit revenue growth to $484 million and profits of .97/share. This is down from 90 days ago when the average estimate was 2013 annual profits of $1.40/share. What is the justification for expecting this company to top its best revenue year ever in 2009 ($452 million) after three years of declining revenues? Something doesn't add up here, and based on the history of this company I think we're more likely to see the shares continue to move lower, at which point it will likely be reborn with a different name, a new group of cheerleaders but the same elusive catalysts. If history is an indication, investors should mark 2118 on their calendars to revisit the stock.
Westport Innovations
Just in case you thought the alternative fuel systems stink was reserved for FSYS look no further than compatriot Westport Innovations. The global leader in natural gas engines reported Q1 2012 earnings on May 8 and while revenues increased an impressive 132.5% to $88.6 million, the loss for the quarter also increased 44% to $22.6 million. For the full year the company expects over 50% revenue growth to more than $400 million but a loss of $1.00 a share and for 2013 analysts predict revenues to continue to increase more than 30% rate to over $500 million but again the company is expected to lose .50/share. These companies just don't make money and it doesn't get easier as competition is expected to heat up. From a recent article in Barron's, Westport's partner Cummins is becoming a competitor:
Yet the reasons to remain skeptical of Westport's stock price are perhaps stronger now than ever.

The drop from 50 came after Cummins (NYSE:CMI) and Navistar (NYSE:NAV), another maker of diesel truck engines, said they will begin making natural-gas-fired engines. On March 21, Cummins announced it will begin producing a 15-liter engine, for big 18-wheelers, by 2014. That will compete with Westport Innovations' own 15-liter engine, which isn't included in the CWI joint venture.
Conclusions
Both Fuel Systems Solutions and Westport Innovations have so far failed to deliver on the promise of natural gas powered engines. Alternative fuel or natural gas systems might appear like an attractive area for the future as oil prices rise, but it's pretty clear that in spite of this favorable dynamic these companies are having a hard time turning revenues into profits. Neither of these companies appeal to me at these levels and I think this industry, like other difficult green energy sectors including both solar and rechargeable batteries, may just be good ideas but bad investments. Unfortunately, green just doesn't seem to equal greenbacks.
(Click to enlarge)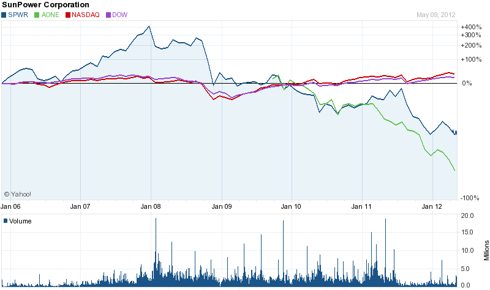 Disclosure: I have no positions in any stocks mentioned, and no plans to initiate any positions within the next 72 hours.