Here we look at five ways of valuing Phillips 66 (NYSE:PSX), which spun off from Conoco Phillips (NYSE:COP) on May 1: price to pro forma book, price to pro forma earnings, price to 5 year average earnings, sum of the parts and dividend yield. All of these methods show upside, suggesting the potential for 25% price appreciation from current levels on a fundamental basis.
However, it is worth sounding a note of caution that without a clear catalyst it can take time for a stock to reach its intrinsic value and much of Phillips 66's valuation is subject to the outlook for refining margins, which are uncertain. Nonetheless, the upside of Phillips 66 appears attractive for those who subscribe to fundamental analysis.
This article also builds on my earlier article on PSX, where I made the point that spin offs tend to out perform the broader market, on average, by 22% per year.
Price to Pro Forma Book
As part of the spin-off, Phillips 66 has issued $8 billion of debt and returned cash to Conoco Phillips. As a result of this, the book value is $17.3B. Peer companies trade at 1.7x book on average, implying a valuation for Phillips 66 of $29.4B or $46/share.
Price To Pro Forma Earnings
2011 earnings were $3.5B after adjusting for one time events and incorporating the pro forma impact of debt issuance. Peer companies Exxon Mobil (NYSE:XOM), LyondellBasell (NYSE:LYB), Westlake Chemical (NYSE:WLK), Dow Chemical (NYSE:DOW), Marathon (NYSE:MPC), Tesoro (NYSE:TSO), Valero (NYSE:VLO) and Chevron (NYSE:CVX) trade at an average of 10.1x earnings, this implies a valuation of $35.3B or $56/share.
Price To 5 Year Average Earnings
As you can see below, historical earnings for Phillips 66 have been volatile. The average of the past 5 years is $2,953M, but we should also include the increased debt load which reduces net income to $2,767M. Peer companies (XOM, LYB, WLK, DOW, MPC, TSO, VLO and CVX) trade at an average of 10.1x earnings, implying a valuation of $27.9B or $44/share.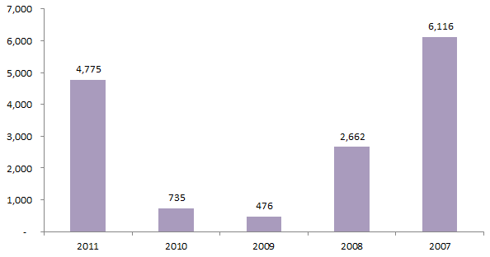 Dividend Yield
If the S&P 500 currently yields 2% then, applying that metric to Phillips 66 $.80/share per year dividend suggests valuation of $40/share. However, this is fairly simplistic since Phillips 66's dividend payout ratio out of 5-year average earnings is 17%. This may seem low, but note that in 2009 and 2010 the dividend may have been cut given weak earnings in those years.
See part 2 for sum of the parts, risk factors and summary.
Disclosure: I am long PSX.