JPMorgan (NYSE:JPM) scheduled an unusual conference call following the release of its 10-Q filing. The lender says its Chief Investment Office (NYSE:CIO) unit has suffered significant mark-to-market losses. S&P has downgraded the bank's servicing unit to Average from Above Average. "The downgrades reflect several internal audits that were not considered satisfactory and identified issue that we consider to be material."
The CIO and its chief trader, Bruno Iksil, recently made headlines for being the whale in credit-derivatives trading. The bank assured investors his activities were part of a normal hedging process and presented little risk.
Jamie Dimon stated JPM has suffered a $2B loss in the CIO synthetic credit portfolio. "The strategy was flawed ... There were many errors, sloppiness, and bad judgment ... risk managers are fully engaged in helping to monitor the current portfolio." He goes on to say volatility could remain high over coming quarters and could cost the bank another $1B.
Dimon reiterates the loss "could easily get worse this quarter." The reason for a "fortress" balance sheet is to handle situations like this. He says the bank's Basel III ratio will be amended down to 8.2% from 8.4% and JPM will still earn $4B in Q2. Shares were down -6.2% in after-hours.
(Click to enlarge)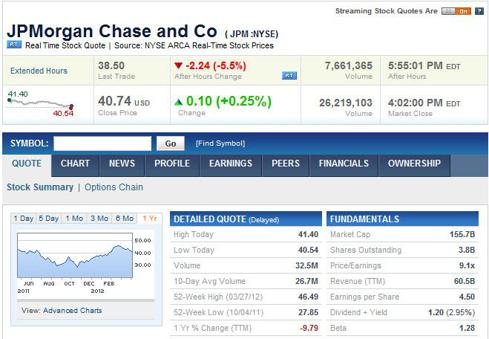 Jamie Dimon Conference Call Highlights
Dimon stated he expects by the end of the year this will not be an issue for the bank. Dimon says he doesn't know if it violated the Volcker rule, but it violated Dimon rule. When asked about if other banks have similar problems Dimon stated "Just because we are stupid does not mean everyone else is stupid."
Conclusion
This revelation is driving Bank of America (NYSE:BAC), Goldman Sachs (NYSE:GS), Morgan Stanley (NYSE:MS) and Citigroup Inc. (NYSE:C) lower in after hours. I would not use this as an opportunity to dollar cost average down in these banks. This is an extraordinary event and I would avoid these banks until more information is released.
Disclosure: I have no positions in any stocks mentioned, and no plans to initiate any positions within the next 72 hours.